Guys
Bret Jackson Answers "The Crazy Things Girls Do"
PBB Bret Jackson shares his thoughts about girls' weirdest and worst habits.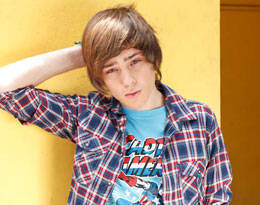 photo by Patrick Martires
1. A girl who giggles like a five-year-old every five minutes. - ADORABLE
"A girl's laugh is priceless."
2. A girl who changes into dozens of outfits before a big date. – ADORABLE
"The fact that she would take that much time for you means something."
3. A girl who orders a tiny salad for dinner, then steals fries off her boyfriend's plate. – ADORABLE
"Anything to be closer."
4. A girl who spends hours overanalyzing one little Facebook comment from her crush – ADORABLE
"That's way too cute!"
5. A girl who goes on a horror movie date, then covers her eyes the whole time – ADORABLE
"Who cares about the movie when you're with someone you really like."
6. A girl who exerts effort to do very thorough research on her crush. – ANNOYING
"That's the best part of dating, getting to know each other. Researching is borderline stalking."
7. A girl who doodles her crush's name all over her notebook. – ADORABLE
"Those are cute!"
ADVERTISEMENT - CONTINUE READING BELOW
Flip to page 42 of the Jan-Feb 2011 issue to see Nzo Sarmiento's answers.

The university was the first school to apply for the limited face-to-face classes in the country.
Why anyone would say something THIS HORRIBLE is beyond me.
Jeanette opened up about her experience as a young actress in Hollywood.
Screenshot your fave for future reference.
They will no longer consider the proposal after objections on social media.
Fare difference still applies.
Students from 21 different countries also participated.
From fashion designers to models
March isn't off to a great start for K-pop fans.
This meaningful and now-viral song has quite the story!
From The Candy Bulletin Community