Guys
Boys vs Girls
Stumped by conflicting opinions between you and your guy? Here's how to deal.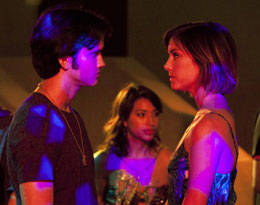 photo courtesy of The CW (90210)
A lot of folks believe that difference is the spice of life. But doesn't it get frustrating when you and your boyfriend, or a good guy friend, argue about particularly stickling points for the gazillionth time? It's always healthy to see different sides of any story, but sometimes, these differences become so vehement that discussions end up in major fights. In these cases, it might be best to just walk away, either form the fight or, in extreme situations, from your relationship. Here, we'll be checking out the things girls and guys see in different lights, and the ways to defuse the arguments that ensue because of them. We'll also be rating them from one to five—one being a mild problem that's more annoying than anything else, and five being a total deal-breaker. Read on and see how you can cut down on these hassle-makers in your life!
IDEAS OF A GOOD TIME
ADVERTISEMENT - CONTINUE READING BELOW
The Rub: You're into sweet rom-coms and well-written dramas, while he's into gruesome horror flicks and gun-toting, super macho action flicks. You like the newest, hippest pop music playing in the car, while he just wants to listen to his booming gangsta rap. So what's a girl to do when ideas of what's cool clash?
CONTINUE READING BELOW
Recommended Videos
The Solution: First of all, you probably wouldn't be hanging out with this guy if you didn't see something more important in him that you liked, right? Second, no one really likes a robot for a BF or GF, and these little things are part of who you both grew to like. So if that's the case, differences like these may actually open you two to new things, if you're both willing to compromise. Maybe having a revolving schedule of who decides what to do is the key. Remember, tastes can be acquired.
Rating: 2
Aside from the overall rankings, THE also provides rankings by subject.
The solo artist posted the announcement on Twitter.
Here are eight things to know about the former PBB Teen housemate.
Find one that can suit your *existing* room aesthetic.
According to Inka, their business burned down so she had to drop out of high school and start working early.
Sneakerheads, you wouldn't want to miss this!
She had to learn to be more resourceful to get by.
OMG, it appears like she was also Gong Li's double!
From The Candy Bulletin Community