Being in a long distance relationship takes a lot more work than when you're both in the same timezone or location. You really have to make time for communicating with your partner and when you're having a bad day, you have to keep your cool and learn to be patient for him to be there for you. It's difficult, but definitely worth it when you're with the right person who's willing to work just as much as you do.
But we have to admit, being in a long distance relationship in this day and age is a lot easier. Can you imagine how they did it in the '80s or even the '70s? Snail mail, y'all! Nowadays, technology provides us with a million and one ways to connect with our loved ones. But if video chat or those messenger apps don't give you and your boyfriend what you need exactly, here are five other apps that can make the distance a little closer than it really is. Good luck, Candy Girls!
ADVERTISEMENT - CONTINUE READING BELOW
1 Avocado. Named after the avocado tree that doesn't produce fruit unless another tree is nearby, the Avocado app allows you and your partner to communicate while the app archives your relationship. So whenever you're feeling a bit nostalgic, you can go back to your moments together and find comfort that your love will always be greater than the miles that separate the two of you.
Availability: Free for Android and iOS
READ: Long Distance Relationships: How Being Miles Apart Can Hurt Your Relationship
2 Couple. That ThumbKiss feature alone will win you over. It's like holding hands, giving each other kisses or embraces whenever one or both of you need those. It doesn't really compare to having them around, but it comes pretty close to giving you and your guy the comfort you need.
Availability: Free for Android and iOS
3 LoveByte. If you want to make sure your boyfriend got home safe after a long day or you want to know if he's got a fully-charged battery so you can chat with him, LoveByte is perfect for you. Aside from allowing you to privately message each other and document your relationship, it also allows you to check on your guy's location and his phone's battery level. So cool!
Availability: Free for Android and iOS.
READ: #MusicMonday: 10 Love Songs For Your Long Distance Relationship
4 SimplyUs. This is the best app for couples who love planning a lot of things for their next meeting. Through SimplyUs, you can sync your calendars (no more excuses for forgetting the important dates, hun!), share lists (yay to bucket lists and relationship goals!), and plan your new projects as a couple together.
Availability: Free for iOS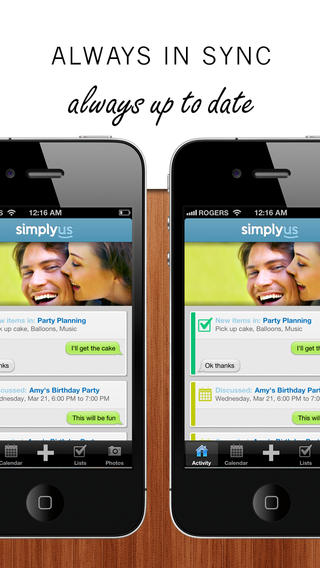 ADVERTISEMENT - CONTINUE READING BELOW
5 SnapChat. Let your partner in on what went on during your days and nights even if he's worlds away through photos and videos via SnapChat. You can chat real time and give each other a tour in your new school or where you're currently staying on your long weekend break, and even personalize those images and videos with your own doodles.
Availability: Free for Android and iOS
READ: Please Don't Tell These Things To Couples in Long Distance Relationships
Know more apps for couples we should feature? Let us know in the comments or via Twitter @candymagdotcom. :)