Guys
To the New Girl in His Life
What would you tell his new girlfriend?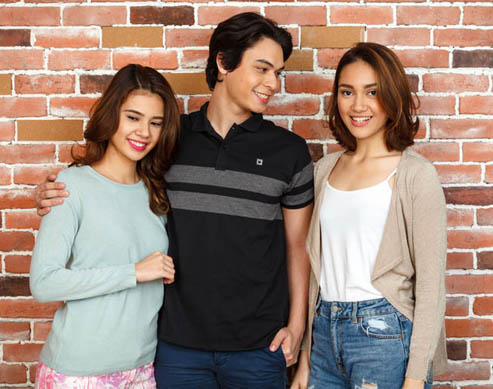 PHOTO Patrick Martires MAKEUP Sari Campos
HAIR Eddie Mar Cabiltes MODEL Lexi Mendiola, Emil Khodaverdi, Elena Ortega
No one likes being replaced but I've accepted the sad truth that I am just a distant memory now. You are now his favorite person, the love of his life, the center of his universe.
You are extremely lucky to have the most incredible guy by your side. We had a bitter ending but that doesn't give me the right to hate you or your blossoming relationship. In fact, I am pleased that you found each other. I only have one request. Please, and I don't say this lightly, please love him with all your heart.
You have to understand that he is a man of few words. He values his privacy. He doesn't really mind isolation. It's probably part of his charm but sometimes, his mysteriousness makes it difficult to figure him out. He might seem a little closed off but trust me, when he loves, he loves deeply. And this is how you break through his walls: You return his love with the same burning passion. He is a quiet man not a callous one. So go ahead and be a witness that his lack of words never equates to the absence of his love. Will he drive you crazy? Yes. Is he worth all the insanity? Absolutely.
ADVERTISEMENT - CONTINUE READING BELOW
CONTINUE READING BELOW
Recommended Videos
There are things about him that you would never fully understand. It doesn't matter if you don't get his love for cars or his obsession with British cinema. It's really just about listening to his stories even when it feels like he is talking in a completely strange language half the time. You might find yourself constantly asking why he keeps watching Monty Python and the Holy Grail over and over again, or why he likes loud music so much. You don't even have to pretend that you get hisDownton Abbey references. He doesn't want you to love everything that he loves. As long as you're there for him, everything will be fine.
We both know that he is far from perfect. He has his off moments. Teach him how to be more patient. Tell him that anger is never encouraged and humility is highly favored. And most importantly, make him realize that you accept everything about him—insecurities, flaws, and all. He is not the easiest person to love but he is worthy to be loved.
ADVERTISEMENT - CONTINUE READING BELOW
"I finish what I've started," that's what he always says. So when he tells you that he would always be there for you, believe him. Believe him even when it seems impossible. Believe him even when it hurts. He will always find a way. That's exactly what makes him great.
This guy gave me nothing but genuine happiness during our time together. I will be forever thankful that our paths have crossed at some point. But for now, I have to let go. Please be his rock, be his inspiration. Help him achieve his dreams. Always carry him in your heart. I want him to be truly happy even if that means that I cannot be part of his life anymore.
Above all, I hope you give him the love that he deserves—the kind of love that I failed to deliver.
Got a story to share? Write them down and send them to us at candymagazine @gmail.com and we just might publish what you've written here.
ADVERTISEMENT - CONTINUE READING BELOW
It turns out, she was pregnant when she walked down the runway for various big-time designers.
"I was failing Interior Design and was so close to getting kicked out of UST, so English Language Studies was a lifeline. I took it."
Because we still can't get over Son Ye Jin and Hyun Bin's confirmed dating status!
Love anything with strawberry flavors?
They're proof that it's okay to follow your own timeline for success.
It's called going green on the internet.
The country might follow price increases in the US and other territories.
Aside from being the perfect anthem for broken hearts, the song is also gaining attention for its supposed backstory.
If you're thinking of leaving WhatsApp.
From The Candy Bulletin Community