Guys
A Dozen Guys Share Their Embarrassing Moments
Sometimes, the wrong lines just spill out. Bet these boys wish they could yell, "Cut!"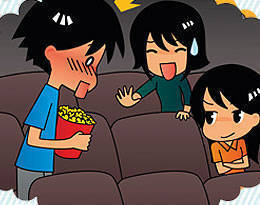 compiled by Bea Beluan, Rubie Ganzon, and Micah Sulit; illustration by Nicole Lim
Beautiful Girls
My barkada was on an outing. The girls decided to take all-girl snaps, and started pushing me away. I was annoyed and wanted to tell them the pictures would look beautiful if I was a part of it, so I blurted out, "Mas maganda ako sa inyo sa picture!" They all laughed and finally let me join the photo! –Jason, 18

Syntax Error
I was on a date with my longtime crush. It was my first time to be in such close contact with her. She was more of a talker and I was more of a listener. Hoping to make a good impression, I listened intently. I agreed with her sentiments so I excitedly said, "Wow! That makes us two!" She laughed and said, "Shouldn't that be, that makes two of us?" I was mortified! –Chris, 18

Blinding Blunder
I was hanging out with my best friend when our bald science teacher came in. Since we were at the back of the room, I goofed around, shielding my eyes with my hand while repeatedly saying, "Nasisilaw ako!" My friend and I were laughing at my antics and sniggering when our teacher glanced our way. We only realized that he had heard us when he didn't speak to us for the rest of the school year. Ack! –Vin, 16

Cold-s Treatment
My classmate was asking me questions about our math lesson. I wasn't feeling well, so I was irritable while answering her. At one point, I couldn't stop myself and said, "Ang dali-dali kaya. Ako nga sinisipon na, gets ko pa rin." She laughed out loud and said, "Sorry, ang kulit ko. Halata ngang may sakit ka talaga." She pointed to my nose which was apparently runny! –Alvin, 16

Lucky Me
My girl classmates were all gushing about my neighbor. They were saying the guy was so hot while he played basketball. Another said she was the luckiest girl in the world because she saw him remove his shirt after a game. I told one of my guy buddies, "Eh di ang swerte ko pala dahil bata pa lang kami, nakikita ko na' 'yon na walang shirt." I laughed and extended my hand for a high-five, but my friend replied teasingly, "Si Nick mas swerte daw sa inyo!" The whole class laughed out loud! – Nick, 17

The Truth Can Kill
I told this girl that I liked her and she was fine with it. She actually found it cute, but then I had to speak some more and ruin the moment! I said maybe I only liked her because I wanted to be with somebody, which got her really pissed. – Lorenzo, 19
ADVERTISEMENT - CONTINUE READING BELOW
CONTINUE READING BELOW
Recommended Videos
Have you ever heard of the *Off-Facebook Activity* tool?
At The British School Manila, students use social media to foster a sense of belonging.
Here's a little throwback that will make your day!
The security issues detected "may have been actively exploited" by hackers.
"No matter how hard we tried to make it work, it wasn't meant to be."
Take your pick from this list of self-care apps and mood trackers.
It's happening in stores and online!
It isn't an easy feat even for the regular students like us.
In case you're curious about what kind of jobs are currently available in the market.
For when you're feeling adventurous.
You can spend Happy Hour watching the sunset!
From The Candy Bulletin Community