How do you know he's a keeper? It's the question that bugs most of us whenever we meet a guy and we click with him. Our older friends or those who've been in a relationship for the longest time say there are signs you should watch for. Others say there are defining moments in your relationship and that you should keep your eyes open for these. There are also some who tell you that you'll just know in your heart when everything about your relationship is good. Confusing, right? So we asked some of the girls we know to share with us their stories about how they knew they have a keeper in their hands in hopes that this will give us some answers, too. Read on and make space for a great serving of wisdom and a good dose of kilig.
1 He gives you the kind of love you know you deserve.
ADVERTISEMENT - CONTINUE READING BELOW

via shelbs-blog.tumblr.com
"I knew he was a keeper when I saw how patient, caring, and understanding he was, not just with me but with other people as well. He once hiked down a mountain with a friend of ours who got injured, and just recently, he helped me finish my first marathon by running beside me every step of the way! We've never had a major fight because we are always able to sit down and talk things out. He's a great listener and he always, always makes me feel beautiful and important. Best of all, he gives me the kind of love I know I deserve." —Angel C. Aquino, Candy's Managing Editor
2 He encourages you to pursue your dreams.
"When I was planning to take up my Master's degree abroad, Chris never stopped me or gave me drama about how we'll make our relationship work. He knew it was my dream, and he supported it 100%. He even helped me do research and proofread my essays for my applications! For some reason, the two years we spent apart made us stronger. There were doubts about the future, yes, but it was when I realized when he let me go that I realized I have always wanted to stay. A year after graduation, he proposed and I said yes!" —Jillian Gatcheco, Cosmo.ph's Editor in Chief
3 Your similarities and differences make the relationship work.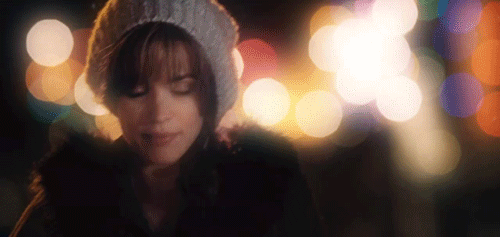 via myfunnydreams.tumblr.com
ADVERTISEMENT - CONTINUE READING BELOW
"Growing up, I always thought a singular romantic gesture or event was capable of deciding once and for all whether or not somebody is The One. But being in a serious relationship changed that perspective. I am reminded that my boyfriend is the one for me every day: when I read something he's written (he's super talented), or when he explains something in his intelligent, passionate way (I am constantly amazed at how articulate he is), or when we laugh about things nobody else would find funny, or when all we want to do at the end of a tiring day is spend time together. More importantly, I find it in the not-so-good things as well: when we argue or get annoyed at each other or see how different we are from each other, then eventually realize that it is our differences that make us work. I know he's the one because sometimes it's perfect and sometimes it's not—but it always feels worth it." —Marla Miniano, Candy's Editor in Chief
ADVERTISEMENT - CONTINUE READING BELOW
4 He is your constant.
"I knew he was a keeper when I could talk about the most random and useless topics (a.k.a. my latest hair obsession) for hours on end and he never once stopped listening. He was always my best friend and that never changed even when romance got in the picture. Even on days when he's extra tired and didn't even spend the day with me, he always offered to bring me home just to make sure I was safe. Years and years later, that hasn't changed. From the start he felt like family to me because he saw every flaw I had throughout the years and not once did he look at me differently. He's accepted me and loves me for who I am and I feel just the same about him. We've been through the fire more than several times but we always, always found our way back to each other." —Erin Torrejon, Candymag.com's Associate Beauty and Fashion Editor
ADVERTISEMENT - CONTINUE READING BELOW
5 He is your teammate.
via sleepinlibrary.tumblr.com
"I knew he's a keeper because he's my teammate. He is my partner and my number one supporter. We find things we mutually love to do and there is a sense of shared fulfillment. He constantly encourages me and expresses his confidence in me. He doesn't only think of himself and his development, but also of mine. We become partners the moment we decide that our growth—physically, emotionally, mentally, and spiritually—should now become shared burdens. In the long run, relationships should never break you, but build you." —Sam Reyes, law student
ADVERTISEMENT - CONTINUE READING BELOW
6 He gives you space to grow.
"I've always believed that there's one key ingredient to a successful relationship. Trust is crucial, and communication is key, but the cream of the crop is definitely growth. Growth means understanding that sometimes you have to take the back seat and let each other try new things alone; about always encouraging each other to make dreams a reality; and being happy for each other's opportunities. I feel like the luckiest girl in the world, being with Zach. He has never held me back from any opportunity, and he encourages all my dreams. I think it's important that a boyfriend helps his girlfriend shine her brightest. If he does, he's a keeper!" —Joanna Kennedy, model and Candy Council of Cool 13 member
READ: 10 Times YA Gave Us Unrealistic Expectations of the Guys in Our Lives
Got a story to share about your guy and your relationship? Share them with us in the comments or tweet us @candymagdotcom. We always love hearing from you. :)
ADVERTISEMENT - CONTINUE READING BELOW