Guys
5 Ways You Should Never Break Up With Someone
This may sound like a cliche, but breaking up with someone is really hard to do.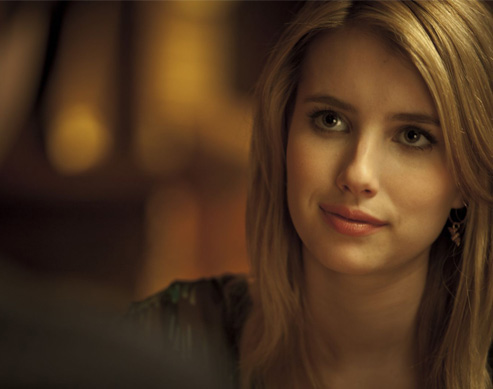 PHOTO Atlantic Pictures
Breaking up with someone is a difficult thing to do. There are a lot of feelings involved and if you're the one initiating The Talk, the possibility of hurting another person will keep you wide awake for nights. If only there's a way to lessen the pain, right? The thing is, you can't and there's no way to stop a heart from breaking. The only thing you can do is to at least give the other person some sort of clarity. So for the sake of clarity, don't resort to these things when you want to break up with someone.
1. Through text, call, chat, or a letter. Yes, there's a lot of ways to keep in touch with someone nowadays but that doesn't give you the right to call it quits by using the FB Messenger. Unless you're living in New York and the other person's here in Manila, doing the breakup online or via a heartfelt letter just isn't right. Do it in person and talk him through it. At least be there to hold his hand and share his feelings even for the last time.
ADVERTISEMENT - CONTINUE READING BELOW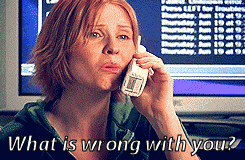 via officedouchebag.tumblr.com
2. Going all MIA after X days of dating. Whether you were just dating or you were official, have the decency to tell him in person that you're calling it off. Don't leave him hanging on to any amount of hope that you'll get back to your senses and everything between the two of you will be fine again. The other person's going to get it soon, yes, but don't you think stringing him along and letting him chase you for answers is just wrong?
ADVERTISEMENT - CONTINUE READING BELOW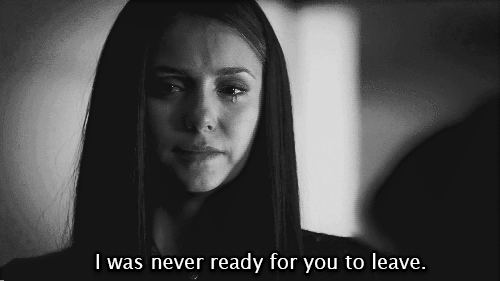 via 5sos-1d-and-wrestling.tumblr.com
3. Cheating with someone. While this is a surefire way to have the other person split up with you, it's also damaging. The situation will just lead to more questions, like "Why did you do it?" or "Is something wrong with me?" There's a chance that the other person's going to blame himself for the cheating and that's just not fair. If you feel trapped and you want to be left alone, don't go looking for comfort in someone else's arms. Gather up the courage and tell the other person what's wrong.
ADVERTISEMENT - CONTINUE READING BELOW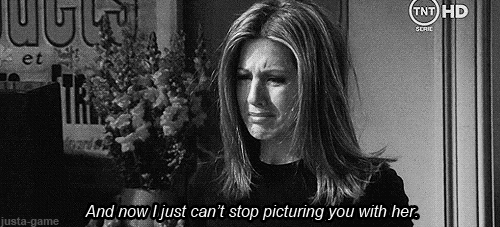 via justa-game.tumblr.com
4. During a date. Don't give the other person false hopes. If you planned the "date" or the meeting to talk about ending your relationship, tell him beforehand. It's just cruel to allow him to savor dinner and laugh during your conversations then shut him down in the end.
ADVERTISEMENT - CONTINUE READING BELOW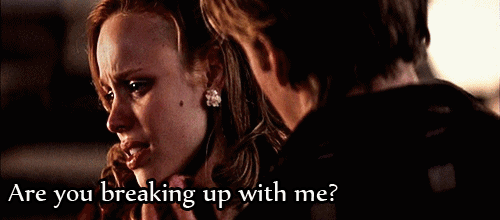 via lovinondylanobrien.tumblr.com
5. Publicly. Isn't this supposed to be common sense? You won't know how the other person is going to react to a painful situation, so do it somewhere the 2 of you can be left alone.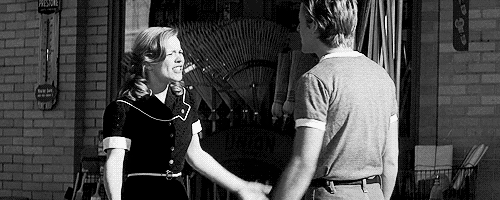 via diildaa.tumblr.com
ADVERTISEMENT - CONTINUE READING BELOW
The thing you should remember when breaking up with someone is that you should aim to give them a good memory of your relationship at least. It's already difficult to face the breakup itself, and when you do it in such a merciless way, the scars will be deeper and will take a longer time to heal.
Got breakup stories you want to share with us? Let us know about them in the comments or tweet us @candymagdotcom. We always love hearing from you. :)
We rounded up some simple reminders that might help you get through this hectic week.
PSA: They're all REALLY CUTE.
Note to self: You having a hard time does not equate to you being less smart.
"You suddenly or sometimes won't feel so smart anymore."
Constant cups of coffee, panic attacks before exams, eyebags for days, and tons of memes about stress. Sound familiar?
If it's something you've meticulously mulled over and thought long and hard about, then you're not marupok because of it.
Trade in your old iPhone for the iPhone 11!
As part of the #BreakTheStigma campaign, mental health experts and advocates say there is nothing wrong with asking for and needing help.
Carlie Hanson is definitely someone to watch for!
Because coffee is LIFE, no matter where you are.
Contrary to popular belief, it's rare for people to find the "perfect" first job!