Guys
5 Ways to Show Him You're Not Interested
There honestly doesn?t exist any optimal way to successfully do this, but you should still try.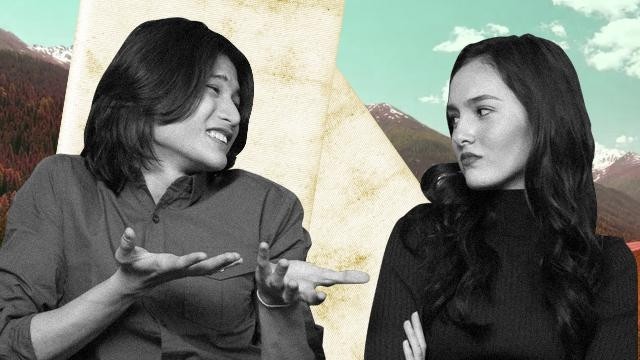 ART Trixie Ison
We've seen articles on how to tell if he's interested in you. We've also seen those that tell you how to show him you're interested in him. But what happens when you're not interested in the guy who's interested in you? For one, we don't want to be called assuming, or feeling. It's hard to ask for other people's advice, particularly when he hasn't explicitly told you he's interested in you—even if the signs all point to that train of thought. Another thing, your conscience might not be able to take it if you went straight to his face and told him you weren't interested in him. When he tells you he isn't even interested in you that way, you'll want the ground to swallow you up. So how do you push away those super embarrassing moments when your gut is telling you something's really up? Here are 5 not-so-rude ways to show him you're not interested (whether or not he truly is... it doesn't hurt to be sure).  
Don't feel obligated to reply to his messages.
Seriously. You don't have to worry about making him feel bad if you don't reply within 5 minutes. Better yet, when it doesn't necessarily call for it, you don't have to reply at all. Avoid sending long, detailed messages as well. Stick to one-word answers as much as you can, and if you can cut a conversation short, do it. You'll only make him think that you're interested in him by putting so much time and effort in replying promptly.
Turn down offers.
No matter how tempting his offer of treating you out for lunch is, DON'T ACCEPT. We get how hard this can be, but still, this might give him the wrong idea. You can put off invitations by telling him that you're busy or by asking him who else is joining you. This way, you're implying that you don't plan on spending a one-on-one session with him. This is why it's always important to have your reinforcements steady and ready.
Subtly bring up other subjects.
Stir him to the direction that he's not really your type. Try, in a really pasimple way, to bring up the guy that you''re currently crushing on—it doesn't matter if that person is non-existent. Just be extra careful that you don't end up giving out qualities that match the guy you're not interested in! The purpose of this is to hint that he's not really your type, not the other way around.
ADVERTISEMENT - CONTINUE READING BELOW

via thatscoop.com
Pull out the Friendzone card.
Wait a minute. Before you even attempt to do this, read on first. We don't mean that you pull out that cliché line of, "I only like you as a friend." This is exactly what we're trying to avoid because, in the first place, he might never have even told you straight up that he likes you beyond friendship. Try going for the other direction. Randomly muse about being really grateful for having a friend like him and hoping that you'll always stay that way. This way, you're defining your relationship (aka friendship) without assuming that he's trying to go the next level.

via cosmopolitan.co.uk
Follow the 3 Is.
When all else fails, follow the three Is. Ignore. Ignore. Ignore. Remember that this is only the emergency handle. By completely ignoring and shooting him down, you're also cutting off a bridge of relationship between the two of you. Given a period of time, he will eventually realize that you're really not interested in him at all, and when he moves on, your friendship (or whatever status you may have had before) won't stitch itself back together just like that. As much as possible, try not to resort to this.
\\\\\\\\\\\\\\\\\\\\\\\\\\\\\\\\\\\\\\\\\\\\\\\\\\\\\\\\\\\\\\\\\\
Get the latest updates from candy!
subscribe to our newsletter!
////////////////////////////////////////////////////////////////
From digital art to photography to mixed media, Filipino artists show that creativity is never lost in our people.
Skip a makeup step with these beauty goodies!
Take pretty notes and study effectively with these tips!
Wait for a love like this. A love that is good to you, for you.
Are you up for this challenge?
Can't wait to see the actual gowns!
The up-and-coming musicians and childhood friends talk about their music, creative process, and why it's important to be woke.
Because when it comes to a great lip game, there's really no need to splurge!