There's some kind of pleasure in liking/loving someone from a distance. And you do it for a lot of reasons, too!
One, you're scared to get rejected. Two, you're supposed to get busy with your studies first because it should be books before boys. Three, you're not yet allowed to have a boyfriend. Four, you won't be able to handle all the teasing that's going to happen when your feelings are out in the open. Or five, it's just easier to save yourself from the hassle of making your feelings known to him.
Whatever your reason may be, we've got you covered.
Don't talk about your feelings.
via giphy.com
If you can't stop yourself from talking about him, either you choose one friend you really trust or just scribble his name at the back of your notebook. Be careful about the latter. For safety precautions, tear the page when you get home and just keep it in a box or burn it.
ADVERTISEMENT - CONTINUE READING BELOW
Don't ask about him.

via hiddlesgif.tumblr.com
Fishing for any information about him from other people will only make them speculate. If you want to get to know him better, just go to his Facebook profile or Google him.
Don't stare at him.
via wehearit.com
We know this is super difficult—what with that cute smile and those rosy cheeks of his. But you have to. Try to focus your attention on other things. Or, you know, just steal a photo from his Facebook account and put it in your phone. Just make sure your friends don't have a habit of scanning your phone's gallery or else you're busted!

Don't react when you see him with another girl.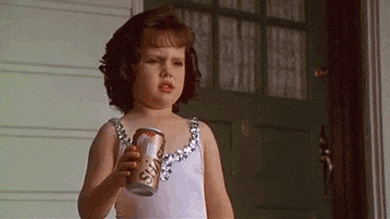 via giphy.com
Count to five and breathe deeply. We know it's very, very difficult to not feel jealous. But remember that, one, you don't have a right to be mad, and, two, they're just talking.

Don't overreact when he talks to you.
via miscgifs.tumblr.com
C'mon, he just talked to you. Control yourself. Breathe in, breathe out. Stop your face from turning red. Stop your lips from giving in to that grin. In the words of Frozen's Elsa, "Conceal, don't feel. Don't let them know."

Sounds difficult? A word of caution: usually, the more you hide your feelings, the more they swim to the surface. And before you know it, everything's out there for the entire world to see. So why don't you just give him the littlest signs that you're interested? Don't know how to start? You might want to read this.
ADVERTISEMENT - CONTINUE READING BELOW

Need more help on your crush dilemma? Tell us about it in the comments or tweet us @candymagdotcom!