Guys
5 Reminders for the Girl Who's Having a Hard Time Moving On
Because we need all the support we can get during part of our lives.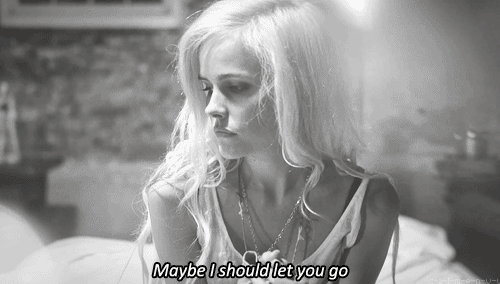 GIF Ivory Music & Video/Tumblr (silverlining)
If you're still finding it difficult to let go and finally move on from your ex-boyfriend or ex-something, don't worry. We went through our archive and found these helpful quotes from some of our favorite reads to help make this process easier for you. You can do it, Candy Girls!
Don't change your whole life just because you lost your bae or your relationship. Go about your day like you usually would, while getting tons of rest after everything. 

[blockquote:0]

No matter how difficult it may be, enjoy your alone time. It will feel weird at first, but once you focus on something else like a hobby or even reading a book, your days will feel better. This time in your life isn't supposed to feel like a punishment, but something to learn from.

[blockquote:1]

It's okay to feel sad. We even encourage that you spend time being sad. You need to let out all those negative feelings inside of you. Holding them in will just make things worse. Feel sad, cry, and get mad if you have to. Just make sure that after you scream your heart out, you'll spend the next weeks taking care of it.

[blockquote:2]

Wish him love, even if it hurts. Someday, you'll fall for someone too. Wouldn't you want him to feel happy for you too?

[blockquote:3]

One day, you'll realize you're okay. You won't even know that you are. Suddenly, things will look and feel better and the pain isn't as heartbreaking anymore. Then it'll dawn on you while you're going about your daily tasks that we really do move on from things, from love. No matter how long it takes. It's possible.

[blockquote:4]
Got guy troubles you want us to help you with? Let us know in the comments. We'll try our very best to help! :)
Sometimes, it only takes a few simple additions to brighten up your area and inspire you to stay productive.
Aside from IU, heavyweight groups like BTS, BLACKPINK, TWICE, and BIGBANG are also on the list!
Both the shop and its drinks are too pink and pretty!
There are also useful tips for showering your cat and cutting their nails. #NEED
Who else is excited for an all new season of "Kingdom"?
It's honestly a pretty decent amount for extra income!
Here's a little guide to get you ready for post-college life.
More Hyun Bin content coming our way!
Makati has plenty of heritage and culture.
These are the styling mistakes you're probably making.
It's the new takeover trend in food.
You might be rekindling an old relationship, but you also wouldn't want to cut ties with other people in the process.