Bonding with your long distance love is difficult. Aside from not being together physically (imagine not being able to hold their hand and give them warm embraces, huhu), your idea of dates are also limited. Thanks to the miles that keep you away from each other. However, your time for catching up via Skype or FaceTime or any messaging app doesn't have to be boring and strictly talking to each other. Even though you're not together IRL, you can still do a lot of things ~together~. If you're looking forward to spending some time with your love soon, but haven't set any activities for the two of you yet, we have a few suggestions right here.
1 Watch movies or TV shows simultaneously.
Agree on a series or a movie you can watch together when you both have nothing to do. Better pick something that you both haven't seen yet, so you share this same first. Stay online on Skype or FaceTime, so you can both see each other's reactions on a particular scene and discuss the movie or the episode after. Who says you can only have movie dates in cinemas, right?
2 Order food for each other.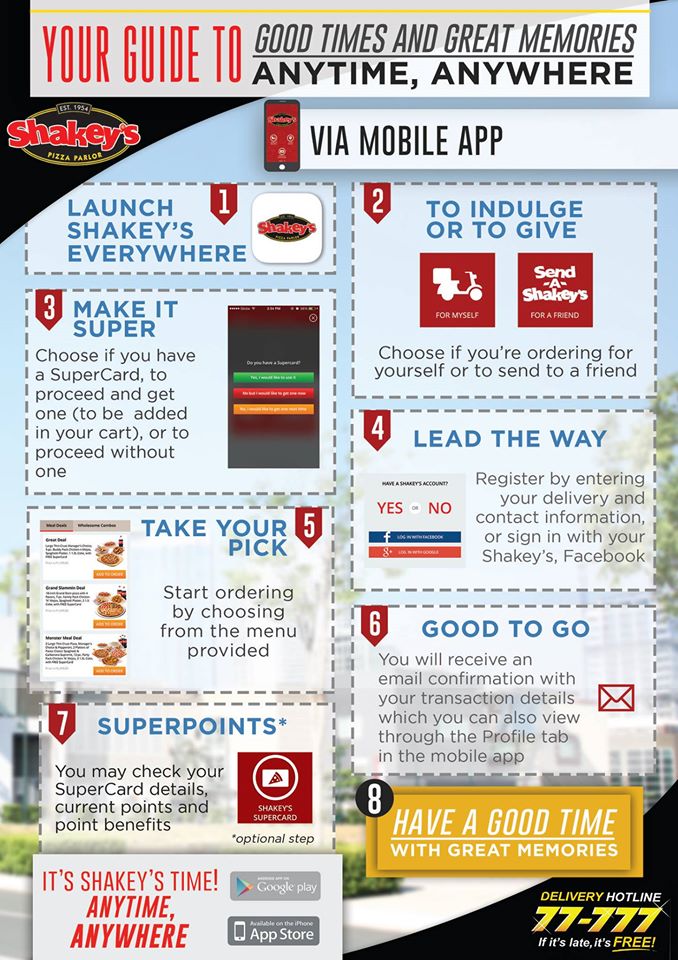 via Facebook (Shakey's PH)
ADVERTISEMENT - CONTINUE READING BELOW
Make use of those food delivery apps! Shakey's, for example, launched the Shakey's mobile app which allows you to order something for your bae. All you have to do is install the app on your phone, take your pick from the menu, pay, and let your partner enjoy his food. This way, you can also make sure your bae still eats even when he's super busy with a lot of things, showing him in the process that you really care about him.
READ: Us the Duo on How Music Helped Their Long Distance Relationship
3 Send letters to each other for the future.
Nothing beats receiving sweet, sweet words from your boyfriend when you least expect it. It doesn't have to be years from now or you don't have to schedule it on a blogging site. Write private letters for each other and make his day! Go to Future Me and write one letter (or one for each month?) for your bae now!
4 Play games together.
There are a lot of games you can play online with your bae now. One of our favorites is the Trivia Crack. Get competitive with your bae and see who gets to answer more questions. Just don't end up fighting about who's winning and who's losing, okay?
5 Just leave the camera online.
Long distance relationships are difficult, but just because you're apart doesn't mean that it's impossible for you to stay together. On days when you have nothing to do or nothing planned, agree to just leave each other's webcams online. You don't have to stay in front of your laptops 24/7. The idea is that he gets to see you whenever he wants to and knows what you're up to even when you're miles apart. It's the closest thing to feeling like you're just a few inches away from each other.
READ: 5 Apps Couples in a Long Distance Relationship Need on Their Smartphones
Know more activities you can do online with your long distance bae? Share your suggestions below. :)