When a girl's been through so many failed relationships, don't expect her to just willingly trust you with her heart. A girl who's used to dating jerks will obviously have a lot going on, and it's not going to be an easy task winning her trust and coaxing her to restore her faith in love. Well, to the girl out there, this isn't about avoiding jerks. No, this is about knowing what can happen to you when you're used to dating awful guys who don't treat girls the way they should be. Read this with the most open of minds, and see how this is not the kind of fate you want to have for yourself. Love is out there. You might not have found the right person yet, but he's out there somewhere.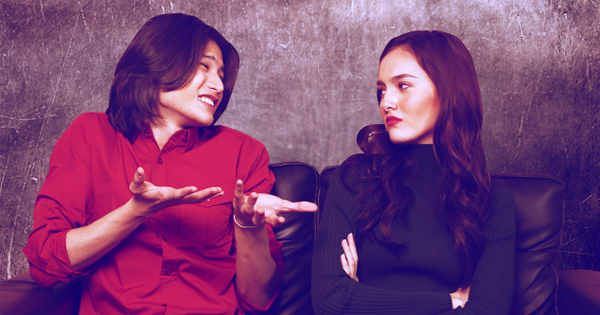 1 Love becomes an illusion.
One day, "I will always love you" turned to "I loved you, but..." There we have it. You've experienced love as an unfulfilled promise, and sometimes, you wonder whether or not love is really true. Love may just be something you see happening in movies and novels, but that's all there is to it. It only exists in the world of fiction. When you've never been loved before, there's nothing to back up your definition of love. How can you believe in the existence of the abstract if you've never so much as felt it in your life?
ADVERTISEMENT - CONTINUE READING BELOW
2 You have trust issues.
What happened when you tried to see the best in people? You were crushed and disappointed. Not just once, but a lot of times. You've been let down too many times that you decided to resign yourself in believing that it's better to not just put your hopes up. Well, that's what happens when you've seen the worst in people. It's easier to assume the character of a person in the most pessimistic way. As they all say, trust is difficult to build, but it can be destroyed in the blink of an eye.
3 You lose self-confidence.
There might be something wrong with you. There has to be a reason why you always end up in tears. Maybe you're just not worth anyone's love and affection. You don't deserve to be taken care of. Yes—these are just some of the thoughts that consume a girl who's used to dating jerks. When you've finished condemning the world for all the heartbreak you've been through, the next step you take is attacking yourself. You blame yourself for all those failed relationships. Your self-worth depreciates, and you forget to remind yourself how beautiful you are.
4 You develop a stereotype for boys as jerks.
Gone are your dreams of an ideal guy. Gone are your dreams of being swept off your feet by your very own Prince Charming. To put it in a dramatic way, you've lost hope for all the boys in the world. When you lock eyes with a boy, your mind screams jerk. Even though you encounter a guy who voluntarily opens the door for you and picks up the pen you dropped in class, you are automatically weary of their motives. There's so much doubt in you because of your past experiences that lead you to assume that boys in general are jerks.
5 You get used to it.
This is the inevitability of dating jerks. You've been there, done that. What's worse is, you've been there and done that more than you had to. No one deserves to go through a lot of bad relationships as much as you have. Because of that, you get used to it. You get used to the pain. Pain is necessary, and you end up believing that it's okay to get hurt over and over again. You've accepted that love is just an illusion. There's no such thing, really, so you become indifferent in a relationship. You have trust issues and see all the boys as jerks, but you continue to get into relationships nonetheless because your self-confidence has already dropped to such a low level. You've become so used to it that someday, you just won't care anymore.
READ MORE:
All the Things We Hate About Our Crush
The Things You Should Consider Before Breaking Up With Someone
3 Gentle Reminders After a Devastating Heartbreak From a Comic
Have you ever dated a jerk? Think we missed something on this list. Leave us a message or tweet us @candymagdotcom. We'd love to hear your thoughts!