Guys
5 in 5: Ivan Dorschner
The PBB heartthrob tries to answer our questions.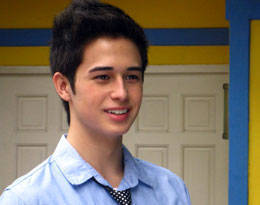 How does it feel now that you're out of the house and people get to notice you when you're in public?
[I started to become more] friendly. I can say hi to everyone now and everyone says hi to me.


How do you handle your stalkers?
Like this. [grin]

What if they approach you?
Stalkers haven't approached me yet. [I just say] hello!


Who do you idolize in show business?
George Clooney


Has acting been your dream ever since?
Only when I started doing stage plays that I think that I could do this. I started figuring out what acting really was. It's a job when you stand in front of the camera and pretend to be someone else. You get paid, you have fun, and you meet all these different people… There's no other job like it. I think it's the most entertaining and most fruitful job there is.


We know you've never said "I love you" to any of your girlfriends. What kind of girl would you say "I love you" to?
I would say 'I love you' to the girl that buys my first movie… if it ever comes out. [I'd say I love you to] a girl version of Kuya.


Time: 4 minutes and 24 seconds
Chat with Ivan this Friday, October 15 at 7-8PMon Candy ChitChat! See you there! :)
Find out more about your favorite Candy Cuties on Cutiepedia! Add your own trivia, photos, and videos, too!
A lot of them are apps we haven't heard of before.
We're sure you've seen portraits on your feed.
Some good news to start your day off!
It includes Lee Min-ho's TV comeback!
Meanwhile, the number of confirmed cases in the Philippines is at 2,633.
It's okay to admit if you're having a hard time doing the one thing you thought you were good at.
All the outfits and props were just things found around their house!
"You wish to know where my true loyalties lie? Not with any king or queen, but with the people."
Kayang-kaya niyo 'to gawin at home.
And it's all thanks to low air and light pollution.
It's part of a dashboard that helps you monitor all the confirmed cases in the country.
With a load of cute behind-the-scenes footage, too!