Guys
1D For A Day
If you were part of One Direction, who would you be: Harry, Liam, Louis, Niall, or Zayn?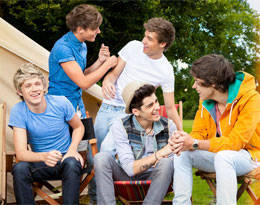 photo courtesy of Ivory Music & Video
monday

"Zayn Malik."
Javy, 20


tuesday

"Harry Styles."
Andre, 16


wednesday

"Of course I want to be myself. I don't want to portray another person and I'm proud of my own talents and skills. But I also love this group and I always listen to their songs."
Marco, 18


thursday

"I would probably be Zayn Malik because I like his hairstyle, the way he dresses up, and he also has a great voice."
Neil, 19


friday

"Zayn Malik. He is a very fit and fun lad."
Carlos, 17

It'll be just like the good, old days-except now, you can watch it any time, anywhere.
Molo has since posted his public apology online via Instagram stories.
Finally, something to look forward to.
This is just heartbreaking.
For "a different kind of positive," as designer Ram Silva puts it.
All you need is coffee, hot water, and milk sugar is optional!
What's your best and worst trait as a friend?
Stock your freezer with your all-time Jollibee favorites!
Make the most out of your time in self-quarantine!
It's okay to take it slow.