Guys
18 Guy Questions Answered
Guys answer the hottest quessies you've been dying to ask!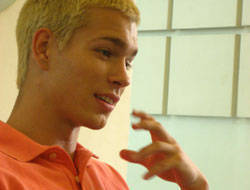 Compiled by Ange dela and Christine Herrin
Are there certain occasions when you'd actually cry?
When someone close to me dies, and probably if God told me I was going to hell, I would. —Daniel Velasco, 14
Are guys vain?
Not really. We just want to look good to feel good. —Raffy
Do guys gossip as much as girls do?
Yes! We even have code names for different girls. —Monchi, 19
How do you go about courting a girl you like?
I would get to know her first because it's a prerequisite for me to be comfortable with a girl. I like giving traditional gifts like flowers and chocolates-the works! —Mon Dinglasan, 15
What do you look for in a girl?
In the end, it's really what's inside that count. But maybe there's just a side of us that hopes to find someone who's both pretty and nice, beautiful inside and out. —Anton Jose, 14
Why do guys think so highly of themselves?
I don't think highly of myself at all. I look at boys and girls in exactly the same —way. Philippe de la Cruz, 22
You say simplicity is what you look for, but why do guys still get drawn to ma-porma girls?
With some guys, it's just a line they use to sound sensitive (which is actually just a ploy to attract more women). Others are probably more sincere about what they're saying but simply can't help falling for stereotypes. —Paolo Jose, 17
Why are guys so sexist against female drivers?
It's a common misconception that girls suck behind the wheel. It's sad that people think so, I know. —Dino, 20
Why do guys always think they have to impress girls?
I don't think it's about impressing girls. We just want to make a nice and lasting impress—ion. Luis, 16
Why do some guys give mixed signals when they like a girl?
Fear. Guys who send mixed signals are afraid of what they don't know and cannot tell for certain. —Marco, 18
Why are guys so addicted to video games?
Sorry, girls, but you've got tough competition (for our attention)! —Mike, 18
Do guys like being given CHEESY pet names?
Even if it were okay for some guys, I'm sure they wouldn't want it made public. It would ruin the image of masculinity we need to protect. —Marts, 18
Make a lucky guess: Why do you think girls go to the restroom in groups?
They go to the restroom in groups so they can talk to each other and do whatever they do in the restroom. —Ramon Gallardo, 16
Are you attracted to athletic girls?
Yes, because I know they won't say no to getting sweaty, playing in the rain, and having one hell of a good time.­ —Jian Miranda, 17
Can you tell if a girl likes you?
Yes. I can see it in her eyes and smile. —Pao, 18
Do guys talk about their feelings with each other when girls aren't looking?
We usually don't. We keep these to ourselves. We like to be independent and on our own. —Angelo Hofileña, 15
What do you think of girls who wear very thick makeup to impress you?
I think it's unnecessary. Guys can see the real you behind the thick makeup so wearing less is always better. —Mark Hilado, 23
Do you prefer high-maintenance or low-maintenance girls?
Low-maintenance girls, definitely, because I know I can bring her to places like Mang Jimmy's carinderia! —Jef, 18
How to be good to your skin AND your beauty routine!
Flawless face at an affordable price!
Oh, we've all been there!
BRB, raiding the ukay shops near UST!
Before the season 2 premiere of Stranger Things, we got to hang with some of the old gang and a pair of brand new strangers making their debut soon. Read all about it here!
Score great hair from Monday to Friday next week.