Guys
11 Best Answers to "Bakit Wala Ka Pang Boyfriend?"
Use these comebacks when people can't seem to stop questioning why you're still single.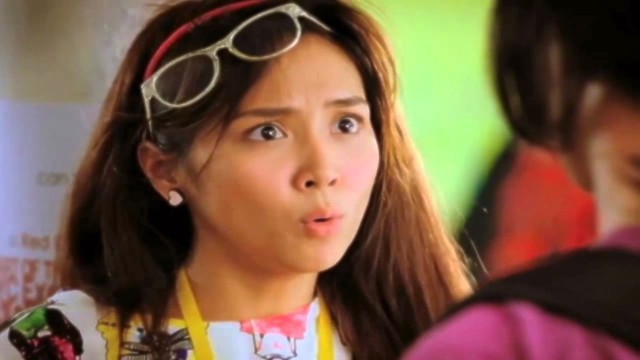 IMAGE Star Cinema
You've been asked this question a thousand times over that you have mastered your polite little smile and you are already a pro when it comes to diverting everyone's attention from your singlehood to the weather. Congratulations! But did you know that there is a way to finally put an end to this awkward question you've been trying to avoid all night?
Make sure you bookmark this so you're prepared for run-ins with your exes and your nosy titas.
"I'm in a very loving, committed relationship with food."
Because pizza won't ever wake up one morning and feel different about you, you know.
"I don't know if I am ready to share dessert yet."
I'm not yet ready to give up my solo rights to this molten lava cake and it's okay.
"Because I'm still learning to love myself."
And you should never feel awful about putting yourself first. 
"I don't have time for a boyfriend right now."
Between school, internship, and family, who has the time to go on dates? I can't even afford to complete the minimum eight hours of sleep everyday. Jeez.
"May deadline ba?"
Go, girl! Fight the pressure with all the sass you can muster! This works best with a hair flip, we think.
ADVERTISEMENT - CONTINUE READING BELOW
"I can't even commit to my skin care regimen."
How can I commit to another person when I still constantly forget to slather on some moisturizer before bed? Please ask me again once I have made this five-step skin care regimen a habit.
"Why don't we talk about my Latin honors instead?"
Does not having a boyfriend automatically cancel out the fact that I am killing it in other aspects of my life?
"Because Channing Tatum is married and James Reid's all happy with Nadine."
And Zac Efron is yet to return my calls. *deep sigh*
"I haven't found the right guy yet."
Just like that, no dilly-dally: simple, honest, straight to the point.
"I don't need anyone to take care of all my needs."
I am a strong, independent woman and I know how to take good care of myself. Trust me; I am strong enough to open my own jars.
"True love is worth waiting for. I'm not going to settle just because I've been single for a while."
It's totally okay to be single, you guys. It's still better than being stuck in an unhappy relationship.
Maybe you're still single because you actually chose to be single; or maybe you're still figuring out some things about yourself. Maybe deep inside you are terrified of commitment or maybe you haven't recovered from a really bad heartbreak. Whatever your reasons for staying single might be, remember that you don't owe anyone an explanation.
ADVERTISEMENT - CONTINUE READING BELOW
Just keep going after what makes you happy; that you owe to yourself.
If you're desperate for a cut, YouTube is your best friend.
She recently sang it again during an Instagram Live with husband Taylor Goldsmith!
They also had a short jam session!
"I was genuinely afraid I would die, because that is what it felt like."
If you haven't already picked up on that.
It'll be just like the good, old days-except now, you can watch it any time, anywhere.
Molo has since posted his public apology online via Instagram stories.
Finally, something to look forward to.
This is just heartbreaking.
For "a different kind of positive," as designer Ram Silva puts it.
All you need is coffee, hot water, and milk sugar is optional!