Guys
10 Things Every Girl Who Grew Up With Brothers Had To Deal With
Sometimes they're just a little too much to handle.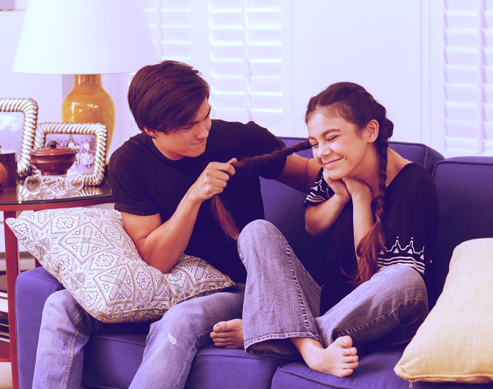 PHOTO Majoy Siason MAKEUP Angie Cruz for Shu Uemura
HAIR Eddiemar Cabiltes MODELS Patrik Franksson, LJ Harbord
Growing up with brothers isn't as easy as you think, you guys. Getting out of your room alone is quite an adventure and dealing with them takes a lot of energy—physically, emotionally, and mentally. To give you a clearer picture of how growing up with brothers feels like, we scanned through the tweets from the hashtag #GrowingUp WithBrothers (maaan, these #GrowingUp tweets are really helping us see where everyone's coming from!) on Twitter.
1 They steal your food.
my dad had to give me my own shelf to hide my food from my brothers #growingupwithbrothers

— Elise Cook (@elisemcook) August 18, 2015
2 They deny the fact that you're related or worse, say you're adopted. WHY?
#GrowingUpWithBrothers when people say you look alike pic.twitter.com/Q0hskppN8X

— Hannah Erickson (@hannaherickson_) August 17, 2015
3 You hit them accidentally, and they threaten to beat you up. Well at least it's just a threat. :(
#Growingupwithbrothers when you hit them first. pic.twitter.com/tMCtOVNoDB

— Eazy E-Naj † (@Enijah_Jacquee) August 17, 2015
READ: 7 Dating Problems Only Girls Surrounded By Brothers Will Understand
4 They see you as the designated dishwasher after every meal.
#growingupwithbrothers Your kitchen looks like this EVERY SINGLE DAY and you have to clean it up :'))) pic.twitter.com/UYkIzx8dWM

— Summer (@summersarae) August 17, 2015
5 Whenever they need another teammate, they'll pick you—but not because they want you. They just have no other choice.
#GrowingUpWithBrothers learning how to fight & play basketball instead of learning to do your hair or paint your nails

— Delanie ☯ . (@Cruz_____) August 15, 2015
6 They prioritize their game and their downloads over your needs (and your downloads).
ADVERTISEMENT - CONTINUE READING BELOW
#growingupwithbrothers "WE CAN'T JUST PAUSE THE GAME HAILEY"

— Hailey Hobbs (@hailey_hobbs) August 13, 2015
7 They never tell you when their friends come over your house. *facepalm*
Waking up in a tshirt & underwear unaware your brothers friends are in the kitchen when you just want choc milk. #GrowingUpWithBrothers

— Kayla Scott (@kaylascott__) August 12, 2015
READ: 7 Celebrity Brothers and Sisters Giving Each Other Some Sibling Love
8 But they do finish your food for you if you're too full to eat everything.
Take some of my food, I cannot finish #growingupwithbrothers

— SCOOBY (@mayveeslo) August 9, 2015
9 They're also protective of you when the need arises.
"@haileemarie23: #GrowingUpWithBrothers having them threaten every boy who had ever glanced in your general direction"

— kiii (@kileydodds) August 9, 2015
10 And they will always, always have your back.
#growingupwithbrothers despite all your play fights, they're willing to throw a real punch for you any day 👊❤️ #alwaysgotmyback

— McKenna Benson (@mck_benson) August 15, 2015
READ: Top Tengs: 10 Things You Should Know About The Teng Brothers
Know more hashtags we should feature? Let us know in the comments. :)
Aside from IU, heavyweight groups like BTS, BLACKPINK, TWICE, and BIGBANG are also on the list!
Both the shop and its drinks are too pink and pretty!
There are also useful tips for showering your cat and cutting their nails. #NEED
Who else is excited for an all new season of "Kingdom"?
It's honestly a pretty decent amount for extra income!
Here's a little guide to get you ready for post-college life.
More Hyun Bin content coming our way!
Makati has plenty of heritage and culture.
These are the styling mistakes you're probably making.
It's the new takeover trend in food.
You might be rekindling an old relationship, but you also wouldn't want to cut ties with other people in the process.
Craving that crispy CLOY goodness?