Guys
The Things Overthinkers Struggle With In a Relationship
When it comes to overthinkers, their greatest struggles don't come from the person they're with. They come from themselves.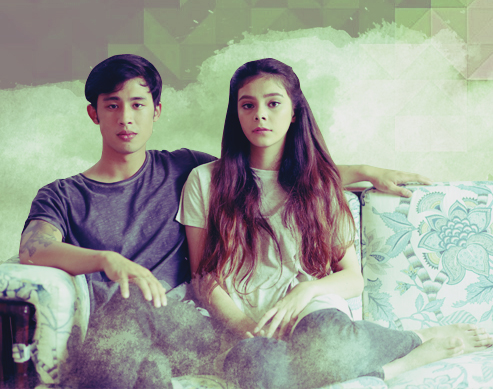 ART Trixie Ison PHOTO Majoy Siason MAKEUP Angie Cruz for Shu Uemura
HAIR Eddie Mar Cabiltes MODELS Mikko Marcelo, LJ Harbord
The problem with being an overthinker is that you have to constantly remind yourself not to listen to the voice at the back of your head—the voice that keeps telling you to try and read between the lines, the voice that's the reason you're always losing sleep. I mean, it's bad enough being an overthinker alone, but being an overthinker in a relationship? Yikes. Here are a few things overthinkers go through when we're in a relationship:
1 A text is never just a text.
A problem we overthinkers know a little bit too well. We like to think that our partners don't always mean what they say. The text could be just "K," and we could die trying to find a deeper meaning to it.
2 We apologize for everything.
We think everything is more or less our fault. We can't help it, it's the way we're programmed. We always find a way to think that we said the wrong thing or made the wrong move.
ADVERTISEMENT - CONTINUE READING BELOW
3 Letting go of things is never easy.
If you ask them what you said on the night of the 25th of August, they'd recite it in a heartbeat. You can never ask an overthinker to forget the past—it's almost impossible.
CONTINUE READING BELOW
Recommended Videos
4 Constantly second-guessing yourself.
Maybe he won't even notice. Or maybe he will. Should I just do it? What if he'll hate me? I should just do it. Wait, maybe I shouldn't do it.
5 Sleeping is never an easy feat.
You end up replaying scenes of the day in your mind. Did it really go that bad? Did he really mean it? I mean, in what world is it possible to sleep when the voices in your head are constantly in some form of a rap battle?
6 Being indecisive about everything.
He can never ask you to decide where you want to eat. It just goes without saying.
ADVERTISEMENT - CONTINUE READING BELOW
7 Thinking of a million (horrible) ways how a situation can play out.
A situation leads to another, and to another, and to another, and it just never really ends. It's a vicious cycle. More often than not, overthinkers can't help themselves in trying to figure out the worst (and believe me when I really do say worst) case scenarios.
8 Creeping on your partner on social media.
Overthinkers like to play detective and try to gather clues on his social media accounts. Is he mad? Is he upset? Why is he acting so weird? Are we in a fight I don't know of? Maybe he tweeted lyrics from a Drake song or Taylor Swift's. Hey, it happens.
9 Always comparing yourself to the imaginary "someone else."
Overthinkers are almost too paranoid of the existence of a third party in their relationship. We always think there's this "someone else" whose main mission in life is to wreck our relationship. We think they come in the form of his so-called best friend, neighbor, or classmate.
ADVERTISEMENT - CONTINUE READING BELOW
10 Stuck in a constant state of worry.
Worrying and being anxious is like, uh, breathing for you.
READ: #GrowingUpWithSiblings: The 10 Struggles You've Been Through
Got guy troubles you want us to help you with? Let us know in the comments! :)
His tweets are forever benta!
Big Boss is back-now as a pilot slash space debris salvager and a lawyer slash Italian mafia consigliere!
She found out about the casting call through Facebook.
Their songs are perfect for days when you need a little pick-me-up!
It's a local pottery studio located in San Juan.
The three movies are filled with them!
Here's what you need to know.
Plus, other things to know about the content creator and entrepreneur.
It comes in three different colors!
Professionals in data science and analytics are in major demand in the Philippines.
From The Candy Bulletin Community