Guys
10 First Date Embarrassing Moments
Those dreaded Oops! moments when you're hanging out with your crush or going on a date for the first time. Who hasn't had their share of embarrassing first date boo-boos?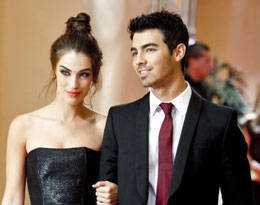 photo courtesy of The CW (90210)
Whenever we hang out with our boyfriends or crushes, we always want things to be as perfect and magical as possible—especially when it's our very first time.B ut there are just those unlucky times where we fall into completely mortifying situations that we just want to undo. Everyone's had their share of first date boo-boos.
Ketchup Stain
My crush and I were watching a movie in Greenbelt. I had my period at the time but I had thought it was already my last day so I took the risk of wearing a white skirt. When the movie finished and we were walking out of the cinema, my boyfriend asked me if I had eaten anything with ketchup, I answered no and he whispered, "Nins, you have a red stain on your skirt." I was so embarrassed! He brought me home right away. —Nina


Bad Fall
I was with my boyfriend for the first time since I agreed to be his girlfriend. As we were going downstairs in his house, I was in such a hurry since we were running late for a party. I was in 5-inch heels while rummaging through my bag. I didn't see the step so I fell down 4-5 steps down and I just stared at him and began to cry out of embarrassment, not because it hurt. He helped me up and asked if I was okay then he kissed me on the forehead. —Blake

Bad Allergy
It was my crush's birthday and I invited her along with her mom to a fine dining restaurant. I ordered all the food ahead of time and asked the waiter to serve it before my crush and her mom got to the resto. When they came, I noticed they didn't seem too happy about the food. So I asked my crush if there was something wrong. It turns out they were both allergic to everything I ordered! Her mom then asked me, "How well do you know my daughter?" I felt so bad the whole night and I ended up taking out all the food I ordered. —Chris

Killer Heels
It was prom and I decided to wear really high stilletos together with my dress. When my date and I were dancing the night away, I accidentally stepped on his foot. I stepped on him so hard that he could barely walk properly and we ended up sitting and watching other people dance for the rest of the night. —Addie

Mom's Birthday Surprise
It was my birthday and I didn't tell any of my friends. I decided to just take a girl I really liked out for dinner but I didn't tell her as well. While we were eating, my mom showed up and ended up joining us. She told my date it was my birthday and asked the waiters to sing me "Happy Birthday" as everyone else in the restaurant were watching. She also ended up interrogating my date with a good hundred questions. My mom probably thought it was okay, but the girl never went out with me again after. So much for a good celebration. —Marc

Time Flies
It was a Saturday and I had a date at around 6pm. Since it was still early, I decided to head for the mall for a bit and go window shopping. I got too engrossed while going around the stores that I had forgotten I needed to be home before 6. When I checked my watch, I was already 2 hours late. I rushed back to the house as fast as I could only to find my dad informing me my date had just left and he even came 30 minutes early! I called him up and said how sorry I was and thankfully, he forgave me. —Tanya

Bill Situation
I took a girl out to a fancy restaurant and told her she could order anything she wanted. We ordered lots of pricey food but I didn't worry since I knew my money would be enough. When we got the bill, I realized I had left my wallet at home. I was so frustrated because she ended up paying for everything! —Nico

Blowout
My dad's very strict so he only allows me to go on group dates. He finally allowed me to go on my very first group date only after he met my boyfriend. I was with my boyfriend and my barkada, along with their boyfriends. My friend was treating us all since it was his despedida celebration with us. While we were all enjoying eating pizza and pasta, I accidentally sneezed so hard that a booger fell on my boyfriend's food, luckily no one noticed but minutes later, my friend noticed it and told my boyfriend. They ended up complaining about it to the restaurant's manager and the restaurant replaced it with a new one. I felt so guilty! —Aria

Starstruck
My boyfriend and I decided to spend our first ever date as an official couple going around our favorite mall. I have a major crush on AJ Perez. So when I spotted him while we were walking, I got so excited and kilig that I forgot my boyfriend was with me and approached him at once and asked for a picture with him. After, I realized I had left my boyfriend so I came right back to him gushing all about what just happened. He just stared at me as I spoke. I snapped out of it after awhile and realized I was gushing over my celebrity crush to my boyfriend. I felt so terrible. —Tammy

A Stroll in the Park
I have a crush on my neighbor so I was so happy when he asked me if I wanted to go to the park with him. I had imagined it to be really fun just hanging out and talking while we were on the swings. I was having a really good time and it was all going so perfectly until while we were strolling across the newly-watered grass, I slipped and fell flat on the ground. I was wearing a light colored shirt and shorts so I was really muddy all over. My crush helped me up and said I looked cuter than ever even with the mud. I felt so embarrassed and kilig at the same time! —Nikki
CONTINUE READING BELOW
Recommended Videos
ADVERTISEMENT - CONTINUE READING BELOW
P30,000 is a huge amount!
It's also a fundraising campaign that already surpassed its goal amount.
Plus, other interesting things you might not know about her.
Make your plantita dreams come true while hustling.
The solo artist talks about the importance of collaborating and teamwork.
Athletic brains and academic brawn in one complete package
Proper planning and online hunting are ~key~.
"You can't 'buhat' your team all the way, you have to work together!"
In an interview with Candy, STI College Dasmarinas' Deputy Administrator spoke about the struggles they've encountered amid the pandemic.
The closures are caused by the coronavirus pandemic.
From The Candy Bulletin Community