Features
Your Complete Makeover Plan
Let go of all the things dragging you down! Here's a complete makeover plan that guarantees a happier you—inside and out!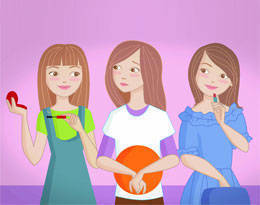 Straightening Up
If you tend to slump on your seat or if you usually stand with stooped shoulders, you may give the impression of having low confidence. Improving your posture will do wonders not only for your health but also for your overall appearance. Try walking with your head lifted, eyes looking straight ahead, and neck and shoulders relaxed. When sitting, align your spine with the back of your chair.
All Aglow
There are various ways to get healthy glowing skin. Start by having a daily skin care regimen you can easily maintain. Pick beauty products that are appropriate for your skin type. Remember to moisturize regularly and to protect yourself from the sun by going for sunscreens with a sun protection factor of at least 15 (SPF 15).
Tossing Unhealthy Habits
Taking care of your body begins with proper hygiene. Trim unkempt nails, tame frizzy tresses, tweeze unruly eyebrows, keep your breath fresh, and visit your dentist regularly. Tempted to reach for a hefty serving of fries and a can of soda? Go the natural way instead. You can cut on the grease and avoid the added pounds at the same time. Properly hydrate to flush out impurities from your body.
ADVERTISEMENT - CONTINUE READING BELOW
Sleep Scrimper No More
Maintaining your stellar track record in class does not have to mean cutting down on sleep. Balance your time so you'll have at least seven to nine hours of sleep a day. Constantly losing sleep will only take its toll on your body by leaving you burnt out, not to mention the big red zit that may greet you when you wake up the next morning.
CONTINUE READING BELOW
Recommended Videos
Mane Attraction
Nix the 100-brush-strokes-a-day routine, which strips your hair of its natural oils. Go for a shampoo that gives you the right amount of moisture and volume for your crowning glory. Remember to choose an appropriate hairstyle for your face shape.
Keeping It Positive
Sometimes, looking at the world with rose-colored glasses can make you look more radiant. Having a mindset that you are stressed, however, can make your skin look sallow and lackluster. It's all a matter of finding the right disposition. Detoxify yourself from negativity. Maintaining a positive outlook will make you exude confidence—one of the most necessary components of being beautiful.
ADVERTISEMENT - CONTINUE READING BELOW
Click on to the next page to read more about how to deal with so-called friends who bring you down.
The four universities have released a joint statement.
Yes, a mainstream romance about two Filipinas falling in love. And it's really good.
Find out what the universe has to say about you.
Some started with zero entrepreneurial experience and knowledge!
Red wine in a scented candle? *Adds to cart*
Is Pepe Herrera Toni Gonzaga's leading man?
In this episode of Made It, Nina talks about starting a business as a college student and eventually growing her brand into what it is now.
This book will bring out the romantic K-Pop fan in you.
They've also dreamed of being doctors.
They're flexible to accommodate working students' schedules.
The COVID-19 pandemic completely changed the employment landscape.
From The Candy Bulletin Community