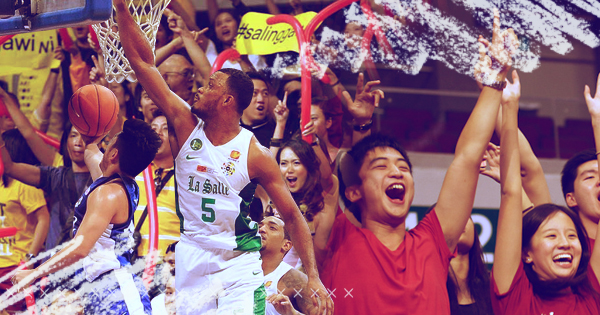 UAAP Season 78 has just started last September 5, with this year's host—the University of the Philippines—staging a grand opening ceremony to jumpstart the season ahead. We're certain you're just as hyped up as we are for the players, the games, and the all the fun that's in store! The turn of events just keep getting more and more thrilling, so we've made sure to keep you on the right track with this bucket list to ensure you nothing but excitement for this year's UAAP!
1 Take a picture with your favorite athlete!

C'mon, we know you want to, and we're here to tell you—there's absolutely no shame in it! Taking a snapshot with your favorite player will not only give you ultimate kilig feels, but can also pave the way for that bond you're hoping to build with them! So shake off the shyness, and have your cameras ready!
ADVERTISEMENT - CONTINUE READING BELOW
2 Watch a live game.

Catching the action live will never fail to give you a thrill. Schedule your next barkada bonding on a game day and cheer your hearts out for your favorite team! The excitement will definitely leave you on the edge of your seats.
3 Wear your school spirit.
ADVERTISEMENT - CONTINUE READING BELOW
Be loud and be proud. Show your full support by wearing your school's colors! Don't forget to belt out some catchy cheers too. You'll not only feel at one with the crowd, but you'll also psych up the players with the encouragement they need!
4 Catch games in more than one sport.

Swimming, softball, and football are just a few of the other sports featured in the UAAP. With so many to choose from, make sure to watch more than one type. Their playing styles may vary, but the fun and excitement will still be the same!
5 Get to know the game lingo.

We've all gone to at least one game and not understood the official's call. Spare yourself the confusion and familiarize yourself with how the game works! Who knows? Your crush might just ask you out to the next match! This way, you'll totally be prepared.
ADVERTISEMENT - CONTINUE READING BELOW
6 Make it through the long and tedious ticket line.

Good things come to those who wait, so don't lose hope when the ticket line gets too long! We know how tiring it can get queuing to get a pass for the games, but you'll get there. Just have the right attitude when lining up—the long wait surely won't disappoint!
7 Make new friends.

May it be from your own school or from a different one, it's always nice to meet new acquaintances. Be friendly, and flash a smile along with your fighting spirit! The games are always a nice place to make new friends.
How many have you ticked off on the list?