Features
Here's a month-by-month list with things to tick off throughout the year!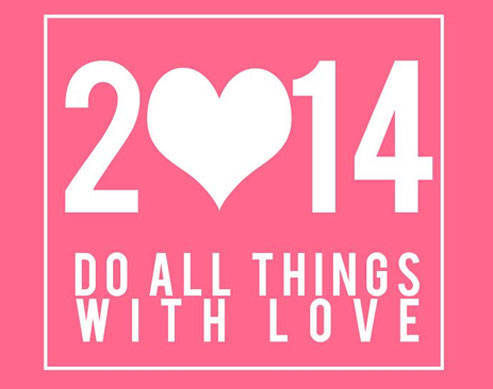 GIFs Tumblr
The New Year means a fresh start. Using this checklist, make 2014 your ultimate goal-reaching year! Print this and post this on your vision board, save this on your phone, or make this your bucket list!
January
Get a planner. This will help you track your goals and be organized.
Try something new. A new hair color, new outfit, or a new lippie!
Go for a Binondo Food Trip for Chinese New Year.

via deiangel93lovesnoppy.tumblr.com
February
Visit an old friend you haven't seen in a while.
Say "yes" to a date from that special someone.
Give flowers to a stranger (on Valentine's!).

via yeswecancan.tumblr.com
March
Give yourself a pat on the back for the great academic year that was.
Attend a concert (heard Macklemore and Ryan Lewis, and Bruno Mars are coming!).
Go on a photo walk. Use your trusty camera or try shooting on film!
via today-is-tomorrows-yesterdayy.tumblr.com
April
Go away for the weekend to a place you've never been.
Try wakeboarding.
Watch the sunset with someone special.

via heartsandmagic.tumblr.com
May
Take a creative class — cooking, sewing, baking, crafts, etc.
Attend 2014's Candy Style Awards!
Go to a music festival.

via http://edmbreeze.tumblr.com/post/58767117519
June
DIY: Make your own anything!
Sell or donate your old books and DVDs.
Make new friends in school!

via cuoreincenere.tumblr.com
July
Join an organization. It's a great experience and you'll learn a lot of things!
Have an indoor picnic. Go for a Marie Antoinette inspired picnic – a delightful tea party complete with French macarons.
Eat at a new restaurant. Or try a new delicacy!

via alyce-in-bloom.tumblr.com
August
Survive hell week.
Ace your college entrance exam (for some).
Watch a blockbuster movie.

via biggestmouse.tumblr.com
September
Watch the UAAP Cheer dance competition live.
Attend the Candy Fair 2014!
Take a selfie with that Candy cutie you've been eyeing!
via boayinl.tumblr.com
October
Go to a horror theme park. Because your first scream could be your last!
Decorate a pumpkin for Halloween.
Dress up as your favorite character for a Halloween party.

via unculturedmag.tumblr.com
November
Pack a healthy lunch (gotta start saving up for the holidays!).
Volunteer (for anything).
Run a marathon.

via livefitdiefit.com
December
Go shopping. Attend bazaars—don't miss your favorite mall's great sale!
Complete the Simbang Gabi. Not to mention the must-try puto bumbong and bibingka!
Spend quality time with your family, and never forget that Christ is the reason for the season.

via in-a-perfect-w0rld.tumblr.com
To borrow sage advice from Neil Gaiman, may this coming year be filled with magic and dreams! We hope somewhere in the next year, you Candy Girls will surprise yourself. Do not forget to do all things with love. Happy 2014!
\\\\\\\\\\\\\\\\\\\\\\\\\\\\\\\\\\\\\\\\\\\\\\\\\\\\\\\\\\\\\\\\\\
Get the latest updates from candy!
subscribe to our newsletter!
////////////////////////////////////////////////////////////////
From digital art to photography to mixed media, Filipino artists show that creativity is never lost in our people.
Skip a makeup step with these beauty goodies!
Take pretty notes and study effectively with these tips!
Wait for a love like this. A love that is good to you, for you.
Are you up for this challenge?
Can't wait to see the actual gowns!
The up-and-coming musicians and childhood friends talk about their music, creative process, and why it's important to be woke.
Because when it comes to a great lip game, there's really no need to splurge!