Features
You Don't Always Have to Choose Between Your Best Friend and Your Boyfriend
You can be the best girlfriend and the best best friend because you know, #achieve.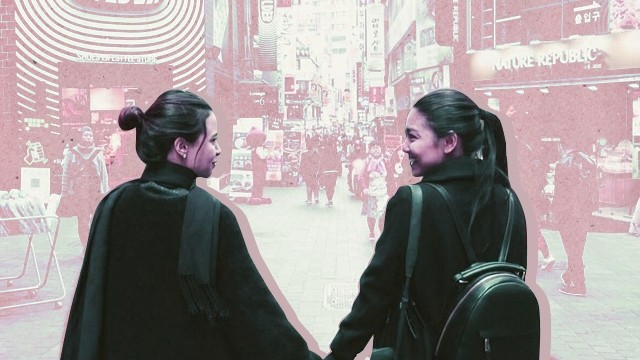 ART Trixie Ison
So here's the sitch: Your best friend is giving you a cold shoulder because you've already missed three consecutive sleepovers because it falls on ~*date nights*~ with your guy, or maybe because whenever she calls you for some expert love advice or some pep talk before a major class report all she hears is "The number you are calling is busy at the moment." Did you just forget the coffee-slash-study-date you guys set a week ago because your boyfriend surprised you with an after-school picnic date?
Fret not, you're not a terrible friend! You just need to strike a perfect balance between your love life and all other dimensions of your social life. Believe us when we tell you that you can totally pull-off the best girlfriend plus best best friend persona without breaking a sweat! It'll be easy-peasy if you just follow these tips:
1. Planning is key. Here's where your trusty planner comes in! Schedule dates with your boyfriend and your best friends ahead of time to prevent any blunders. Do this on the regular so that you get time off for some girl talk while your boyfriend gets the time to chill with his bros (his best friends need him too!). Doing all the planning beforehand will also ensure that the dates are well thought-of and extra special!
ADVERTISEMENT - CONTINUE READING BELOW
CONTINUE READING BELOW
Recommended Videos
2. Never seen-zone. Make sure you don't ghost out on your friends even if you're spending most of your time with your boo. Make them feel that you're just a call away and that you'll be willing to reschedule a romantic date night with your boyfriend in case they're in dire need of a shoulder to cry on or if they need you to be their plus one/wing(wo)man if their date ditches them. 
Don't forget to let them know that on their worst nights, the ice cream and the warm hugs are on you!
3. Stick to your commitments. Ditching your best friends or your boyfriend by cancelling last minute is the biggest no-no except on emergency cases (refer to #2). Do your best to stay true to your word so that no one you care about will feel left out or put on the backburner. We know it's quite a tedious balancing act; but anything for the people we love, right?
ADVERTISEMENT - CONTINUE READING BELOW
4. You can have the best of both worlds. Who says you can't have everyone you care about all in one place? Find an activity that all will surely love; like a movie marathon or a late-night pig-out and get the gang plus your boyfriend together. It will be an amazing opportunity for your BFFs to meet (or maybe grill, LOLJK!) the love of your life. Your boyfriend will also appreciate the chance to meet the girls you consider your sisters from other mothers.
5. But you don't have to force it. Nothing would be better than to have all your loved ones get along but remember that that doesn't happen overnight! It will take some time for your best friends to get used to the ~*guy presence*~ perpetually lurking around when they're with you and your boyfriend also has some adjusting to do because the female domain may still be uncharted territory for him. Just relax, everything will fall into place.
ADVERTISEMENT - CONTINUE READING BELOW
If there's one thing that your boyfriend and your best friends have in common it is that they love you and they want you to be happy. So don't stress out when you feel like you're neglecting any one of them, they will understand and they will give you the chance (and even chances) to make up for it. Just make sure that you do. :)
Have you ever heard of the *Off-Facebook Activity* tool?
At The British School Manila, students use social media to foster a sense of belonging.
Here's a little throwback that will make your day!
The security issues detected "may have been actively exploited" by hackers.
"No matter how hard we tried to make it work, it wasn't meant to be."
Take your pick from this list of self-care apps and mood trackers.
It's happening in stores and online!
It isn't an easy feat even for the regular students like us.
In case you're curious about what kind of jobs are currently available in the market.
For when you're feeling adventurous.
You can spend Happy Hour watching the sunset!
From The Candy Bulletin Community