Features
Why Senator Tito Sotto's 'Joke' Is Not Funny
And why calling him out is important.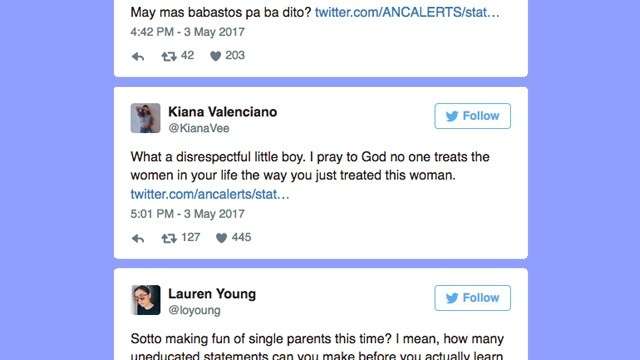 IMAGE Twitter ART Clare Magno
Today in another episode of Fighting Misogyny Every Day also known as life in the Philippines, Senator Tito Sotto has drawn flak for the 'joke' he uttered at the confirmation hearing of Department of Social Welfare and Development Secretary Judy Taguiwalo before the Commission on Appointments earlier today. 
In this video clip, you'll hear the awkward exchange between the Senator and the Secretary. We're actually not sure why this personal question was even brought up as it doesn't seem to have anything to do with her job. And while we don't find the Senator's idea of a 'joke' funny, we applaud Sec. Taguiwalo for her response.
ADVERTISEMENT - CONTINUE READING BELOW
Senator Sotto: Just on the lighter side, Senator Drilon and I were looking at the personal information about you. And you have two children. Daughters ba or sons?
Secretary Taguiwalo: Two daughters.
Senator Sotto: Two daughters but you're single?
Secretary Taguiwalo: My life has never been a normal one. I never had a home-mother-father-children kind of thing except when I was growing up in Bacolod. Remember, I graduated from UP in 1970. I did organizing work. From 1972 up to 1986, it has been a life underground or in prison. My story would be different from the stories of those who have gone through UP, corporation, etc.
Senator Sotto: In the street language, when you have children and you are single ang tawag dun ay na-ano lang. Thank you, you have my 100% support, madame secretary.
"Senator Sotto, I teach women studies. So we respect all kinds of families and that includes solo parents. Thank you." —Secretary Judy Taguiwalo
It's truly heartbreaking that this is the type of behavior we bear witness to on a daily basis. When we speak up about it, we're accused of being sensitive or of making a big deal about nothing. But language matters because this is what forms our culture. That's why it's important that we call someone out when they say something misogynistic. And that's exactly what happened on social media as soon as this exchange happened.
ADVERTISEMENT - CONTINUE READING BELOW
ADVERTISEMENT - CONTINUE READING BELOW
So after being called out, the senator has said sorry. But his apology even puts the blame on people who got offended because they didn't get the 'joke.' While Senator Sotto qualifying it as "street language" makes him think that it's a 'joke,' we'd like to tell him that it's not funny and it will never be funny.
ADVERTISEMENT - CONTINUE READING BELOW
How much should we rely on them to capture our personalities?
Guys, it wouldn't hurt to add a twist to your go-to look!
Shop with an advocacy in mind!
Is IF advisable for a college student's busy lifestyle?
"Planado na, booked na ang trips."
Share your routines, too!
The next Miss Universe Philippines is said to receive the biggest cash prize in the history of Philippine pageantry.
While there is still a long way to go, it's become so much easier to find like-minded people who share the same cause.
It's a game for those who love to play around and break the rules.
Truth is, you don't need to spend a lot to achieve the feed of your dreams or build your portfolio.
Now's your chance to give back.