Features
Why It's Important to Listen to the Youth, Part 2
Thirteen-year-old student Shibby Lapeña de Guzman pens a powerful piece in the form of two letters.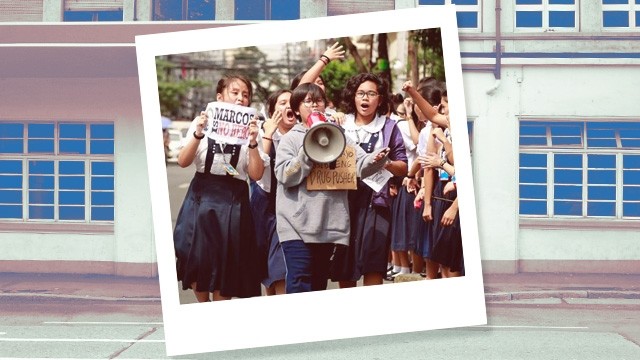 IMAGE The Benildean
Despite getting flak for the viral photo of her protesting the late dictator Ferdinand Marcos's burial at the Libingan ng mga Bayani, Shibby Lapeña de Guzman didn't let it silence her. Instead, she used her newfound platform to her advantage by proving that the youth have a very important voice in our society and shouldn't be dismissed as ignorant and uninformed (which could be read here). Below is the second letter she wrote for you, her fellow youth, in this 2-part feature. 
Dear Youth,
Coming from another person of your age group, I encourage you to rise up because we'll be the next leaders of the country. It's one thing to tell one kid that they should be the light and the hope amidst the violations of human rights and corrupt chaos. It's an even bigger thing when you see hundreds of those kids together, being the light and hope in the middle of all that because they know and understand what had to be done for what was done before. 
ADVERTISEMENT - CONTINUE READING BELOW
I know it's pressuring, but this country needs voices. You're one of them with no replacements, no back-ups, no stunt doubles, to take a risk for yourself, and go to rallies.
You are someone the world needs and will need once the people who have taught you this pass away.
Them passing away is them passing their legacies onto you. It's our role as the youth of society to protect it by doing what we can to help our country. 
As Elie Wiesel said, "We must always take sides. Neutrality helps the oppressor, never the victim. Silence encourages the tormentor, never the tormented."
ADVERTISEMENT - CONTINUE READING BELOW
We must take charge of what's happening in our country. We must fight now and study well.
Yours Truly,
A Fellow Youth
All you need is coffee, hot water, and milk sugar is optional!
What's your best and worst trait as a friend?
Stock your freezer with your all-time Jollibee favorites!
Make the most out of your time in self-quarantine!
It's okay to take it slow.
Are you ready to elect the next Philippine president?
A lot of them are apps we haven't heard of before.
We're sure you've seen portraits on your feed.