Features
Why It's Important to Listen to the Youth, Part 1
Thirteen-year-old student Shibby Lapeña De Guzman pens a powerful piece in the form of two letters.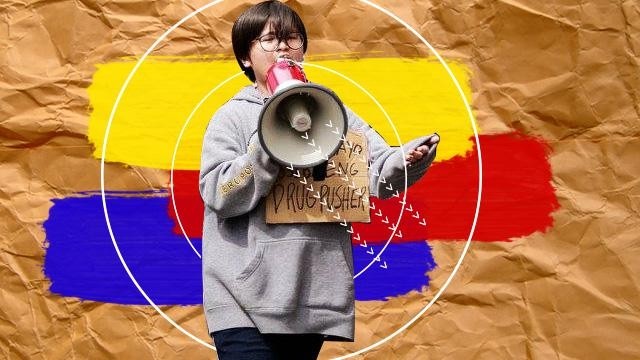 IMAGE The Benildean
Shibby Lapeña de Guzman was photographed by The Benildean protesting on the streets with her fellow St. Scholastica classmates. After the photo went viral, she was met with both praises and criticism. In this 2-part feature, she writes letters to show how incredibly important the voice of the youth is. Read her letter to the grown-ups who seem to underestimate what the younger ones know and understand, and are willing to fight for and against.
Dear Grown-ups,
The youth may not be in charge of today now, but they will be. Our voices speak for what we believe in and what you believed in. Our voices speak for you, who could not speak at all. Our voices count. The youth and the art of activism is alive and burning in our young minds and hearts. We'll gladly take your place someday and bring pride, honor, and more development as a country.
ADVERTISEMENT - CONTINUE READING BELOW
Oftentimes there will be rash comments telling us that we don't know what it was like during Martial Law, and therefore we have no right to protest. Although deep down, we know you would have wanted our voices to replace the yells and gunshots.
Our voice will be a substitute for what you couldn't say. Our voice will speak for the gunshot wounds that still bleed today.
There are people who accuse the youth of being uninformed merely because we weren't alive during your time. Though you do not have to be there to know what it was like for you to understand that extrajudicial killing is wrong. That torturing people is wrong. That killing is wrong. The youth has their own mind and age does not indicate how mature a person could be.
ADVERTISEMENT - CONTINUE READING BELOW
So keep the youth in your minds and hearts. Treasure them. Communicate with them. Ask them. In reality, we both have much to learn. The things unexplained are left unexplained to all generations, so appreciate this decision of the youth's activism. This is one thing we know.
Yours truly,
The youth
Read about Shibby's letter to her fellow youth in the second part of this feature.
All you need is coffee, hot water, and milk sugar is optional!
What's your best and worst trait as a friend?
Stock your freezer with your all-time Jollibee favorites!
Make the most out of your time in self-quarantine!
It's okay to take it slow.
Are you ready to elect the next Philippine president?
A lot of them are apps we haven't heard of before.
We're sure you've seen portraits on your feed.
Some good news to start your day off!