Features
What Kind Of Mom Do You Have?
Not all moms are created equal—and that's a good thing because you're not "just like everyone else" either. But the tricky thing about most mother-daughter relationships is that even though you love each other, you just can't seem to understand one another.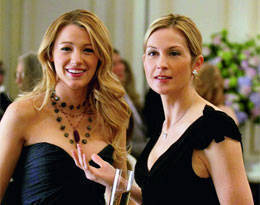 photo courtesy of The CW (Gossip Girl)
Below is your easy-reference guide to finding out what kind of mom* you have, and how you can use your knowledge to improve your relationship with her... and your relationships with other people.
*Take note: Some moms will perfectly fit just one personality; other moms might be a combination of up to three personality types.
The Overworked Mom
She often says: "I never have time to rest!"
She reminds you of: Donna Sheridan in Mamma Mia!
When she was a teen: Your mom was "the friend people could always count on." But she was never really sure who to turn to when she needed help.
Why she's a cool mom: She'll do anything to make your life happier and more comfortable. And it's not just you—she'll help anyone who asks for a favor. She's just so nice and accommodating!
What's not so cool: Because she always says yes to requests and favors, she's chronically tired and always complaining that she needs a break.
ADVERTISEMENT - CONTINUE READING BELOW
How to deal: Tell her, "Let me do something for you, Mom." and really mean it. Get your siblings to chip in and send Mom off to a spa for a whole day of royal pampering, then surprise her when she gets home with a spotlessly clean house and chore-free kitchen.
CONTINUE READING BELOW
Recommended Videos
How she helps you: She shows you the value of sacrifice, especially if it's for the people you love. This allows you to be more generous with others. Just be careful not to burn out—and treat yourself to a spa day once in a while too!
Click on to the next page for another type of mom.
Is Pepe Herrera Toni Gonzaga's leading man?
In this episode of Made It, Nina talks about starting a business as a college student and eventually growing her brand into what it is now.
This book will bring out the romantic K-Pop fan in you.
They've also dreamed of being doctors.
They're flexible to accommodate working students' schedules.
The COVID-19 pandemic completely changed the employment landscape.
Through these, viewers become aware that there are different mental health issues being experienced by real people.
Never drink cold coffee again!
"When I saw Jane, I said, she's special."
This fringe looks good on everyone, I promise!
From The Candy Bulletin Community