Features
What It Really Means to Have Haters and How To Deal
"Jenkins, pour me a glass of Haterade please!"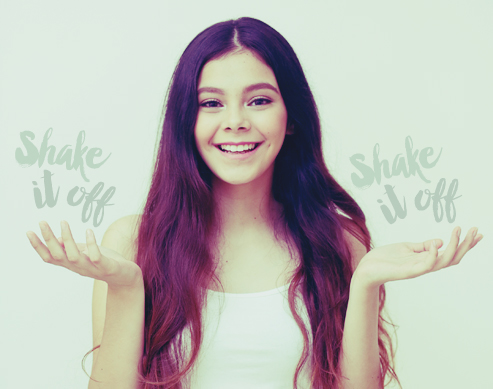 PHOTOS Majoy Siason
No matter how hard we try there will always be that one person (or group of people) who will hate, hate, hate, hate us no matter what we do. They will have their mean opinions that echo in our heads and claw at our hearts and therefore crush our self-esteem. Yes, we admit. Their words can hurt, but that doesn't mean that you have to let it get to you. Here are 5 reasons why haters are actually good for us!

1 Most of the time, haters are just insecure about themselves and see you as a threat.
Hey it's not your fault that you're amazing at something that takes the spotlight away from your haters (if the spotlight was ever on them, that is). In every journey you are bound to meet some haters, and that's not such a bad thing. Most of the time haters are just very insecure about themselves and see you as a major threat—it's psychology! Just keep that head up high and stay strong.

2 They talk about you behind your back constantly—don't let them stop you!
ADVERTISEMENT - CONTINUE READING BELOW
Haters will always talk about you behind your back. Think about it. Your haters watching you walk on water then telling everyone that you do it because you can't swim. How they find a downside to everything you do is appalling. The secret is to ignore all the hate and keep doing your own thing because people are going to judge no matter what.

3 Haters will criticize and criticize, make all of it work for you!
Haters can build you up to be stronger. It really just depends on the way you see it. Use their bad criticism to improve yourself more. Then keep improving and improving until you prove them wrong in every single way possible. You might just even surprise yourself with your newfound strength.
4 Haters help you realize who your REAL FRIENDS are.
While they're frowning their way to wrinkledom, you're over here doing all the things your love to do with the people who matter most. You have haters, but that doesn't mean that you should focus on the hate (because you really shouldn't). Surround yourself with people who love and support you every step of the way. Always spread positivity!

5 Haters gonna hate, hate, hate, hate, hate, hate...
ADVERTISEMENT - CONTINUE READING BELOW
You have to accept the fact that you can't make everyone like you—and there's nothing wrong with that. Don't waste your time thinking about your haters because they're not worth it. Kill them with kindness, and kill them with success. In the wise words of Taylor Swift, just "shake it off, shake it off."
How do you deal with haters? Share your tactics with other Candy Girls in the comments down below or join the conversation on Twitter @candymagdotcom.
Here's a little guide to get you ready for post-college life.
More Hyun Bin content coming our way!
Makati has plenty of heritage and culture.
These are the styling mistakes you're probably making.
It's the new takeover trend in food.
You might be rekindling an old relationship, but you also wouldn't want to cut ties with other people in the process.
Craving that crispy CLOY goodness?
One college student shares her experience of being a former working student.
The network's franchise is set to expire in March 2020.
It's okay if you don't have life figured out yet.
Stress is short-lived, but your friendship is forever.
Sit back, relax, and get ready to binge!