Just in time for Women's Month, a group of women have banded together to rally Filipinas and create a safe space where women can talk face-to-face about issues that concern us. We spoke to Mich Dulce, fashion designer, milliner, corsetiere, actress, and vocalist, to learn more about Grrrl Gang Manila and why it's important that you be a part of the movement.
Mich shares that her entry point to feminism was riot grrrl, the underground feminist punk movement that started in the '90s. Her love for music—she's the vocalist of riot grrrl band Death by Tampon—helped her discover feminism. The former PBB housemate shares that when she was younger, she was always interested in feminism but she was also worried that she might get things wrong or her idea of feminism wouldn't be accepted by others. "I've always been kind of insecure in my feminism. I was always afraid to call myself a feminist because I was scared people would judge me and think my opinions were wrong." But as she grew older and got to travel, she found that there were groups of women who would meet and openly discuss women's issues without fear of judgment or rejection. "Every time I travel, I'm super active in riot grrrl communities and I go to feminist meets and there's nothing like that in the Philippines. It's not so approachable," she explains. "In New York, they have these events and you just show up and it's super friendly. You don't have to sign up, it's not hard to find, it's super casual," Mich shares. It was important for someone like her, who was insecure or not sure about her knowledge of feminism. She says, "It's easier to learn about feminism like that. It wasn't intimidating." She realized that there was a need for this type of female fellowship in the Philippines.
ADVERTISEMENT - CONTINUE READING BELOW
ADVERTISEMENT - CONTINUE READING BELOW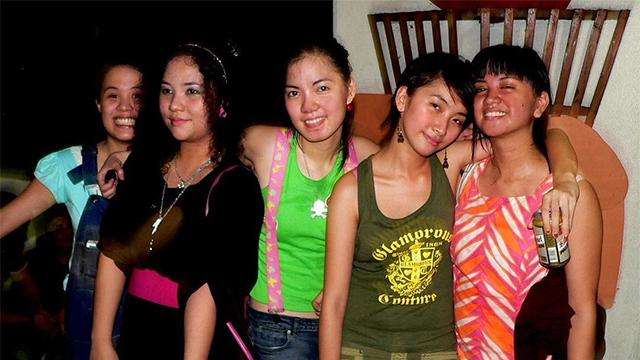 Mich with her all-female band Death by Tampon
Very recently, she openly discussed her decision to freeze her eggs. Because she really had no one else to ask, she posted her questions on Facebook and was surprised by the way some of the people close to her reacted. "For me, that was always kind of part of my feminism. That I talk about my body and use my experiences so that other people will learn. Egg freezing wasn't something common in the Philippines. I always tried to talk about it online," she narrates, wondering why people got offended with her posts. "I can't believe that in this time and age, people are still censoring you about talking about your body," she says, citing the moment when something in her was awakened. In Paris, she attended the Women's March, and found that there were so many different women with different issues and they were all there to rally together. "It was inspiring to me. There was no right or wrong kind of feminism. You can be your own kind of feminist," she realized.
ADVERTISEMENT - CONTINUE READING BELOW
There was no right or wrong kind of feminism. You can be your own kind of feminist.
She reached out to her bandmates because "they're really the people I've been talking to about feminism for a decade." But she knew that not everyone was as lucky as her to have a group she could turn to whenever she needed to discuss certain issues, so she set out to find other women who had the same passion about forming a community. She reached out to Marla Darwin, whose posts on Facebook especially during the Women's March stood out to her; early 2000s feminist zine writer Claire Villacorta, who she knew back in her DBT days; and Earnest Zabala, who was fortunate to have stumbled upon Isis International Manila when she was younger. This was it—the core group. "We like to term it as 'cheerleaders' instead of founders or organizers because cheerleaders are people who show their enthusiasm to rally together for a team, which is Pinay women." They were different kinds of feminists who all recognized the need for something like this in Manila.
ADVERTISEMENT - CONTINUE READING BELOW
To be clear, though, they don't want to monopolize the conversation. Claire emphasizes, "While we want to make this space happen, we don't want to place ourselves as leaders spearheading something. We're here to connect with other women and girls on equal footing. But to move this forward, we do have to put in effort to get the word out."
We're here to connect with other women and girls on equal footing.
Marla shares that Mich got in touch with her with the idea of a feminist community gathering. It wasn't hard for her to say yes because feminism is one of her biggest advocacies. "I joined because even if I am already part of a local feminist group, I haven't seen any effort in Manila that wanted to organize meet-ups targeted towards a broad audience. I always felt like there is a need for this," she says.
Based on her own experience growing up, Earnest remembers, "how grateful I felt then to have that particular space and that particular sisterhood, corny as it may sound. And I want my daughter, who is now 15 years old, (and other young women) to be able to have that experience."
ADVERTISEMENT - CONTINUE READING BELOW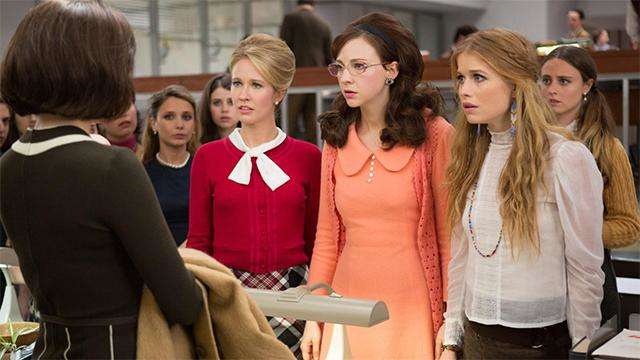 The Amazon original series Good Girls Revolt was set in New York City in the 1960s.
As seen on their Facebook Page, the group is inspired by women's liberation in the '60s and the riot grrrl movement in the '90s. Its goal is to create a safe space where women can freely discuss issues that concern us—with no judgment, no hostility, and no pressure. The group is still quite young (they started putting everything together in January of this year) and they're still in the process of editing their manifesto. They want to encourage discourse to allow women to be more informed by hearing the different sides of feminism from other women. They want to acknowledge that everyone's idea of feminism may be different—and that it's okay to have differing opinions—but that there should always be kindness and respect in the community.
ADVERTISEMENT - CONTINUE READING BELOW
When asked about the importance of a community like Grrrl Gang Manila, Marla says, "Communities are important because that's where we find our voices. Filipino women are still struggling to recognize their truths in the midst of societal expectations, religion, and culture. We can only have shot at bettering our world when we don't second guess our intentions and when we have the support of many others like us. Communities invite you to be part of something bigger than yourself and help you figure out what causes matter to you. Young people now especially are waking up to this and it's only right to have something like Grrrl Gang to facilitate it."
Communities invite you to be part of something bigger than yourself and help you figure out what causes matter to you.
ADVERTISEMENT - CONTINUE READING BELOW
They're hoping to reach out to young women, which is a big part of how their logo and online collaterals are designed. Marla, a graphic designer who specializes in identity design, says this about their logo, "I wanted a modern take on imagery that you connote with letters you write to girl friends, diary entries, and embroidered monograms. It gives the community a personal touch." As for the illustrations, she partnered with artist Elyoo De La Cruz, whose personal style is "very Grrrl Gang (fun, cheeky, and woke)." Since this is a collaborative effort, they also want to engage with other female designers in the future. Marla says, "I intend for the collaterals to be a constant, evolving element of the community to echo the spontaneous and organic spirit of our movement."
What to expect at Grrrl Meet #1
"It's for everyone!" Mich excitedly says, when we ask about the very first meet happening on March 25 at the Bulwagang Tandang Sora in UP Diliman. "It's an open discussion," she explains. They want everyone to come and be heard. What does feminism mean to you? What are the things that concern you as a woman? They'll be releasing a few talk points on their social accounts in the coming days to help start the conversation and give people an idea of what's going to happen at the meeting.
ADVERTISEMENT - CONTINUE READING BELOW
Why meet in person? "It's so easy to be an activist online but not translate it into action. It's encouraging to bond physically with women," Mich on what sets Grrrl Gang Manila apart from just being an online community and why it's important to have face-to-face interaction.
If you're feeling shy or scared to attend, Earnest offers these words of encouragement, "I believe that what we know now to be true and good about ourselves and the world...we didn't come by those thoughts on our own. Someone took the time and energy to guide us towards our Aha! moments. And maybe that someone will be attending Grrrl Meet #1. Tara na! Wala nang hiya-hiya!"
ADVERTISEMENT - CONTINUE READING BELOW
What you can do to help
Spread the word. Tell your best friend, your girlfriend, your neighbor, your seatmate—all the women you know! Make sure to ask them to RSVP on the event page so there's a proper headcount.
Volunteer. A lot of hard work goes into planning and volunteers are always welcome. Send them a message of intent if you want to help out. Whether it's with reaching out to other girls or lending a hand at the day of the meet, any assistance is appreciated!
Donate. Attending the meet is absolutely free but of course venues don't come for free and a little will go a long way. If you've got some of your allowance saved for a new pair of shoes, why don't you skip the mall and donate some of your cash to help fund the meets?
What happens next
"The most important thing is to determine what is important to us as women," Mich says. There will be more meets to come. "We want to progress it into action when it's applicable. If there's something we can fight for, why don't we fight for it?" There will be talks so we can learn further; they want to do an art collective; they want to do craft meets, things that support girls. All the meets are free but they will be asking for donations, "Basically, we're going to pass around a can. [laughs]" The goal is to keep their events free and accessible because "once you start charging, you already exclude a certain group and it's not inclusive."
ADVERTISEMENT - CONTINUE READING BELOW
"We called it Grrrl Gang Manila because we want it to become something that people can replicate where they are," Mich explains, likening it to Girl Scouts, which has different chapters around the country. "Further down the line, maybe we'll have Grrrl Gang Philippines, with women meeting from all over," she muses. They're also thinking of starting a podcast and a feminist library.
ADVERTISEMENT - CONTINUE READING BELOW
There are so many plans for the future but the most important one is to be there at the first meet. Don't be scared to come out and meet women you can openly talk to about your issues, be in a place where you can ask questions freely, and a venue where you can listen to girls with their own definitions of feminism. All you need is an open mind and remember to be kind.
Are you joining Grrrl Gang Manila's first meet? Send this to a friend you think would love to join, too!