Many of us would agree that a lot of facets in our daily routine needed adjusting right at the start of the COVID-19 pandemic due to its limitations, most especially the study and work habits we had struggled to curate for ourselves for years; that now, we have to build a whole another routine urgently so we can operate normally still because (let's face it) the demands of work are clearly not stopping just for us.
In particular, students who were used to bringing their studies to their favorite coffee shop after school or on the weekends because it is where they both feel productive and relaxed do not have the choice but to study only in their homes for now. So, if you're one of those who miss working in public spaces, like the local café near you, the good news is that you can continue this habit by recreating the environment you long for while staying safe at home with the help of a webite called 'I Miss My Café' (imissmycafe.com).
ADVERTISEMENT - CONTINUE READING BELOW
You can play different sounds you commonly hear at cafes, like a barista taking an order.
The I Miss My Café website is a productivity page designed to forge the common relaxing ambiance of a coffee shop for those who miss working (or even unwinding) at one. You may play different background sounds, such as the barista's voice, the clunking of coffee cups at the counter, the ambient chit-chats of other customers, and even the weather you prefer. You may play the background sounds one at a time or even all at once. It's fun because you may also adjust the volume and pan controls of each background noise to your liking!
On top of that, you may also play their own Spotify café playlist simultaneously with the sounds to match it with the vibe. Just fix yourself a cup of coffee, and you definitely will feel like you are in an actual coffee shop, with lesser awkward moments with other people.
ADVERTISEMENT - CONTINUE READING BELOW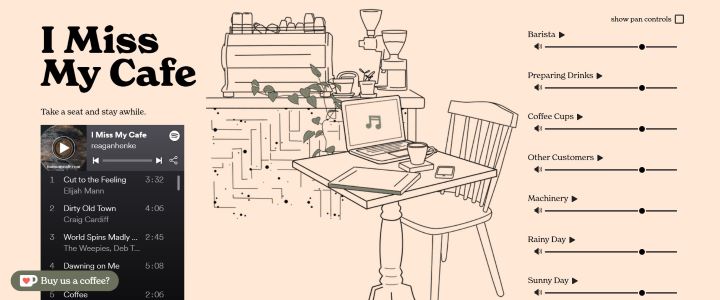 Surprisingly, research says noise can incite productivity.
'I Miss My Café' is more than just a leisure website to satisfy our longing for public spaces but also one of the creator's projects to provide people an instrument to use while working to prompt creativity and productivity in them.
ADVERTISEMENT - CONTINUE READING BELOW
Like any other product, theirs is also backed up by research. According to the peer-reviewed experimental research featured on the website that inspired their concept, contrary to popular belief that any noise can disrupt our flow, "a moderate level of noise not only enhances creative production but also leads to greater adoption of innovative products." They suggested that little bits of distractions around our workplace may be helpful to our creative process. The only way to prove it works is to try and see for yourself!
There is also an 'I Miss My Bar' and 'I Miss The Office' website!
The creator of the 'I Miss My Café' website was inspired by other two websites – 'I Miss My Bar' and 'I Miss The Office' – which were also made amidst the pandemic, for the same reasons: to keep people company and productive during these trying times in a little and subtle way they can. These websites also recreate the sounds we commonly hear in bars and offices.
ADVERTISEMENT - CONTINUE READING BELOW
So, the next time you and your barkada will have an e-numan session, you can plug the 'I Miss My Bar' sounds in the background to upgrade your get-together to a more realistic feeling. These cool interactive websites will have you definitely miss pre-COVID times much more than you currently feel.
***
#WATCHCANDY: Subscribe to Candy Magazine on YouTube and follow @candymagdotcom on Tiktok for guides to college life and beyond.
Candy is now on Quento! Click here to download the app and enjoy more articles and videos from Candy and your favorite websites!