The Graphic Literature Guild (GLG) of the University of the Philippines in Los Baños (UPLB) is a student organization that caters to young artists, writers, and comic enthusiasts. It aims to promote Philippine graphic literature and its creators within the UPLB community, as well as improve the skills of its members in the creative process. It organizes a lot of activities and events to achieve its mission, and here are some of them.
1. Inktober
Inktober, happening every October, is a month-long challenge where members create one drawing a day. The works are then promoted on GLG's social media pages to highlight the skills and creativity of the artists. The prompts are based on the Inktober list of illustrator Jake Parker; these are just one-word ideas, and it's up to the GLG artists to interpret them.
This year, for the prompt "dragon," Mauro Lubin Alinea, a biology major, drew a detailed dragon that looks like it's about to attack or eat a person. Last year, for "shielded," he drew a dynamic image of a character battling a creature, and the word "Go!" implies he's doing that so his friends could safely escape. The hero uses a shield to block the monster, and he himself is a shield to his friends.
ADVERTISEMENT - CONTINUE READING BELOW
2. Elbikon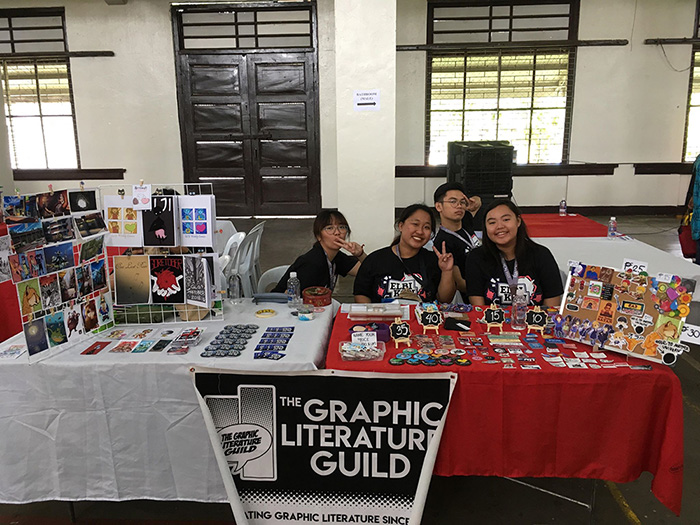 This is GLG's own comic convention, believed to be one of the largest in South Luzon. Held in Los Baños every February, Elbikon is an avenue for local comic creators and other creatives to meet, sell their merchandise, and show their love for art. It also stages workshops, interviews, and talks by various artists. Manix Abrera, Loser Mangaka, and Mac Andre Arboleda (aka Asshulz) are some of the cartoonists who've had the spotlight at Elbikon.
"It fills me with joy and pride," Mauro says of Elbikon. "I like seeing people admire the works of these local artists, who deserve to be acknowledged and praised for their contributions to the comic industry." Paulo Tamondong, GLG's guild master, loves Elbikon because it lets him meet many local artists. "Knowing they live in the same community as you makes their work much more exciting to read."
3. Komikon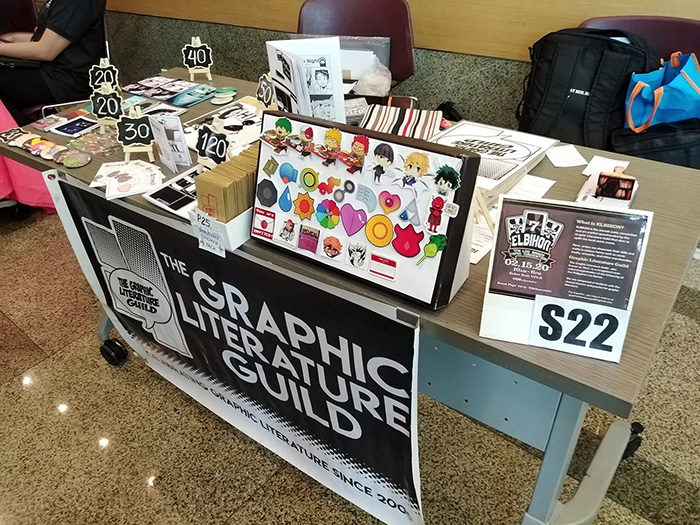 GLG members participate at Komikon. Some sell the org's merch, while some offer manpower for the entire event by being ushers and registrars. This gives them a better perspective of the Philippine comic scene and trains them to manage people and stressful situations. Zenith Loque, an agricultural economics major, shares, "I like volunteering. Not only because of the experience, privilege, and the perks, but also because I get to interact with some of the well-known local artists and content creators, as well as the art staff of big publishing companies."
ADVERTISEMENT - CONTINUE READING BELOW
4. Volunteering at Lopez Elementary School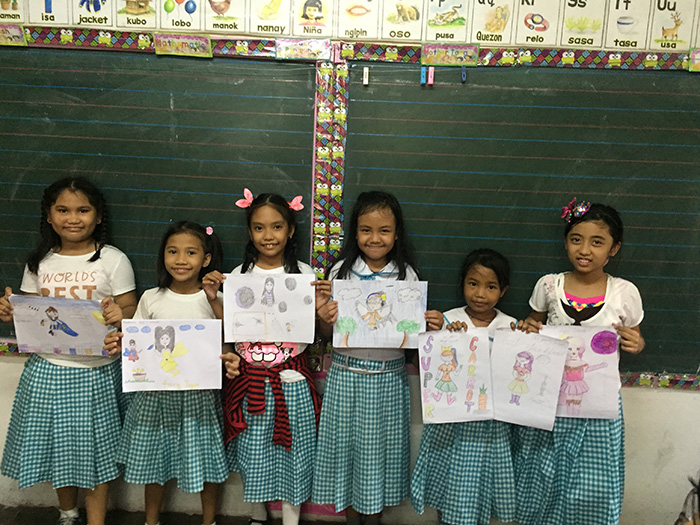 To incite interest in graphic literature and create a wider market for it, GLG exposes the students of Lopez Elementary School to comics. This year, the kids learned how to create unique superheroes based on their given personalities. The activity also sought to inspire a hopeful and positive outlook—like how the creation of superheroes and comic books in the 1930s uplifted people's spirits during the Great Depression. Zenith points out, "Although kids like to base their drawings on well-known Marvel and DC heroes, they're still proud of what they've made. Taking their work home brings a smile to their faces."
ADVERTISEMENT - CONTINUE READING BELOW
5. Merchandise creation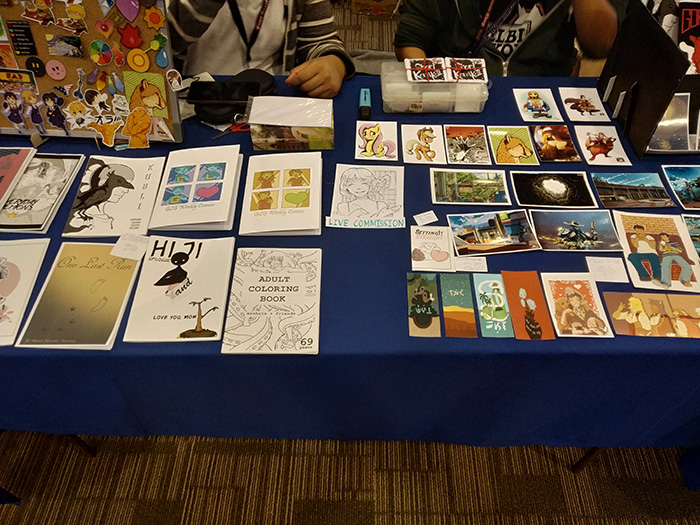 To help ensure that the works of the members are marketable, GLG holds various workshops for the different aspects of comic making, like writing, storyboarding, drawing, coloring, and paneling. It also has a merchandise making workshop, where members learn to conceptualize different kinds of merch. Approved concepts are printed and sold at events like Komikon, Komiket, Elbikon, Summerkon, and Indieket. "I contributed some works that added to the lineup of merchandise," says Zenith. "My favorite is a muscular Gudetama sticker—but members hate it because it's excruciating to cut out."
ADVERTISEMENT - CONTINUE READING BELOW
Today, the works of GLG members can be found on stickers, pins, cards, zines, and comic books. The comic books retail for P300, while the rest are often priced at P20. "I do profit from the merchandise I submit," Zenith shares. "What I get, of course, depends on what I submit and how many pieces were sold. We depend on a standardized system of payment for the royalties." The org invests its money in future merch and in production materials, such as rotary paper cutters and pin making machines.