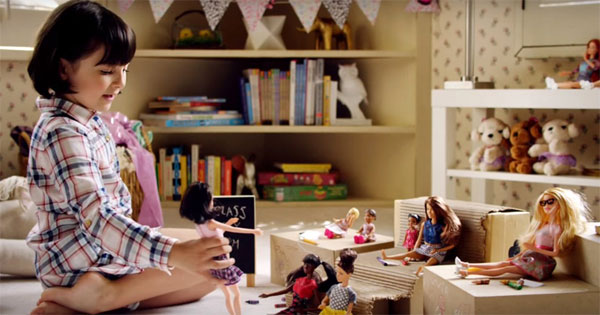 Did you like playing with Barbie dolls as a kid? I did; I liked it. Actually, scratch that—I loved it! I had a doctor Barbie, a Cinderella Barbie, a rock star Barbie, and even a mermaid Barbie. Because you see, other than being able to dress it up and comb its golden blonde locks, the best part about this iconic doll is that it actually allows you to play pretend and, even for a few seconds, be whatever or whoever you want to be.
Now, I don't know about you, but I think that's a smart and creative way to teach little girls how to dream big.
I can bet my bottom dollar that this is exactly what Mattel, a multinational toy manufacturing company, had in mind when they released their new Barbie commercial. With a tagline that says "You can be anything," the two-minute clip packs a powerful message. In the video, you can see young girls pretending to be a professor, a veterinarian, a football coach, a businesswoman and a tour guide in a real-life setting dominated by grownups. Hidden cameras were placed to capture their real, unscripted reactions.
ADVERTISEMENT - CONTINUE READING BELOW
What happens when girls are free to imagine that they can be anything? Watch the video below and see!
This story, This Totally Cute Barbie Ad Has a Strong Message for Girls, originally appeared on StyleBible.ph.
* Minor edits have been made by the Candymag.com editors.