This is what happens when you believe you can change the world: you realize that your issues are not just your own, and that thousands have been in the same shoes you once thought only you wore. You learn that in uplifting yourself, you can start to pull up those around you, too.
It's this desire to share her story with those who are going through struggles similar to hers that Jisoo Lee from South Korea became the change-maker she is today.
Watching her onstage as one the honorees of Forbes Asia's 30 Under 30 list, one would never think that she had gone through body image and self-confidence issues in a country that puts such a high premium on looking "perfect." With soft features and a slim figure, she could easily pass for a model on a magazine spread; but this self-made woman would rather help others promote their beauty instead of focusing on herself.
"Seven years ago, I gained 45 pounds, and friends and even my parents told me 'You should go on a diet. Why can't you manage yourself?'"
The words hurt—Jisoo had in fact been trying to lose weight. She had gone through so many diet schemes, exercise routines, and everything that claimed to help with "detoxification," but nothing worked, and the body shaming she would get did nothing to help.
ADVERTISEMENT - CONTINUE READING BELOW
"There are some [untrue] perceptions about women such as women should be skinny, fat women are lazy… I decided that there's something wrong… I decided…to change this perception."
Tired of failed promises, Jisoo put her business administration degree to work and started her own enterprise: one that would promote a healthy lifestyle based on loving the body you were given and achieving the best version of yourself.
In 2013, Jisoo cofounded DANO, which is short for "Diet Note," and also means "decisiveness and positivity" in Korean. Born from the struggles she had experienced with weight loss, her team developed the company's flagship app MYDANO, a one-on-one mobile personal trainer that customizes workouts and diet schemes based on the user's fitness goals and body shape.
Along the way, Jisoo learned the value of self-love.
"Beauty…is not something you can consume, or buy, or take. Beauty is something inside…" she shared.
"Every woman has her own unique beauty inside, [and] all we can do is to help them define what it is, and make them shine."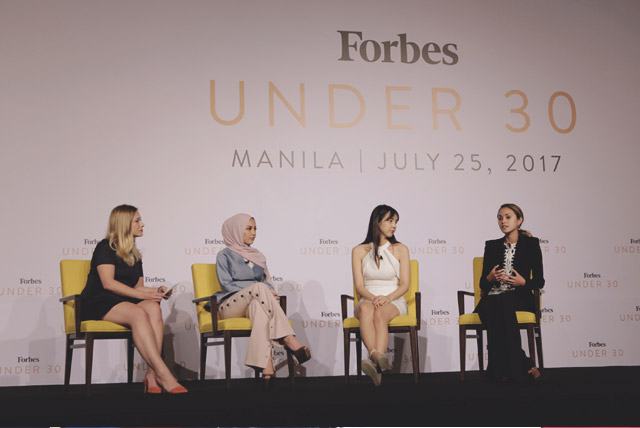 For Malaysian actress and entrepreneur Neelofa, not allowing anyone to dim her shine is something that she fought hard for in show business.
ADVERTISEMENT - CONTINUE READING BELOW
"Showbiz in an evil industry, when it comes to judging people, gossip and what not, it was not easy for me," she said as she sat as a Forbes honoree with Jisoo in the panel. "It's so easy for them [the public] to go against you."
Determined and enterprising, Neelofa was already earning her keep at the age of 18—something that was then unusual in her country. "I sort of broke that stereotype by starting working early. I still studied and worked at the same time. I'm a TV host and a film actress as well."
Neelofa is a household name in Malaysia. Her career skyrocketed after winning a teen contest in 2010. She was everywhere—movies, TV, ads—and when she decided to don the hijab in 2014, it was then that she began her own fashion line for headscarves called Naelofar. She worked towards making Muslim women not only feel beautiful but also empowered enough to know that they are at equal footing with men. 
ADVERTISEMENT - CONTINUE READING BELOW
"I believe in gender equality. Men and women should always live alongside each other. Women should also have every right and opportunity to live as equals…
"It's not a race between woman and man… It's about getting there as a team."
A woman who challenges social norms, Neelofa has had to face harsh public criticisms throughout her career as an artist as well as an entrepreneur. Only last year, she was the focus of online bashing after selling hijab to an Israeli customer, when it was a known fact that Malaysia and Israel didn't have good diplomatic relations. However, this did not deter her from continuing to offer her products and services to Muslim women wherever they may be, as well as to push people to question the status quo and to be agents of change.
ADVERTISEMENT - CONTINUE READING BELOW
"Read more. Journals, books, articles, anything at all, even a cereal box. Read more so you're more open to the world, more accepting of challenge[s]. Don't let anyone tell you can't do anything you want to do."
"Don't let anyone tell you can't do anything you want to do."
Changing the world does not begin with grand actions that have earth-shattering results. It starts with being aware enough to want to improve something, and being courageous enough to push through with it. So many people focus on the ripples that one can make when in fact the pebble has yet to be tossed. Maybe this is why many of us are still waiting to become the people we were always meant to be.
ADVERTISEMENT - CONTINUE READING BELOW
To make a difference, you need to be humble enough to know that something in you must evolve. This is what happens when you want to change the world—in going beyond yourself, you learn to return to yourself. You cast the pebble and you make currents strong enough to touch a different shore. 
This story originally appeared on Femalenetwork.com.
* Minor edits have been made by the Candymag.com editors.