Features
This Girl's Graduation Gift From Her Grandma Will Make You Cry
We're not crying, you're crying!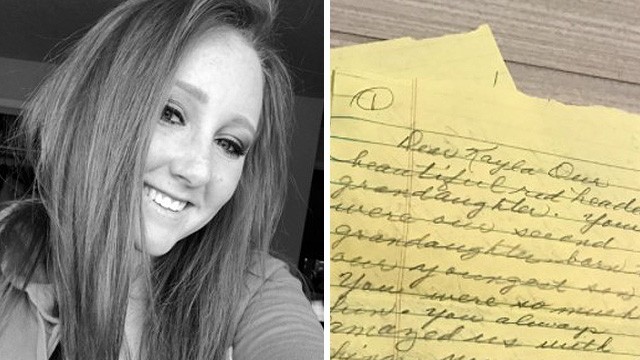 IMAGE Kayla Buckmaster | twitter.com/buckee8
Proof that grandmas are the best: Kayla Buckmaster's surprise greeting card from her grandma!
Kayla's Grandma Jan died when her granddaughter was just four years old. Kayla wasn't even in school yet, but it didn't stop Grandma Jan from predicting the future and preparing a graduation card for Kayla before she passed.
After 14 years, Kayla got to open the card with a letter and a $100 bill inside, which she posted on Twitter. Part of it read, "Dear Kayla, our beautiful red headed granddaughter. You were our second granddaughter born to our youngest son. You were so much fun."
ADVERTISEMENT - CONTINUE READING BELOW
Naturally, Twitter users reacted to Kayla's post in different ways.
One user commented she couldn't read the handwriting so another user posted this.
Some didn't want her to spend the money.
ADVERTISEMENT - CONTINUE READING BELOW
Some applauded her parents for keeping the card for 14 years.
A few users related to the experience.
ADVERTISEMENT - CONTINUE READING BELOW
While the rest of Twitterverse were united in crying.
You're one lucky granddaughter, Kayla!
What's the sweetest thing your grandmother has done for you?
The kind of wholesome content we all love to see.
Being away from each other teaches you to cherish every moment together even more.
Your Moon sign is all about your most intimate feelings, fears, and desires.
Gotta stay cool, fresh, and iwas pawis.
Remember the show Codename: Terrius when it was aired on ABS-CBN?
At 23, he is the youngest elected mayor in the country.
Rest in peace, Coach Aric.