Features
This Girl is the First Ever Female Winner of a Contest for Boy Scouts
She's one of 2016's 10 Outstanding Scouts of the Boys Scouts of the Philippines!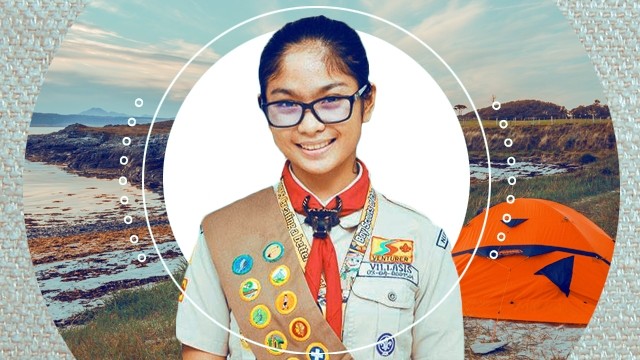 IMAGE Courtesy of Diane Eden Villasis ART Clare Magno
Some girls aspire to be the top performer in class while others make it their goal to be the best—athlete, singer, artist—in their chosen field. In Diane Eden Villasis's case, she initially wanted to be a boy scout and eventually decided that she also wanted to be the first ever female to win a "10 Outstanding Scouts of the Boys Scouts of the Philippines" award. Read through our exclusive interview with her about becoming a female scout, conquering challenges, and the lessons it has taught her.
How did you become a boy scout?
"I had been noticing females in school wearing the Boy Scouts of the Philippines (BSP) uniform when I was still in Elementary. That made me curious about what BSP had to offer. Since I really love challenges, I was challenged to interact with the opposite sex, which motivated me to join. When I eventually became a member of the BSP, I enjoyed the activities and things that the organization had to offer. There were jamborees held in other countries, which gave us a chance to know more about other cultures."
What is the most challenging part of being a female boy scout?
"It's probably the fact that not everyone is aware that there are female members of the organization. Many were actually shocked when I won the contest because they didn't know that being a female boy scout is possible. There were also negative comments about me joining the contest. Some people didn't want me to be part of this prestigious event because I am a female, but that only motivated me to prove them wrong and show that females can also do what the males can. It is just a matter of perspective—after all, we are already living in the 21st century."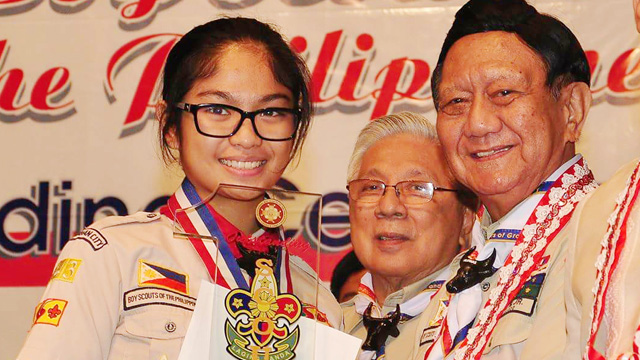 What made you decide to join the 2016 search for 10 Outstanding Scouts of the Boys Scouts of the Philippines?
I was motivated to join when one of the seniors in our school won and became one of the 10 outstanding boy scouts. I then found out that there was no female awardee yet, so I was challenged and thought of ways to make being the first female awardee happen.
Can you tell us about the contest process?
The contestants had to go through the local council and regional and national search. The criteria for judging were:
Interview (communication skills and personality) 45%
Scouting component (accomplishments as a scout) 35%
Non-scouting component (academic performance/institutional and community service) 20%
Total of 100%
Was there ever a time when you got discouraged from the competition? 
There was not a time that I got discouraged from the competition because I already set my mind to it and told myself to give my best. It was a "now or never" experience for me.
ADVERTISEMENT - CONTINUE READING BELOW
How does it feel to be the first female scout winner in the 2016 search for the 10 Outstanding Scouts of the Boys Scouts of the Philippines?
To be the first female scout winner is not only an honor but also a privilege for me and for everyone who really pushed me and believed in my capacity. It is a responsibility that was bestowed upon me to become a role model, not only to my fellow scouts but also to the youth.
What does it mean for you to be a winner of something valuable in an organization dominated by boys?
It means that there is equality even though this field is dominated by boys. It also proves that the female boy scouts are not merely decorations—we are also part of the scouting movement.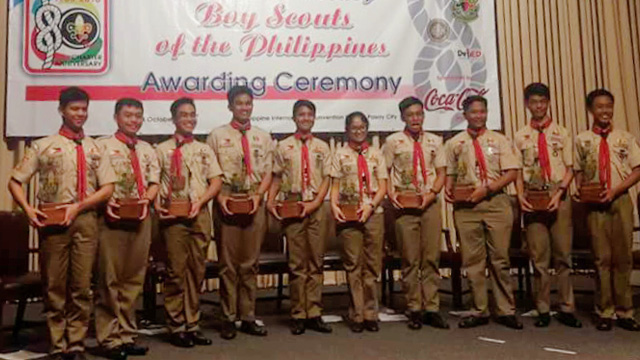 What's the most valuable lesson that being a female boy scout has taught you? 
Your determination to succeed must always be bigger than your fears. Never let other people's negativity get to you. You must prove other people wrong and show that you are chosen for a reason. Always keep your feet on the ground and be grateful for the things that you have no matter how small or big they are.
What else do you hope to do?
I hope to continue to serve in the BSP for as long as I can. This organization has not only been a part of my life, but also became my family. No matter what happens, as what our senior scout slogan states, "once a scout, always a scout."
Know more awesome and empowering girls? Let us know by tweeting us @candymagdotcom or sharing them in the comments section below!
\\\\\\\\\\\\\\\\\\\\\\\\\\\\\\\\\\\\\\\\\\\\\\\\\\\\\\\\\\\\\\\\\\
Get the latest updates from candy!
subscribe to our newsletter!
////////////////////////////////////////////////////////////////
Skip a makeup step with these beauty goodies!
Take pretty notes and study effectively with these tips!
Wait for a love like this. A love that is good to you, for you.
Are you up for this challenge?
Can't wait to see the actual gowns!
The up-and-coming musicians and childhood friends talk about their music, creative process, and why it's important to be woke.
Because when it comes to a great lip game, there's really no need to splurge!
A different language sheds new light on everyday terms.