Features
This Half-Filipina Is Redefining Beauty by Embracing Her Uniqueness
And she just might be the next Miss Universe Malaysia in the process.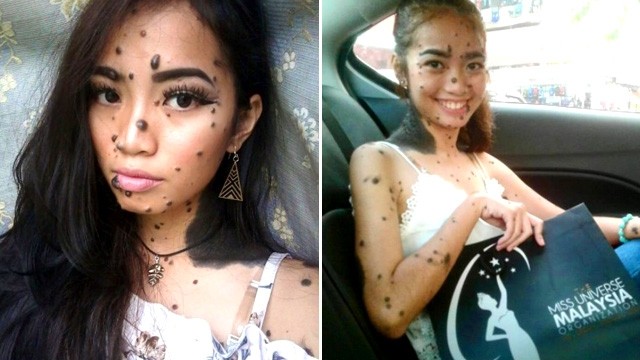 IMAGE Evita Delmundo | instagram.com/evita_delmundo
Evita Patcey Edgar Delmundo is a 20-year-old Rungus-Filipino who is challenging everyone's perception of beauty by auditioning for a spot in the Miss Universe Malaysia pageant.
Evita is covered from head to toe in moles of various sizes and has experienced being called names like "monster" and "Chipsmore" (a chocolate chip cookie brand in Malaysia) when she was younger.
ADVERTISEMENT - CONTINUE READING BELOW
"At first, I really wanted to [have my moles removed]. But after seeking advice from doctors, I learned that it could be a risk to my health. So I just had to accept that this is the body I've been given," she told Elle Malaysia.
And accept her body she did! She was 16 when she learned to love herself and accept her appearance and who she was, and she never looked back.
ADVERTISEMENT - CONTINUE READING BELOW
Although she still gets her fair share of rude comments from bashers and haters and occasional stares from strangers, she knows better than to fight back with more negativity. Instead, she's focusing her energy on being an inspiration to all 42.6K of her Instagram followers and many others.
As for overcoming her insecurities, here's what she said:
ADVERTISEMENT - CONTINUE READING BELOW
"None of us are born perfect and all of us have our own strengths and weaknesses. So don't see any of your flaws as a barrier to achieving what you want. At the end of the day, everyone has something special about them, so be proud of whatever makes you 'you.'" 
With her beauty, confidence, and heart, we have no doubts she'll get a call back and maybe even win the competition. We're rooting for you, Evita!
What other inspiring stories would you like us to write about? Let us know in the comments below!
Truth is, you don't need to spend a lot to achieve the feed of your dreams or build your portfolio.
Now's your chance to give back.
What's 'savings?' We only know 'merch.'
Feel good by smelling good, without shelling out a big chunk of your allowance!
Ward of the bad juju with the auspicious color red and the happy mouse.
Geraldine is part of Candy Rookies 2020, a group of influential and aspirational college students handpicked to represent #GenerationCandy in the year to come.
Looking to sport the long-haired look?
It's actually not an either-or situation.
Here's a list of amazing, albeit fictional, personalities from another world that inspire us to be our authentic selves.
I will have to say that it is by far one the best decisions I have made in my whole life.