Features
These Illustrations Show the Struggles and Victories of Mental Illness
From making ~*that*~ call to getting out of bed.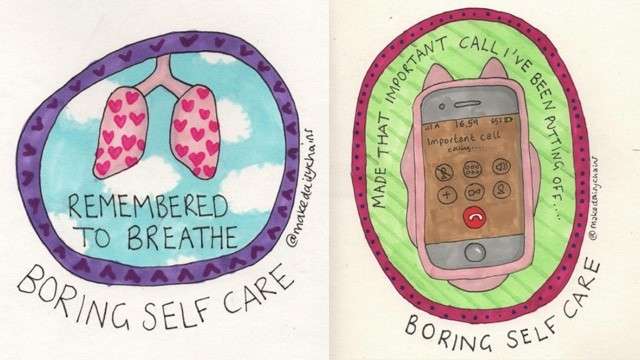 IMAGE Hannah Daisy | instagram.com/makedaisychains
Anyone battling a mental illness knows that it's not easy. One minute you're excited about seeing your friends, the next minute you can't even bring yourself to pickup dirty laundry from the floor.
Some people may find it hard to understand, but @makedaisychains on Instagram totally gets it. The account run by occupational therapist and illustrator Hannah Daisy posts illustrations that look like badges about what other people may consider "everyday things," but for people suffering with the illness, they're everyday victories.
For people with anxiety, depression, bipolar disorder, or other mental health issues, making a call isn't just dialing someone's number on the phone and talking. It's making that call. Changing clothes isn't just taking off the one you're wearing and putting on a new one. It's using whatever little that's left of your energy to get out of bed and walk to the closet to change. (via huffingtonpost.com)
Below are some of the badges celebrating those victories.
When you finally make the call you've been dreading and putting off for the longest time.
When you reach out to someone even if it's really hard to do.
When you get yourself out of bed and out of the clothes you wore the night before.
When you follow your medication religiously even when it's easier to just stop.
When you make an effort to pickup the stuff on the floor even if you think they'll do you no harm.
When you go outside even if you're perfectly fine staying in.
When you remember to breathe despite the factors that are making it easy to forget.
Which of these illustrations can you relate to?
\\\\\\\\\\\\\\\\\\\\\\\\\\\\\\\\\\\\\\\\\\\\\\\\\\\\\\\\\\\\\\\\\\
Get the latest updates from candy!
subscribe to our newsletter!
////////////////////////////////////////////////////////////////
You know you'll regret it.
You don't even have to leave the house!
From digital art to photography to mixed media, Filipino artists show that creativity is never lost in our people.
Skip a makeup step with these beauty goodies!
Take pretty notes and study effectively with these tips!
Wait for a love like this. A love that is good to you, for you.
Are you up for this challenge?
Can't wait to see the actual gowns!