Features
These Empowering Ladies Should Always Be on Your Radar
Take notes and learn from the best, Candy Girls!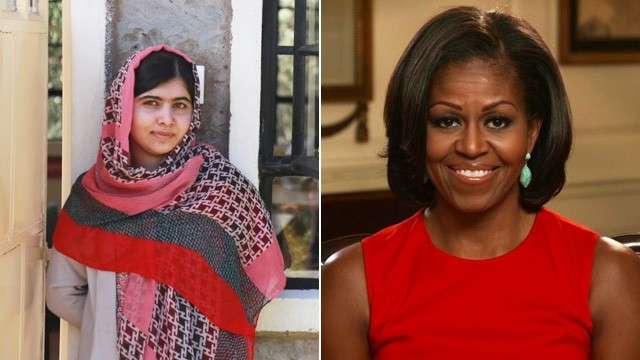 IMAGE Malala Yousafzai | facebook.com/MalalaFund, Michelle Obama | facebook.com/michelleobama
In light of recent events, such as Trump's constant put-downs of women, Senator Sotto's na-ano comment, and the sexual abuse and misogyny that still continue in today's world—whether it's being catcalled on the street or being reprimanded for wearing "distracting" clothing—here are five feminists you need to take inspiration from when it comes to staying strong. #GirlPower
Emma Watson
The actress has been known for playing strong female characters, like Hermione Granger from Harry Potter and Belle from Beauty and the Beast. True to form, Emma is more than just a pretty face, being an active feminist herself. As a UN Women Goodwill Ambassador, she's behind the #HeForShe movement, which calls for not just women, but men to stand up for gender equality. Emma has also promoted education for young girls by visiting countries like Bangladesh and Zambia, and even giving a speech on women's political participation in Uruguay. No wonder most of us consider her our idol! 
ADVERTISEMENT - CONTINUE READING BELOW
Serena Williams
Hailed as a feminist icon in the field of sports, the tennis champion has time and time again fought for equal wage. Serena has raised awareness on the disparity in pay between female athletes like her and their male counterparts, showing that men's teams that have lost still earn more than women's teams that have won. Furthermore, she refuses being branded as "one of the greatest female athletes of all time," preferring instead to be remembered as "one of the greatest athletes of all time," period. You go, girl!
Malala Yousafzai
At just 19, this Pakistani girl is already the youngest Nobel Peace-prize laureate in history. #GOALS Although her advocacies for women's rights have caused death threats and even a shooting incident that required her to undergo surgery, Malala isn't afraid to stand up for what she believes in. She's protested against the Taliban who have shut down girls' schools by starting the Malala Education Foundation for girls who can't afford education. In interviews, she's revealed her plans to enter politics when she's older, and ultimately use her influence for good.
ADVERTISEMENT - CONTINUE READING BELOW
Constance Wu
The Fresh Off the Boat-actress and soon-to-be Crazy Rich Asians star has been outspoken when it comes to issues like racism and sexism. She's advocated for Asian actors, particularly female ones, what with the lack of diversity and constant whitewashing in Hollywood. A self-proclaimed feminist, Constance has also actively promoted and gone to several Planned Parenthood events, as well as the Women's March in Washington, describing it as her protest against Trump's patriarchal standards in present-day America. With the Philippines being an Asian country whose actors usually only make it to Hollywood as some cliché trope, we definitely have Constance Wu to thank for more doors opening.
Michelle Obama
When her husband Barack Obama was still president, Michelle Obama was known for hosting White House receptions for women's rights advocates, most notably the one held to celebrate the Lilly Ledbetter Fair Pay Act of 2009 Pay equity law. Her other endeavors include advocating on behalf of military families, helping career women balance work and family, as well as raising awareness on the importance of educating young girls—not just in the classroom, but with ample knowledge of their rights and power even at a young age.
ADVERTISEMENT - CONTINUE READING BELOW
In addition, the tech-savvy former First Lady uses social media to support and bring attention to several causes—for example, when she joined the campaign to bring back the schoolgirls who had been kidnapped by the Boko Haram group in Nigeria by tweeting a photo of herself holding a poster with the #BringBackOurGirls hashtag. With all that, it's safe to say that Michelle Obama is a symbol of women empowerment in her own right.
Who is your feminist inspiration? Let us know in the comments down below!
Here's a list of amazing, albeit fictional, personalities from another world that inspire us to be our authentic selves.
I will have to say that it is by far one the best decisions I have made in my whole life.
Isa is part of Candy Rookies 2020, a group of influential and aspirational college students handpicked to represent #GenerationCandy in the year to come.
It's the best time to pick up a new hobby and put those notebooks to use.
We can't handle this breakup!
For days when you need an instant outfit inspo that's still campus-appropriate.
It could very well be one of the world's largest volcanoes.
From consistently badmouthing another friend behind their backs to making snide comments sneakily disguised as compliments, here's how to deal with a tricky friendship.
From sisig to bulalo, the North has a lot to offer.
Even college students like us can apply for freelance creative jobs while we're still going for that diploma!
These simple practices, when done consistently, end up being worth a lot.
It can actually *shatter* your cartilage.