Features
Friday, I'm In Love: There Are So Many Ways
There are so many ways to fall in love.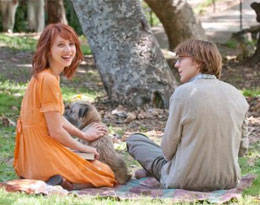 photo courtesy of Fox Searchlight (Ruby Sparks)
Fall in love the way children do, in playgrounds and sandboxes, with dirt on your cheek and gum in your hair. This is who you are: you're not combing your hair or washing your face or tucking your shirt in for anyone. Don't apologize. Fall in love courageously, almost dangerously, with your cartwheels and roller coaster loops and swings pushed as high as they can go; fall in love brazenly, because your heart is young and has never been hurt before.
Fall in love carefully. Measure out your feelings: every risk should be calculated, every gesture contained. You are old enough to know that nothing is arbitrary, that there are reasons and repercussions—the before and after of following your heart. Think things through, and be patient when the answers don't come right away. Be patient, too, when the answers don't turn out to be the ones you were hoping for. Learn. Listen. Learn to listen.
ADVERTISEMENT - CONTINUE READING BELOW
Fall in love secretly. Guard your love fiercely; keep it close to your chest. Fall in love openly. Shout it from rooftops and share it with the city—in the maze of streets below, someone is bound to be feeling the same way. Fall in love like it's no big deal, or fall in love as if it will change your life. Fall in love through months or years, forever wishing and waiting for that perfect chance, or fall in love instantaneously, like they do onscreen and in brown faded pages, because there is no moment quite as right as the one you hold in your hands now.
There are so many ways to fall in love. Fall in love with someone you've always known. Fall in love with a stranger. Fall in love with a place, an idea, a lost period in time. Fall in love with gladness, and fall in love with grace. Always with grace.
ADVERTISEMENT - CONTINUE READING BELOW
Fall in love like you mean it. Fall in love the best way you know how; fall in love in a way only you—you brave and bright and beautiful person, you—can. And when the fall is over, stay in place, your feet planted firmly on the ground. Soak it all in. Then roll up your sleeves and begin: there are even more ways to be in love, to remain. Be steadfast in your happiness. You have come this far, darling, but there is still so much ahead.
This month, we're writing about love—all the ways, forms, and kinds there are. Every Friday, check back for a new article in this section we're calling, Friday, I'm In Love.
Coffee is life, pero minsan, kailangan talagang mag tipid-tpid 'pag may time.
Aside from electricity and water, here are some essential subscription services you can divide among you and your dormmates.
#TalaNation on a different level!
Showing vulnerability doesn't make you less independent.
I was young, supposedly halfway through my first college degree, working several side hustles to pay the bills with zero savings.
You don't have to splurge a lot on an expensive model for its high-quality camera to get started with vlogging.
Straight from Lana Condor and Noah Centineo, no biggie!
Just like in your darkest times, your college friends were there with you during the best days of your life.
Pasig City government aims to allow more scholars to have free tuition and higher incentives.
The last remaining speakers of a dying language wanted help to preserve their heritage.
The Big Bad Wold Book Sale is back for its third year!