While scrolling through your TikTok's For You Page, you might come across a familiar pink-haired tarot reader that repeatedly tells you to "Take what resonates and leave what doesn't, or you may take nothing at all." You might not have manifested to see her on your FYP, but you may never know if her message is indeed for you. You may know her as theblessedbhie through her TikTok handle but IRL, she is Aly Dimaculangan, a 23-year-old Communication Research student from the University of the Philippines Diliman.
With over 329.6K followers, Aly has taken TikTok by storm as the pandemic paved the way for the rise of tarot readers. From random tarot readings to dogshow memes online, this eclectic witch has ultimately captured the attention of viewers of all ages. Some may even call her "paasa" for her readings, but her intention for her messages is purely to give guidance to the right people.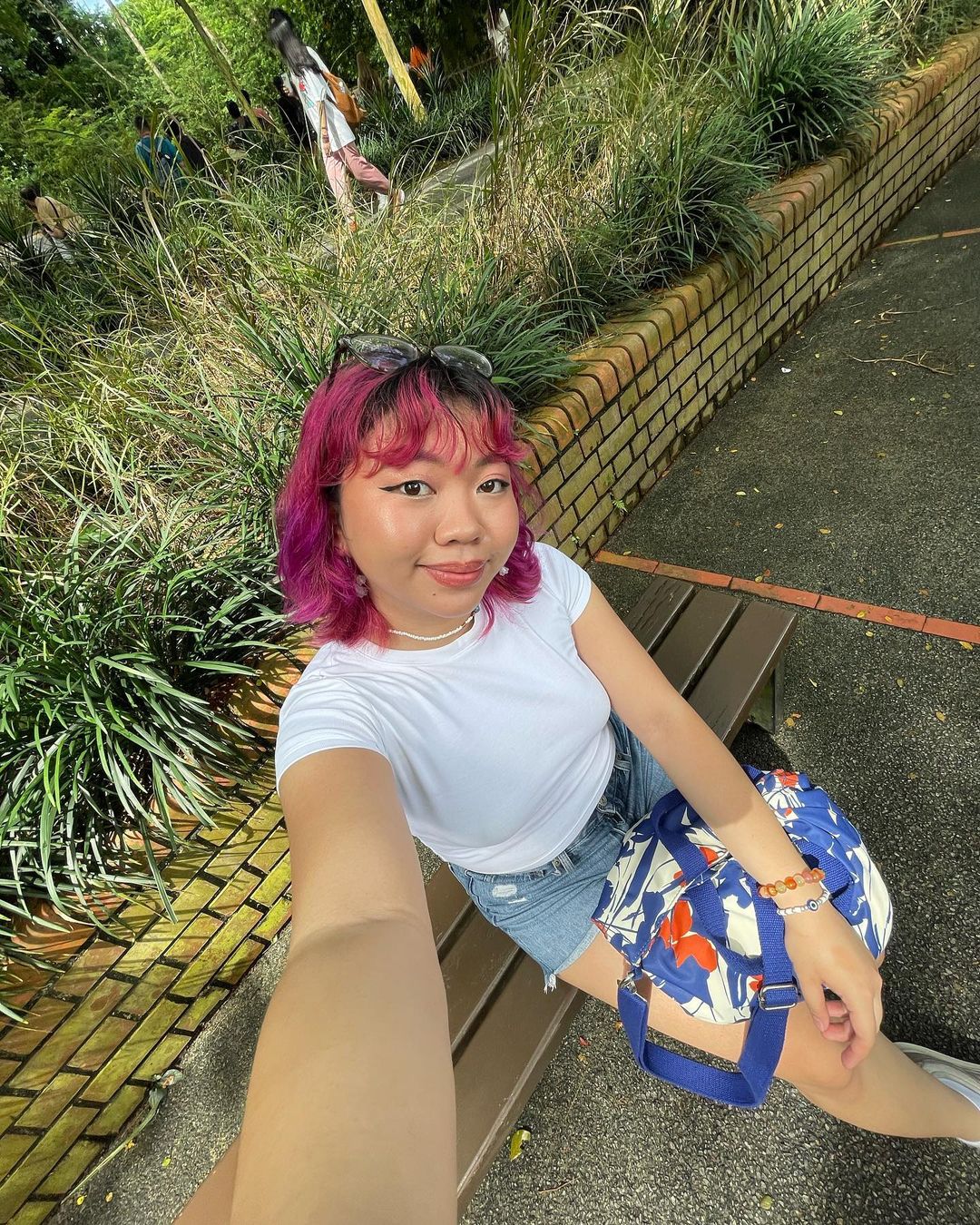 Becoming The Blessed Bhie
Aly has always been interested in the occult, but having a strict Catholic background made her wary of starting her practice. In fact, her grandfather's three brothers are priests. She wasn't brave enough to explore witchcraft until she entered college. "As I became more knowledgeable about what I was doing, I realized na being a witch isn't exactly a bad thing," she said. 
ADVERTISEMENT - CONTINUE READING BELOW
"Witchcraft in itself is an umbrella term for spiritual practice, for a bunch of different practices," Aly continued. "So I labeled myself as a tarot reader first, but the witchy aspect of it just came naturally na lang as I learned. Kasi, I realized na I'm actually an eclectic witch because I use Catholic influences, Roman Catholic instances, along with New Age spirituality and other practices."
Her tarot journey started in 2020 when the Taal Volcano started spewing ashes all over Calabarzon and everyone began hoarding face masks. This was also the time Aly received the tarot cards she ordered impulsively online. "So noong 2019, I had the roughest year of my life so far. And that really prompted me to start tarot reading the next year."
From reading for her friends, she eventually gained the confidence to start delivering her spiritual messages on TikTok. "I started since I was going through a lot during that time. I was going through a breakup too," Aly stated. "I really wanted to share divine messages through tarot and I didn't necessarily have a proper outlet for it."
As she garnered more views, creating tarot content further helped develop her skills and confidence in reading for others. Her journey in being everyone's favorite bestie began as a passion for helping other people to cope and hope during the lockdown. With enough security on her skillset, she decided to officially open her tarot services and earn from the energy exchange.
The Mundane Life
Aside from being the viral tarot bestie, Aly is also like any other college student who struggles with workload and busy schedules. While she initially thought of pursuing Medicine, Aly decided to go with a program that aligned with her more. Thus, her passion for both communication and research ultimately brought her to her chosen course. Despite her love-hate relationship with the technicalities of her program, she's still determined to stick by it given her interest in communication and media production work. 
Just like everybody else, Aly dreamed of studying at UP Diliman. Although she didn't pass the UPCAT during her freshman year, it didn't stop her from fulfilling her dream of becoming an Iskolar ng Bayan. "I transferred in 2020 during the pandemic, so I was supposed to be in my third year of [college]," she shared. "But I decided to go push for transferring to UP because it's something that I've manifested as in I really wanted to make sure, during the time, that I got admitted - that I grabbed the opportunity while it's still there."
ADVERTISEMENT - CONTINUE READING BELOW
Of course, it wasn't all magick and witchcraft that got her in. She also had to maintain good grades while she was still studying at her previous school. According to her, transferees are usually required to have a grade equivalent to 1.75. Passing as a transferee is rather easier if you're actually interested and passionate about the program you're planning to take. 
"UPCAT is one thing - it's a standardized test and you're being graded by your grades [from] high school and [your] UPCAT scores," she recalled. "But with transferring, they grade you or they base your application through what you already know about your program plus your grades." 
Alongside her life beyond college and TikTok, she also grabbed the opportunity to start an online food business. The Blessed Bistro was something Aly never really expected to happen. "I was very, very nervous when it started because I didn't know how it would resonate with people," she admitted. "But I'm happy to say that the Blessed Bistro right now is thriving and it's only getting bigger each month."
ADVERTISEMENT - CONTINUE READING BELOW
The opportunity came along with the help of the company, Cloud Eats, and the support of her family and friends. Working with her uncle, they were able to turn her concepts into reality. Following her witchy and tarot practice, she incorporated a bit of magick when it came to her menu. Their goal is to provide affordable and healthy meal options for students and budgetarians. 
The Best of Both Worlds
As a transferee, irregular, and working student with a platform and business, Aly has to also work twice as hard to keep both her passions and responsibilities in line. "It's a complex experience because UP isn't exactly the most forgiving for working students so there's always that struggle with having to keep up with the work that you're meant to do as well as the other responsibilities that you have," she expressed.
On top of doing tarot videos as well as keeping up with social media, personal readings, and rituals, she also has her academic work in the mix of her daily to-do lists. For Aly, her spiritual work takes up the bulk of her day, so content creation is just an underlying factor of what she does. And while spiritual content creation has become her full-time job, she still prioritizes her education above everything. 
ADVERTISEMENT - CONTINUE READING BELOW
Meanwhile, as a Mass Communication student, she also finds content creation beneficial for her studies. With the opportunities she gets as a content creator, Aly is able to learn more about the industry and build a network with those who work in the field. Most of all, she gets to see and learn production work first-hand through her TV interviews. 
"I remember talking about it in my Journalism class na it is basically like a Hannah Montana experience," Aly explained. "Kasi syempre 'pag nasa campus ako, I have to be very 'school mode'. I have to make sure na hindi masyadong nag-ooverlap yoong spiritual work ko or yoong content creation ko with what's in front of me. Because at the end of the day, there's not much correlation between my spiritual work and my program unless I do research about it."
Balancing the Mundane and Spiritual
As a Virgo-Virgo-Gemini and Mutable-dominant girlie, Aly maintains a go-with-the-flow attitude when it comes to her plans in life. Instead of stressing herself with what the future holds, she chooses to focus on her present and just accept opportunities as they come. 
ADVERTISEMENT - CONTINUE READING BELOW
"Kasi as a witch, parang it's something that we constantly worry about," she said. "Then it's something that we divine for ourselves. And ultimately, I just want to have that really good balance of mundane and spiritual."
One thing's for sure, Aly plans to continue practicing tarot and produce content as much as she can. For Blessed Bistro, she hopes to sustain the business and eventually turn it into a physical restaurant someday. But she doesn't also close her doors to the possibility of joining the corporate world in relation to her course. 
For now, Aly remains humble and hopeful to wherever the universe takes her. This inspiring Gen Z witch has a lot to offer than divine wisdom, she's also a creative and passionate person who can turn adversity into abundance. Hopefully, this can also resonate with others who need a sign to start now.
Get to know more about theblessedbhie aka Aly in this Candy University feature:
ADVERTISEMENT - CONTINUE READING BELOW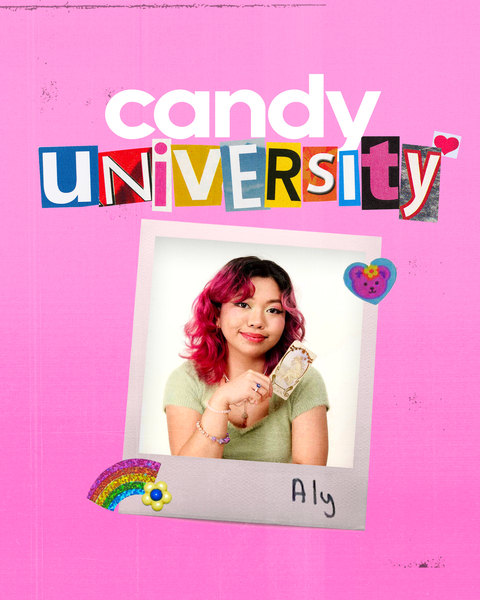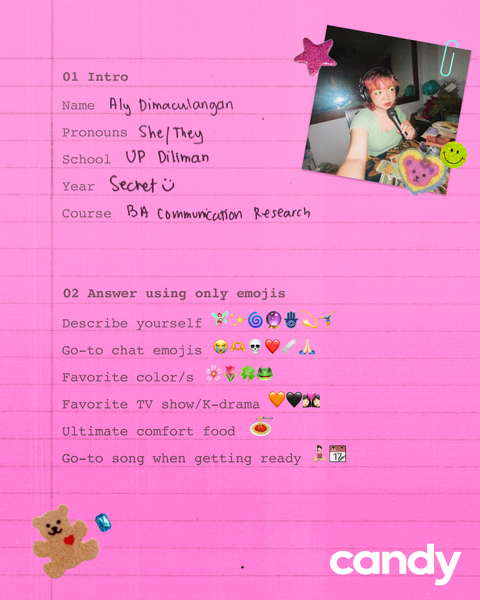 ADVERTISEMENT - CONTINUE READING BELOW