Gen Zs would hesitate to ask for extra napkins at the counter but will confidently set up a whole organization to attend to those in need.
People worldwide began to acknowledge the longevity of the COVID-19 pandemic – and we all know that thought does not bring good vibes in any way. The pandemic unexpectedly brought adverse life-changing events to everyone, which, as heartbreaking as it sounds, cannot be resolved entirely anytime soon. Some of these pandemic-driven adversities already hit someone's emotional state, career plans, social battery, finances, and especially, business that people personally loved – like establishments around Taft, Manila.
As someone who has been studying in Manila for years, we cannot deny that Taft has been our "comfort zone." No matter what emotion we carry, what trip we want to do, Taft establishments are there to satisfy us. However, since the start of the pandemic, news about businesses around the area laying off has been adamant. Students and alumni were saddened to receive that news, but (!) thanks to The Taft Initiative's altruistic character, businesses and workers are currently able to thrive during these challenging times.
ADVERTISEMENT - CONTINUE READING BELOW
I had the honor to talk with The Taft Initiative's founder, Euson Go, a graduating student at De La Salle University, to discuss everything there is to know about their successful organization.
The Taft Initiative concept
Like any other organization, Euson started with a vision driven by his empathy, particularly for those economically affected by the pandemic. Euson explained, "our mission is to help alleviate the issues/problems brought by the pandemic. Not just the pandemic, even after the pandemic, any problems that our community is going through, we want to help."
The organization became known immediately among the Taft community and beyond due to its unique movement. Thus, in months, people demonstrated their support by volunteering and partnering with the organization to have more efficient programs not only around Taft but also nationwide. Euson said, "it was originally a student-led organization, but now it has become a community-led organization. Most people who are involved sa organization dati students lang, ngayon may mga alumini na. But syempre, we try to keep it within the community as much as possible kasi people within the community know what's going on."
ADVERTISEMENT - CONTINUE READING BELOW
Directed by the devastating reality outside our homes
Being unemployed is hard, but being unemployed during a pandemic where you cannot freely get around, and companies begin to lay off employees is harder for most. An abundance of people may not have the opportunity to provide help, but luckily, The Taft Initiative does. Euson shared, "when I had the opportunity to go outside to pick up some stuff at Taft, nakita ko maraming establishments na nagsasara. A lot of people lost their jobs in Taft. I also talked to some of the owners of the establishments, and I got a grip of what was really going on."
With no hesitations, Euson cultivated his vision into a concrete response. He said, "No one's going to do something about this, so I might as well do something. Kasi based on my experience, it just needs a slight push. You just need a spark to light the fire."
ADVERTISEMENT - CONTINUE READING BELOW
Euson shared that the first time they laid the plans to the establishments, most of the workers broke down into tears since they did not expect an organization to provide unconditional help to them when they are at their lowest.
The programs made possible by TTI
Project Taft Express
One of the organization's pioneering projects and, as they describe it, their "brainchild" was established for the purpose "to keep the Taft alive" by helping the establishments and workers who lost their jobs to generate income and sidelines.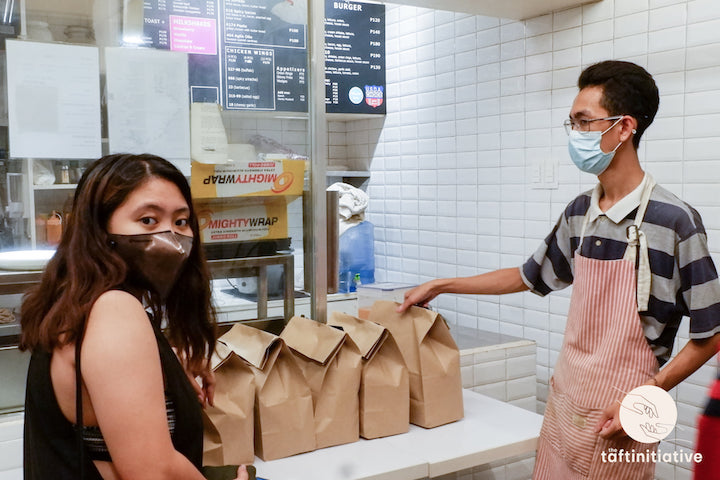 ADVERTISEMENT - CONTINUE READING BELOW
TTI acts as the delivery service for these establishments that cannot afford to join prominent delivery apps. Order your favorite food from Topside, Orange and Spices, Dixie's, and other OG restaurants through here: https://thetaftinitiative.carrd.co
Paskong Taft
For last year's Christmas season, TTI came up with this project, which is composed of events called "Toy Drive," "Noche Buena Kitchen," "12.12 Free Delivery", and "Rider Christmas." With at least a hundred toys and 700 meals, they literally made their chosen beneficiaries believe in Santa (*heart eyes*). Moreover, for 12.12 Free Delivery, TTI covered all delivery fees to boost the Taft establishments' sales.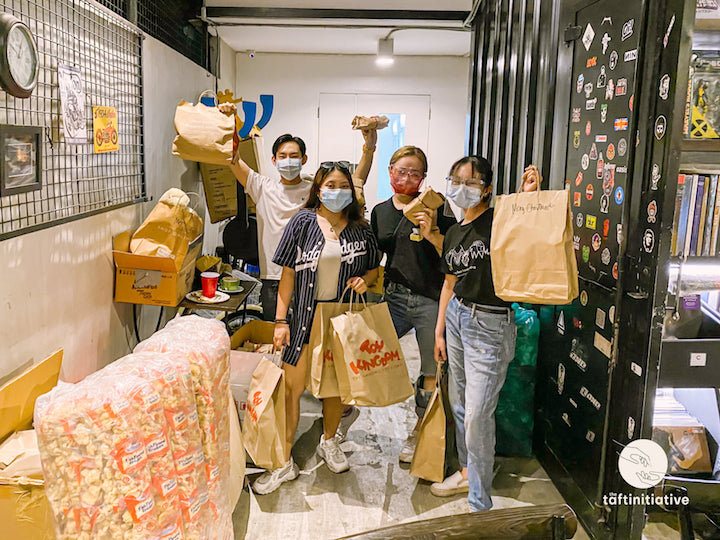 ADVERTISEMENT - CONTINUE READING BELOW
Pay-It-Forward
TTI was also present during the devastating typhoon last November 2020, Typhoon Ulysses. For this campaign, they opened donation drives around the metro to operate as a trusted channel for people to drop their donations for the victims. Euson labeled this campaign as their biggest project yet since they have successfully raised over P200,000-P300,000 for the victims. Partnered with the Taft restaurants, they were able to donate food for many families in various evacuation centers.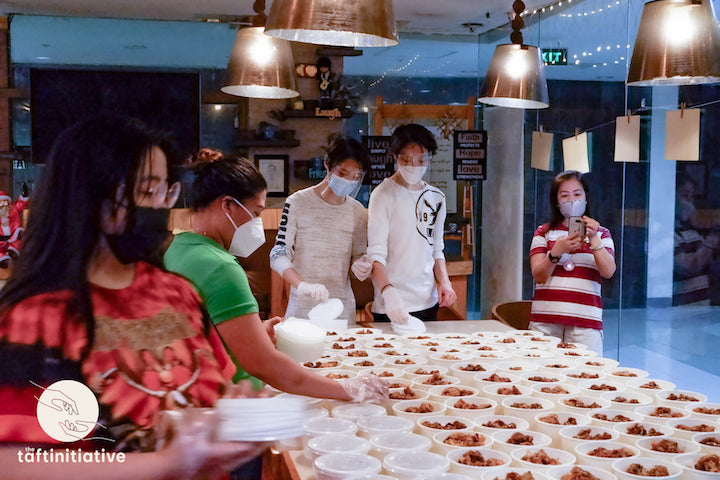 ADVERTISEMENT - CONTINUE READING BELOW
And what's great about TTI is that they provide their community transparency reports on their Facebook page to ensure that all donations were used efficiently and made it to the hands of the people in need.
Despite many limitations brought by the pandemic, TTI did not let these factors interrupt them from executing their plans. A strong collaboration among the members of the organization was their key to successfully carry-out these campaigns. "It was really hard. So many mistakes were done for us to get to the right path… as much as possible; we really tried adapting," Euson shared. "Whenever we need to be outside, the skeletal field team are the ones to do it. While everyone else, as much as possible, coordinates behind the keyboard, behind the screen."
Euson also hinted to us about their upcoming campaign this February for Valentine's Day, and let's just say that single people and those who need emotional support right now would be thrilled about this! Follow them for updates!
ADVERTISEMENT - CONTINUE READING BELOW
The promising vision of TTI and expanding to U-Belt
TTI's outlook is to share its mission with other communities as well, particularly other universities that are willing to take on the philanthropy of TTI to other people who are currently beyond their reach. "Our vision is to set out more of these initiatives throughout the Metro Manila, throughout our country. My dream is to establish the 'University Belt Initiative' wherein it is a series of communities. It's a network of initiative communities that could help each other," Euson explained. "Some communities have their strong suits and weaknesses, same as ours. So basically helping each other, that's our vision."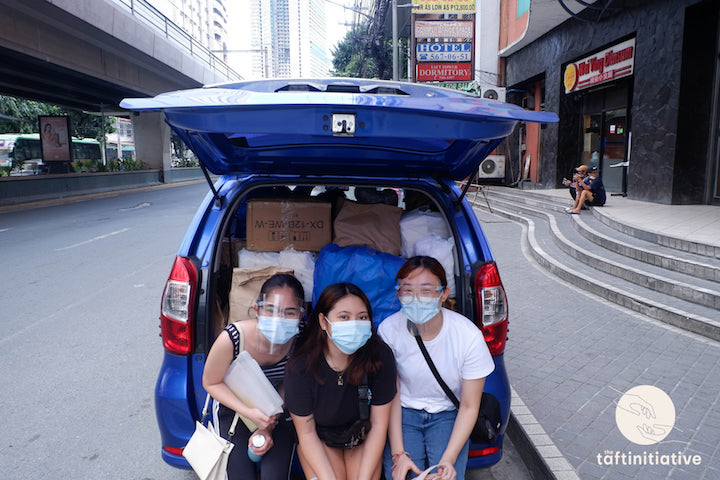 ADVERTISEMENT - CONTINUE READING BELOW
Also, good news! The Taft Initiative is currently recruiting and accepting partnerships! If you want to be a part of their movement, you may contact them on their social media pages. You may also express your support by donating anytime; just visit their social media pages for more information.
***
CanB is finally here! If you're an aspiring writer, vlogger, artist, or kahit marami ka lang talagang time, submit your entries here and make your mark in the Candy community! Share your feels, show your skills. Don't worry—we won't judge. ;)