In case you missed it, we revealed Candy's brand new look, which you can see in the February issue (out now!) with the gorgeous Kendall Jenner on the cover. We talked with Candy's EIC Sam Potenciano and Art Director Steph Yapnayon all about the big change. Plus, artist and the hand letterer Abbey Sy, who's responsible for the beautiful new logo shares some tidbits about what went into making the new Candy.
After 17 years, why the big change?
Sam: I feel like Candy has grown so much since then (in almost every aspect!) and it just felt right following Marla's big redesign last year. If you notice our look is a bit more streamlined, a bit cleaner and more minimal, and it just felt like the logo, being the most representative image of the brand, should reflect those changes as well.
Steph: Candy has grown up in so many ways since its first appearance. And while it's sad to say goodbye to an old friend, it's always nice to make room for change to further improve yourself. I feel that this new logo will represent this new generation of Candy Girls more.
ADVERTISEMENT - CONTINUE READING BELOW
What was the inspiration behind the new logo?
Sam: We didn't want to stray too far from the principle of the original logo–that slightly messy, splashy typography. We still wanted it to feel homemade and DIY, like it was handwritten in your journal, but in a more modern way.
Steph: Something handmade and personal, and will remind you of that dear friend you have. :)
Why did you choose Abbey Sy to do the new logo?
Sam: We're big fans of Abbey and her work, and we felt like she would do a project like this justice. :)
Steph: Abbey Sy represents the new Candy Girl very well. Candy Girls who are smart, creative, and not afraid of change.
If you were to introduce the new Candy to longtime readers, how would you do it?
Sam: On Instagram, of course! It's probably the next best thing to having them peer over Abbey's shoulder while she hand draws it.
Steph: Instagram and on Candy's Facebook page.
What other major changes can readers expect from Candy?
Sam: We've been focusing on working with lots of talented new artists and photographers every month to
keep our pages fresh and exciting. So hopefully we can continue to expand our pool of artists and contributors and work with them to create cooler and cooler pages.
Steph: Definitely showcasing more local and young talents like illustrators, photographers, and graphic artists.
ADVERTISEMENT - CONTINUE READING BELOW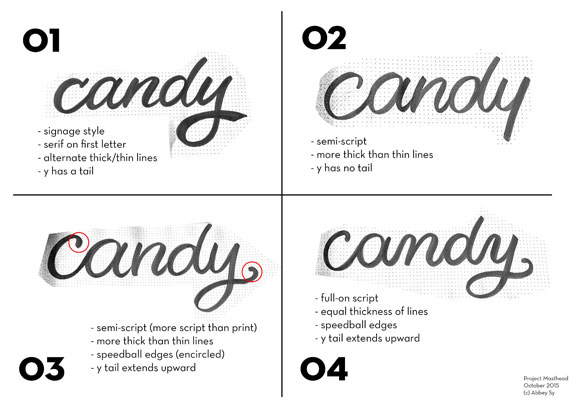 The beginnings of what would be the new Candy logo
What was your reaction when Sam and Steph asked you to submit designs for the new masthead?
Just the idea of working on something like this really freaked me out in a good way. I was pretty shocked because I never imagined getting an assignment like this. Moreover, I was super excited to work on it. I've been a Candy Girl since I was thirteen—10 years already.
ADVERTISEMENT - CONTINUE READING BELOW
What was the idea behind the logo? Did your first draft end up being the final choice? How many drafts did you go through?
I did four different studies before the Candy team chose the fourth study. The idea was to recreate Candy's logo and make it look a bit more mature but at the same time, still keeping in mind its youthful audience. I also wanted to make the logo a little more loose with the script and make it more organic rather than having it very structured. And we're all about handmade now, so this was a good way to showcase that aspect in the logo.
As a reader and true-blue Candy Girl, what can you say about the new logo and how do you think longtime readers will react to it?
It's definitely a fresher take on Candy and I hope longtime readers will love the new look! :)
ADVERTISEMENT - CONTINUE READING BELOW
What do you think of the new logo? Have you gotten a copy of the February issue yet? Let us know what you think!