Getting red marks in the school of life can mean you're setting yourself up for becoming an A+ person.
I must have had the perfectionist gene hiding somewhere in my DNA from the time I was born. As a kid, I tore pages out of my notebook if my doodle wasn't up to par, or abandoned entire coloring books if my crayon went out of the line just once. When I accidentally wrecked my newest Barbie's hair in an attempt to twist it into a French bun, my eight-year-old self managed to manipulate my dad into sneaking off to the toy store and buy me the exact same doll again (with knot-free hair) without my mom knowing—she would have lost it if she ever found out.
As a kid, I raged over the littlest mistakes. But you get older, and the tiny errors you make turn into bigger gaffs. It isn't just the erasures in my notebook that were gnawing at me, but the fact that I had four mistakes on my pop quiz (somehow, I had told myself that three was the acceptable number of wrongs in any test). Issues get graver and more serious as your world begins to expand and grow. There were slip-ups among friends that hurt others' feelings and mine, wardrobe malfunctions at parties that are forever preserved in photos (oops, didn't know that skirt was see-through...), and relationship mishaps that turn into shoulda-woulda-couldas.
Mistakes get bigger, and somehow, the last one you committed turns out to be not as bad as you thought it was. When you're coming out of a college entrance exam, realizing you skipped one number and may have filled out those circles in the wrong order resulting in a domino effect of errors, twisting your Barbie's hair into a tangled mess doesn't seem so bad, does it? And when you're up in front of the panel during your thesis deliberations and make a stupid pronunciation error during your speech, that rookie mistake during your college entrance test becomes just another funny story (after all, when you're about to graduate and just have your thesis left to accomplish, you're in pretty good shape).
ADVERTISEMENT - CONTINUE READING BELOW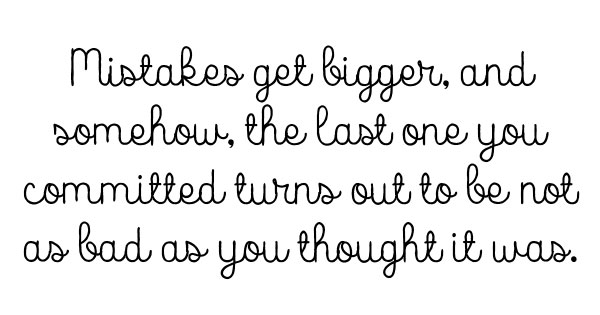 The thing about making mistakes is, despite the embarrassment, shame and sometimes guilt it puts you through, is it always clears the space for you to do something better. It's the valley to the peak, the low to the high, the set-up before the big finale. Mistakes are part of life's constants—they're inevitable. And sometimes, the longer it takes to make a mistake, the bigger your potential for a fall is.
And who's to say that's a bad thing? As soon as you slip up and fall flat on your face, the magic of starting over, of making up for something awful you did, the incredible way the Universe comes together to make things right begins.