Features
The Difference Between Middle School and High School
Though the transition can be terribly frightening, you shouldn't worry too much!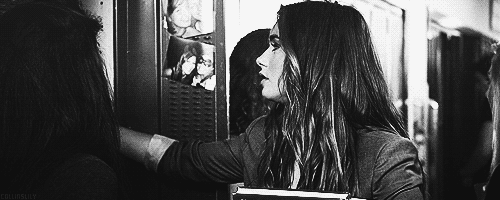 IMAGE acciovampire.tumblr.com
Two words: high school. Four years of hard work, decision making, and endurance. The inevitable changes you face during the transition from middle school are probably what make high school seem so exceptionally frightening (though it really isn't!). Here are just a few of them.
Workload
Okay, let's be honest—the high school workload is inescapable. You'll undoubtedly be put under more pressure with the intensified demand for homework and other assignments. Although, being set such time consuming, tedious tasks only makes it more worthwhile once each piece of work is finished.
Grades
With the increasing workload, you've probably already guessed that grades do in fact matter more once you've entered high school. Throughout high school, academics should generally be prioritized—getting good grades is extremely rewarding. However, don't overwork yourself to the point of burnout. Taking breaks is just as crucial.
Relationships
It isn't untrue that more couples do begin to form throughout high school. Sure, it's cool to have someone go through the "high school experience" with you. But if you haven't found the right person yet, don't sweat it! Focus on academics and other activities that you enjoy.
Cliques
Of course, the idea of switching or moving barkadas varies from person to person. However, if you ask most high school students entering their junior or senior year, they've definitely drifted apart from previous friends. This shouldn't necessarily be perceived as a negative, since high school is all about growing and learning from a variety of experiences—including making new friends.
Freedom
Normally, high school allows for more of this. For example, giving students the liberty to choose their own classes. Teachers and support staff tend to trust students more, but with this freedom comes more responsibility as well as independence.
College
In middle school, the thought of college is almost laughable as it seems so far away. Although, once you reach high school, college gets real.  Despite university being important, don't worry if you're unsure of what you would like to do or where to go. Counselors, teachers and, of course, fellow students are there to help you.
Clubs and extracurriculars
Not only are these great ways to enhance your CV, but also allow you to meet a bunch of new people. You can easily make friends whilst still engaging in school based activities through sports, theatre, green teams, art—whatever you want!
\\\\\\\\\\\\\\\\\\\\\\\\\\\\\\\\\\\\\\\\\\\\\\\\\\\\\\\\\\\\\\\\\\
Get the latest updates from candy!
subscribe to our newsletter!
////////////////////////////////////////////////////////////////
You know you'll regret it.
You don't even have to leave the house!
From digital art to photography to mixed media, Filipino artists show that creativity is never lost in our people.
Skip a makeup step with these beauty goodies!
Take pretty notes and study effectively with these tips!
Wait for a love like this. A love that is good to you, for you.
Are you up for this challenge?
Can't wait to see the actual gowns!