Now that you've got The Dress sorted out, what's next? It's time to decide where you're going to celebrate, how you're going to decorate it, and what you plan on giving your guests to remember the night by!
Venue
Whether you're doing an outdoor function or an intimate indoor setup, it's important to choose a setting that's not just comfortable for you but also for your guests.
ADVERTISEMENT - CONTINUE READING BELOW
If you're considering an out-of-town location for your debut, we spoke with The Veranda at Bella Rosa Farm in Silang, Cavite to inquire about their packages. The published rates on their website should work for debuts, too, but they can make adjustments based on what you require.
Having a destination debut sounds like a lot of work, but when you think about it, it also sounds like a dreamy escape for you and your guests! But before you decide, consider factors like travel time, transportation constraints, and weather conditions. 
When you've booked a venue, check the package you've chosen for any inclusions like styling, pre-debut pictorials, and accommodations. Also check to see for any additional charges for stuff like guests over the limit, and customizations for seating/chairs.
ADVERTISEMENT - CONTINUE READING BELOW
It helps when the venue you book already has a package that includes catering and styling. But if you have a preferred restaurant or supplier to take care of your menu, make sure that the venue you are booking allows non-accredited caterers!
For inquiries and booking details, log on to www.theverandaph.com.
Styling
We spoke with the talented duo behind Flora and Fern Styling Co., Jamie Espadilla-Mapagu and Love Ocampo to get tips on how to make your debut stand out from the rest!
Like having your dress made in advance, booking an appointment with your event stylist should be made at least 6 months prior to your big event. Jamie and Love share that this is "so you could set a budget and funds properly for the venue, decorations, food, clothes, and activities."
ADVERTISEMENT - CONTINUE READING BELOW
If you want a stage setup that can double as a backdrop for photos, it'll set you back for P25000. "The cost of our stage design starts at P25,000 which includes a backdrop with themed decors, couch and coffee table," they explained. As for centerpieces, a floral arrangement with themed decor can cost at least P1500.
ADVERTISEMENT - CONTINUE READING BELOW
It's understandable if you're on a budget and don't really want to spend a large amount of money on styling, but we asked for Jamie and Love's advice on one major design element a debutante should definitely invest in.
"We would recommend they spend on the stage design since it would be the focal point during the entire event. It is also where the guests would spend most of their time taking pictures with the debutante." —Flora and Fern Styling Co.
And while everyone these days are obsessed with making everything "Instagram-ready," Jamie and Love actually don't make it a priority when styling events. Instead, "when Flora and Fern styles, we always make it a point to style the venue so the guests feel inspired by what they see from the design, ambience and lighting."
ADVERTISEMENT - CONTINUE READING BELOW
But before you meet up with your event stylists, here are 5 important things you should prepare so that your meeting will be fruitful and productive!
Vision and ideas such as the theme and color. "When we usually meet with clients, we are flattered when they request to have the Flora and Fern look, which are tables and backdrops filled with foliage, having a rustic but romantic feel, and finally touches of gold elements. We do also entertain clients who request ideas that add to the Flora and Fern signature look, like adding geometric shapes or even Bohemian prints."

Budget. "When we present to the clients, we already show them a presentation of each area that will go with their budget based from the pictures they sent us. This allows them to visualize how their debut would look without overspending."

Event details (when and where the event will be held, number of guests). "We visit the location of the event so we can check how everything would fit into the space, as well as how we can install our designs, for example swags or chandeliers on the ceiling, hanging foliage by the entrance or even how the backdrops will be secured."

The program. "We always ask what will happen during the event so we know for example, if the cake stand would be on stage or if it would be brought out, if there should be space for a dance floor, if we need a stage or just a photo booth area, and if there would be a buffet table we need to style or the food would be served. It's important to know these details ahead of time to avoid problems and will produce a smoother event flow."

The look of the gown. "We prefer that the design and color of the event will not clash with the debutante's gown. We feel that the debutante should always be the star of the night."
For event styling inquiries, contact Flora and Fern Styling Co. at floraandfernph@gmail.com.
Dessert Bar + Souvenirs
If you want an added touch of whimsy to your celebration, include a dessert bar in your setup.
Mrs. Graham's Macaron Cafe offers options for a macaron tower: 3 layers - 29 macarons, 4 layers - 47 macarons with price depending on the flavors chosen. For 5 layers - 69 macarons (P3,450), 6 layers - 95 macarons (P4,750) 7 layers - 125 macarons (P6,250), with a flat rate of P50 per macaron. Anna Graham (yes, Mrs. Graham herself!) says that the number of macarons per may layer may change because some of their macarons are fatter depending on the flavors chosen (i.e. S'mores, Pancake, French toast, Bibingka, Ensaymada, Cheetos, etc.) Macarons needed per layer may be less, decreasing the total price.
ADVERTISEMENT - CONTINUE READING BELOW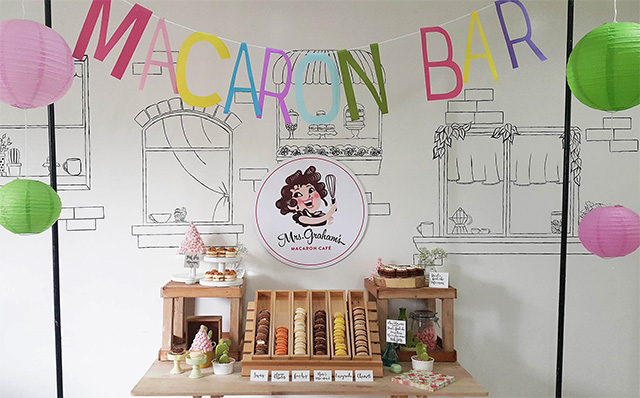 If you want Macaron bar, 50 pcs and above would have a P50 flat rate per macaron while 150 pcs and abovewould have a P45 flat rate per macaron. The cafe also does dessert table styling as well, and the fee will depend on theme and decoration needed. They can also do a dessert spread and have other cakes and pastries available upon request. Customized packages can be made according to the client's budget and theme.
ADVERTISEMENT - CONTINUE READING BELOW
Giving away edible souvenirs for your debut can also be a sweet option! Mrs. Graham's Macaron Cafe offers this service as well and you can choose to customize your packaging, too! You can pick the flavors as well as how many pieces to give each guest.
To know more about their macaron tower and party services, you can contact them through 02-351-5115 and 0915-812-2662.
Are you all set for your 18th birthday party? What else do you need help with? Hit us up with your debut dilemmas in the comments down below and we'll try our best to help!