The COVID-19 pandemic prompted many undergrads to put off school in search of work opportunities just to get by, or to look for part-time work they can balance with acads in order to help with home expenses.
Job hunting can be tough for someone without a college diploma yet, and it's rare to find traditional companies that offer the flexibility needed to pull off being a working student. Luckily, a lot of emerging startup and tech companies have been taking these very pressing realities into consideration, with some even offering alternatives so you won't have to choose employment over education and vice versa.
In an interview with TELUS International Philippines (TIP), a customer experience and digital IT solutions company, Communications Manager Pia Gajasan talks to Candy about their flagship education program, as well as other company initiatives to make sure their new hires never stop learning at work.
ADVERTISEMENT - CONTINUE READING BELOW
Subsidized Tuiton Fees
As a company with openings for high school graduates and college students, Gajasan shares how they make sure career growth and learning opportunities are their number one priority for their team members via the TELUS International University.
This program gives employees and loved ones (like your siblings or even barkada) the chance to complete their college education, take on a second degree, or explore their passions and interests through workshops and certificate courses.
ADVERTISEMENT - CONTINUE READING BELOW
"What makes the program more attractive for working students is the fact that the tuition fees are subsidized by TIP (ranging from 50% to 85%) and paid via flexible arrangements through salary deduction," says Gajasan.
Some of their partners include the University of Asia and the Pacific (UA&P), Asia Pacific College (APC), the School of Fashion and the Arts (SoFA), and Center for Culinary Arts, Manila (CCA).
Advocacy-driven Initiatives
A lot of learning happens at work, too. Like any other Gen Z-immersed business, you're sure to find fun groups within TIP that suit and hone your interests outside of work, like an outdoor or activity club. They also have creatively themed meeting areas (like a ballpit and Jeepney-themed room), and even their very own company karaoke and game rooms. But more importantly, to prove their commitment to inclusivity, TIP also provides resource groups for marginalized sectors within their company. One is the Connections Women's Network, which is TELUS International Philippines' resource group for women and women leaders, as well as Spectrum Philippines, their LGBTQIA+ resource group.
ADVERTISEMENT - CONTINUE READING BELOW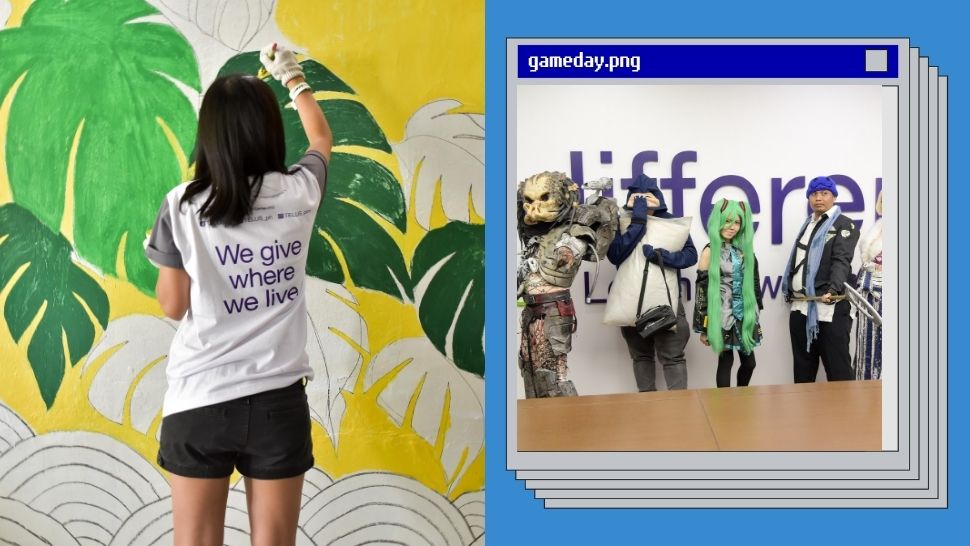 "Since the pandemic meant we couldn't have a Pride Parade, our Spectrum Philippines team organized a month-long series of Pride activities for our team members - from virtual learning sessions on SOGIE 101 and how to be an ally, to fun contests, and they even released Pride-themed music playlists, TV series, and movie recommendations," Gajasan says.
ADVERTISEMENT - CONTINUE READING BELOW
"Connections Women's Network also organized some useful and interesting virtual activities during the pandemic. They offered a homeschooling 101 session for our team members, and an array of very inspiring and informative talks about women in STEM, developing leadership confidence for women, and breast cancer awareness, to name a few." It's not all serious talks and workshops either. Keeping things light and approachable, they also organized a series of virtual yoga classes to promote health and wellness.
"For a company like ours which espouses a people-first culture and promotes inclusiveness and acceptance, it's not a matter of dealing with a diverse pool of team members but rather, fostering diversity and valuing the differences in perspective, opinion and background within our team."
Follow TELUS International Philippines on Facebook.
***
#WATCHCANDY: Subscribe to Candy Magazine on YouTube and follow @candymagdotcom on Tiktok for guides to college life and beyond.