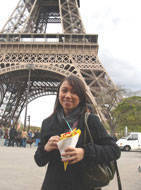 Tasha Arreza, 21
Food Blogger
What got you started on food blogging?
Good food is meant to be shared. I've been blogging for a long time, so when I realized that most of my entries were about food (like new restaurants, hole in the wall finds and cooking feats), I decided to create a food blog for all my foodie posts.


What type of food do you like to blog about? Or do you feature anything that goes to your tummy?
I try to eat good food as much as possible. Otherwise, it's just a waste of calories.

When I go out I try to explore new restaurants, and if they have good food, I blog about it.


Do you have any food blogger idols?
I am in awe of Marketman's (of marketmanila.com) scholarly take on food. I admire how he can write at length about rare ingredients, cooking methods, and obscure utensils. I also love Lori Baltazar's (of dessertcomesfirst.com) lush musings about food. Her writing lends a comforting kind of romance to eating and food.


What restaurants/places/food do you still dream of blogging about?
I'd love to go to Japan and try eating blow fish (if it isn't prepared right, it can kill you!) and live squid sashimi (they say you can actually feel it trying to move its way up your throat!).


What was the most memorable food blog you wrote? What was it about? Why is it special?
I've done a couple of posts about my trip to Europe. I tried to eat as much as I could, and each picture brings back so many memories. I wrote about finding the best fish and chips in the UK, buying baklava in Greece, gorging on white asparagus during asparagus season in Germany, and sampling the many varieties of beer all over the continent.


What are your must-haves when going on a food trip with the intention of blogging about it after?
Great, mouth-watering pictures are essential to a food blog, so I make sure I bring a digicam. I also take pictures of the menu, keep the receipt or ask for a flier so that I get the names of the dishes, the prices, and the contact information of the restaurant right.


Do you eat alone or with a group when scouring for foodie haunts?
It's always better to eat with a group, since you get to sample and feature a lot more dishes.


What tips do you have for Candy Girls who would like to start their own food blog?
Start now! Be very adventurous; great eats can be found in the most unexpected places. Don't forget to bring at least one friend with you during your foodie haunts. Eating is only half the fun when it comes to having a food blog.
Check out Tasha's food blog
here
.
ADVERTISEMENT - CONTINUE READING BELOW
ADVERTISEMENT - CONTINUE READING BELOW