Features
Surf's Up In La Union
Two Candy Girls swim out into the sea and try out surfing in La Union.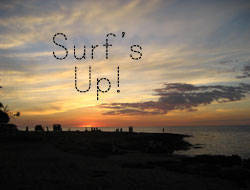 Ten Steps To Beginner Surfing, Candy Girl Style
Go with a group. During this trip, we enlisted for a package with Travel Factor. Fees included transportation, accommodation, and surf lessons with board rental. You can also do this on your own and split the cost amongst yourselves. With group discounts, you're probably going to save money!
Pack light. You don't want to bring an entire week's wardrobe when, really, you're just staying for a night. Be sensible when fixing your bag. Check with the hotel you're staying in if they have house towels, maybe you can save precious baggage space if you leave the towel at home. (:
Get some sleep. Surfing can be physically taxing, so it's best to get rest before hitting the waves. We slept most of the way going to La Union.
Eat just right. Eat enough to make you strong enough to stand on your board, but don't stuff yourself silly unless you want breakfast to spill out onto the board. Not a pretty sight.
Make the most out of your time. Even if there were no waves, we still went on with our lessons. The instructors gave us an extra push so we could stand on our boards.
Practice, practice, practice. We secretly (well, not anymore!) practiced "standing on the board" in our room. It proved to be quite helpful because we were able to stand on the board on our first few tries!
Paddle like there's no tomorrow. Granted your arms will feel dead the morning after, paddling will help you get stronger arms for... well, more paddling. Some of the people who rented boards just paddled around the water when there were no waves.
Smile like you mean it. When you're on the board, or at least trying not to fall off it, flash a smile! Nothing like a frown to ruin that shot of you surfing the wave. At least you look happy trying. Haha!
Don't be afraid. We admit, we were terrified to go for it, but in the end, you'll only regret it if you don't try. The surefire way to accomplishing anything is to take that first step!
Enjoy and have fun. Don't take things too seriously. Just enjoy the experience, have fun with your friends, and take lots of pictures to remember what happened on your trip. (:
CONTINUE READING BELOW
Recommended Videos
ADVERTISEMENT - CONTINUE READING BELOW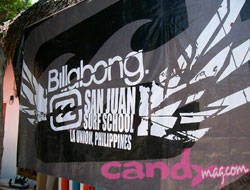 Curious about what they were like as UP students?
Usual floods will soon be a thing of the past.
Loisa's house garnered mixed opinions from netizens.
'Jowa, jowa, jowa.' --Teddie
And the role of Good Boy goes to...
They were once Green Archers.
South Korea's revised law will give pop culture artists a chance to delay their military service.
According to a new study.
"I love that I am trans. And I love that I am queer."
It's not just about your face shape!
From The Candy Bulletin Community