Features
Smoking Kills
Still think it's cool? Here's what tobacco companies don't tell you about cigarettes.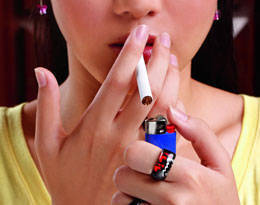 photo by Patrick Martires * model used for situational purposes only * special thanks to the Women's Media Circle Foundation, Inc.
Cigarette smoke has over 4,000 chemical compounds, including ammonia (toilet cleaner), arsenic (rat poison), butane (lighter fluid), and DDT (a type of pesticide). More than 40 of these can cause cancer.
For every cigarette stick you smoke, you lose 10 minutes of your life. You also endanger the lives of innocent people around you.
Smokers are more likely to lose their teeth. Those remaining are stained yellow with increased risk of getting plaque, which causes bad breath.
Smoking dries the skin, decreases blood flow and nutrients to your skin, and causes premature aging. (Hello, wrinkles!)
Women who smoke may have a hard time having a baby in the future. They are also more prone to reproductive diseases, such as cervical cancer.
Second-hand smoke is six times more poisonous than mainstream smoke. So even if you don't smoke, but you have friends and family who do, you are at a high risk of contracting asthma, bronchitis, pneumonia, middle ear disease, lung cancer, and more.
There is no safe level of cigarettes. Even if they are classified as light, mild, or menthol-flavored, they are all equally toxic!
Just because you're young, it doesn't mean you're invincible. According to the World Health Organization, "based on current trends, about 250 million children alive today will eventually be killed by tobacco."
Looks like the Philippine Philharmonic Orchestra likes Captain Ri's music!
Iced, hot, and frapuccino-style!
Achieve that crunchy Chickenjoy skin.
What if CLOY is really based on a Pinoy teleserye?
Have you tried this internet-famous drink?
The local brand has partnered with charity organization Give PH to help with the donations.
If you're desperate for a cut, YouTube is your best friend.
She recently sang it again during an Instagram Live with husband Taylor Goldsmith!