Let me set the scene for you: It was 7 p.m., and we were already at the tail end of our cover shoot with Candy Cover Search winner Simoné Jalbuena. There was a pop song from the 70s playing in the background, sparkly streamers and disco balls hanging from the ceiling, and the sound of bowling pins being knocked over. In the midst of it all was 22-year-old Simoné, or Sim as she is fondly called, posing for the camera like she belonged there. And from where we were seated, she really did. She posed, strutted, and danced like her life depended on it, showing grace and professionalism that's comparable to Candy's previous celebrity cover stars.
Simoné Jalbuena for Candy September 2023
Tube Top, P499, H&M, Megamall. Satin Blouse, P1,995, STRADIVARIUS, Megamall. Barbara Skirt in Pink, P1,199, MORRIGAN CLOTHING, morriganclothing.com. Agnes Mary Janes in Cornflower, P2,350, GVN, gvnthelabel.com. Headband in Darling, P800, BLACKBOUGH SWIM, blackboughswim.ph. Mini Nikita Earrings, P599; Kirby Pear Ring in Milky Pink, P450; Kirby Emerald Ring in Milky Pink, P450, all TRINKETS, weartrinkets.com.
Center of Gravity
If there's one thing you should know about Simoné, it's that she is nothing if not passionate. The 22-year-old is currently in her fifth year in Ateneo de Manila University, taking up Bachelor of Arts in Diplomacy and International Relations with a specialization in East and Southeast Asian Studies along with two minors: Urban and Regional Development and Chinese Studies. 
"Ever since since I was younger, I really wanted to help people. I remember being a child and I'd say, 'Oh my passion is for service.' Ever since I was little talaga, I'd even write essays about being a servant leader… I've always wanted to help people," she shares.
ADVERTISEMENT - CONTINUE READING BELOW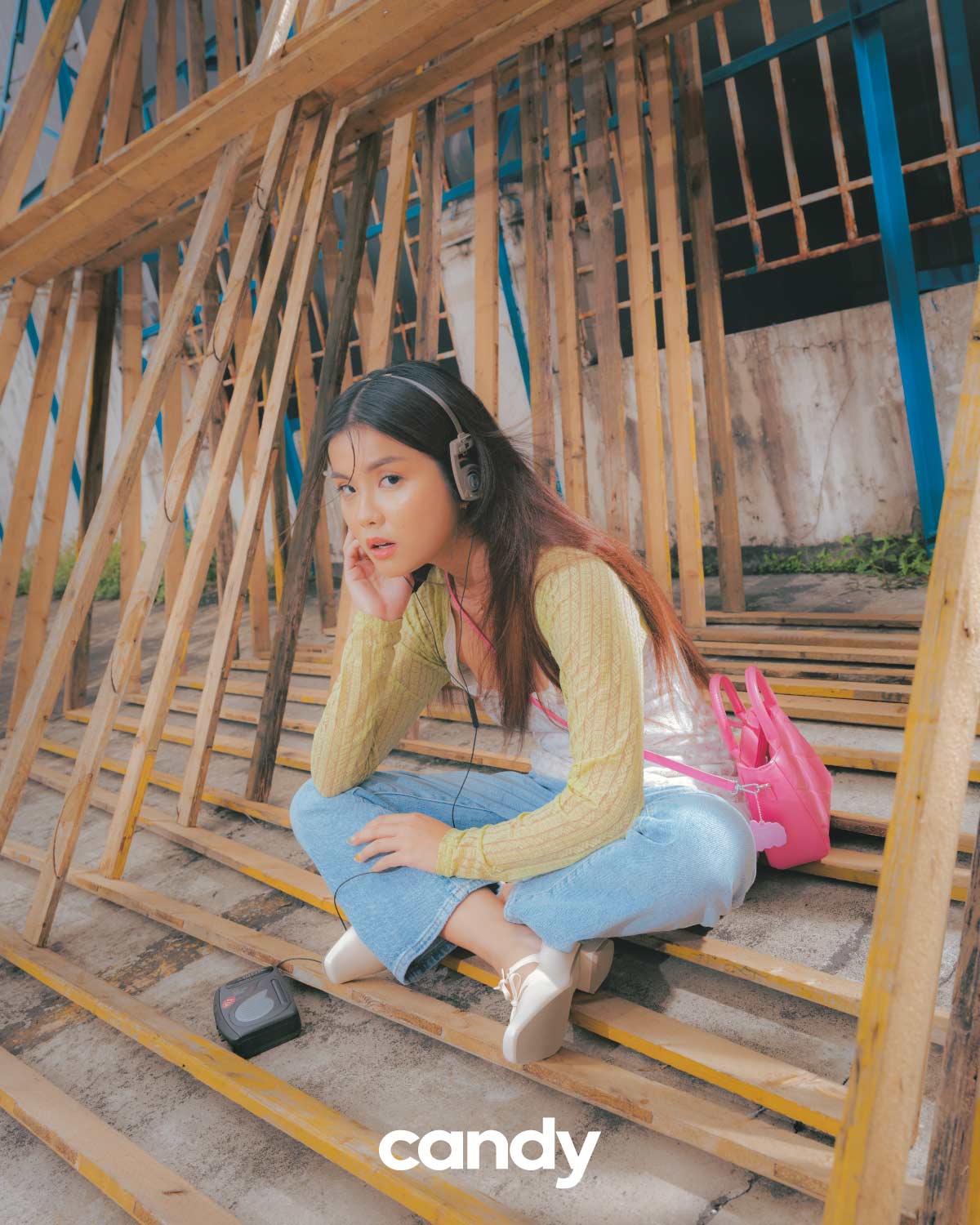 She had to put this dream in the backburner, though, because as she grew up, she eventually started leaning towards medicine. "When senior high came along, I was leaning more on medicine actually, so I chose the science, technology, engineering, arts and mathematics (STEM) strand. So I was thinking between being a pediatrician or being a neurologist. Pedia because I love kids and neuro because of my dad and his condition," she explains.
"I was really thinking of those, but as SHS progressed, despite having the grades for it, I didn't have the heart or the passion for it. Like I knew if I were to do it every single day, I wouldn't be as happy."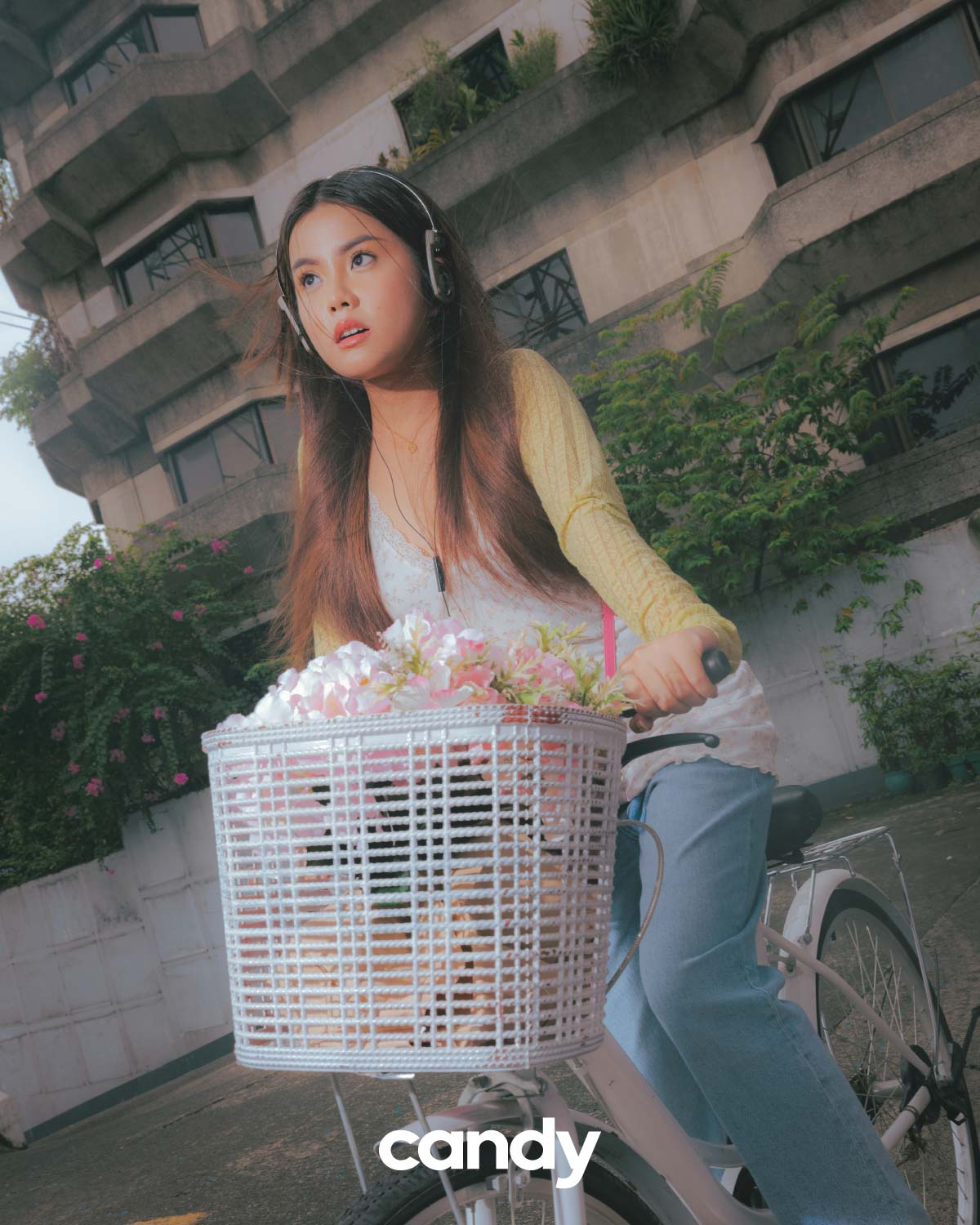 Simoné decided to listen to her heart and go back to her childhood dream—helping people—which is why she chose her current course. But of course, it wasn't without difficulties. "As a freshie, I actually had such a hard time adjusting because I didn't have a humanities background," she divulges. Feeling like she was taking two steps back despite being so passionate about what she was doing, she gleaned advice from her dad. "I asked him, 'Should I continue doing something that I'm really passionate about but I suck at it? Like I don't stand out, I'm having such a hard time, I find things and concepts twice as hard as my classmates do… or do I stick to something I know I'm pretty good at but don't really have the heart for it?' Then he told me to really go for what I'm passionate about so I stuck with my course."
ADVERTISEMENT - CONTINUE READING BELOW
Hard work *does* work, and the Atenean is proof of that. "Eventually, I got the hang of it naman… like right now, I'd get good grades. I just hope and pray that I graduate as cum laude," she beams.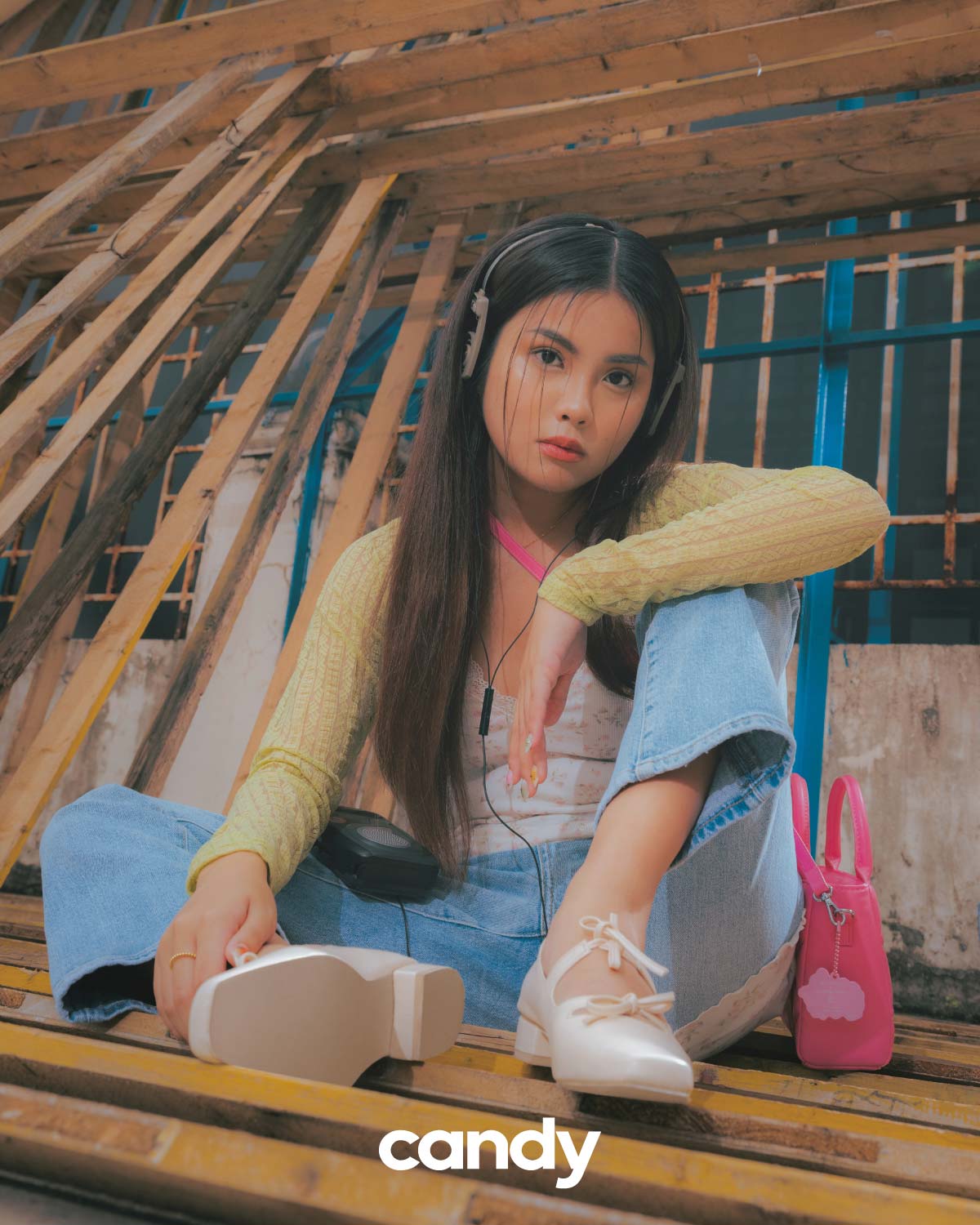 Floral Cami Dress, P999; Mom Jeans, P1,590, Bag, P1,190, all H&M, Megamall. Dorothy Cropped Knit Shrug in Matcha, P2,000, BLACKBOUGH SWIM, blackboughswim.ph. Agnes Mary Janes in Cream, P2,350, GVN, gvnthelabel.com. Lara Necklace, P599; 14k Carat Bubble Hoops, P4,500; Ozzie Ring, P399, all TRINKETS, weartrinkets.com.
ADVERTISEMENT - CONTINUE READING BELOW
When people apply for university, it's normal to only stick to one course. Simoné, however, decided to take an extra leap and get two minors: Urban and Regional Development and Chinese Studies. Her eyes shimmer when she talks about these, and I could really tell that she was passionate about what she's doing. "I added a minor in Urban and Regional Development. I was most interested in city planning, but in the future, I'm considering studying more on development in general. But it's super great because in my minor, aside from its required classes, we also have electives that are really interesting. So I did project management, disaster risk. So it's really interesting," she shares.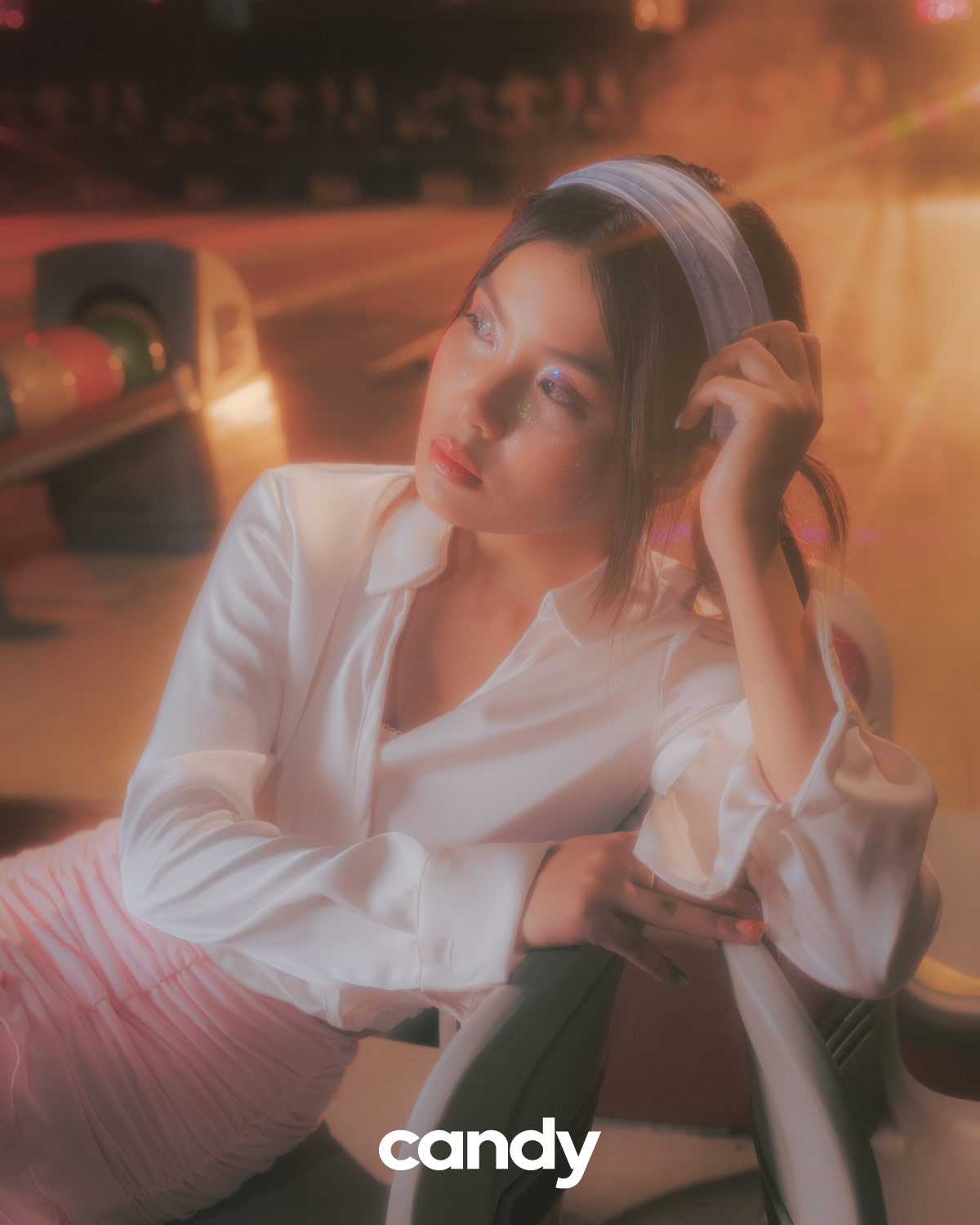 ADVERTISEMENT - CONTINUE READING BELOW
For her Chinese Studies minor, she says that it comes from having an interest in meeting people and understanding where exactly they come from. "Apart from helping people, you also need to know their needs, you need to be able to talk to them," she explains. "So it aligns with my second minor naman, because I'm able to learn about the Chinese culture, their art, and history. I feel like everything I do is integrated with each other and whatever I choose to do in the future, it's aligned with everything I've done already and what I'm currently doing."
Lucky Strike
From Candy's roster of famous celebrity cover stars, the 22-year-old is relatively unknown, so she had to work twice as hard to earn her seat at the table. Before becoming hailed as the winner of the Candy Cover Search, Sim had to get through countless hurdles and multiple missed opportunities to get to where she is right now. 
ADVERTISEMENT - CONTINUE READING BELOW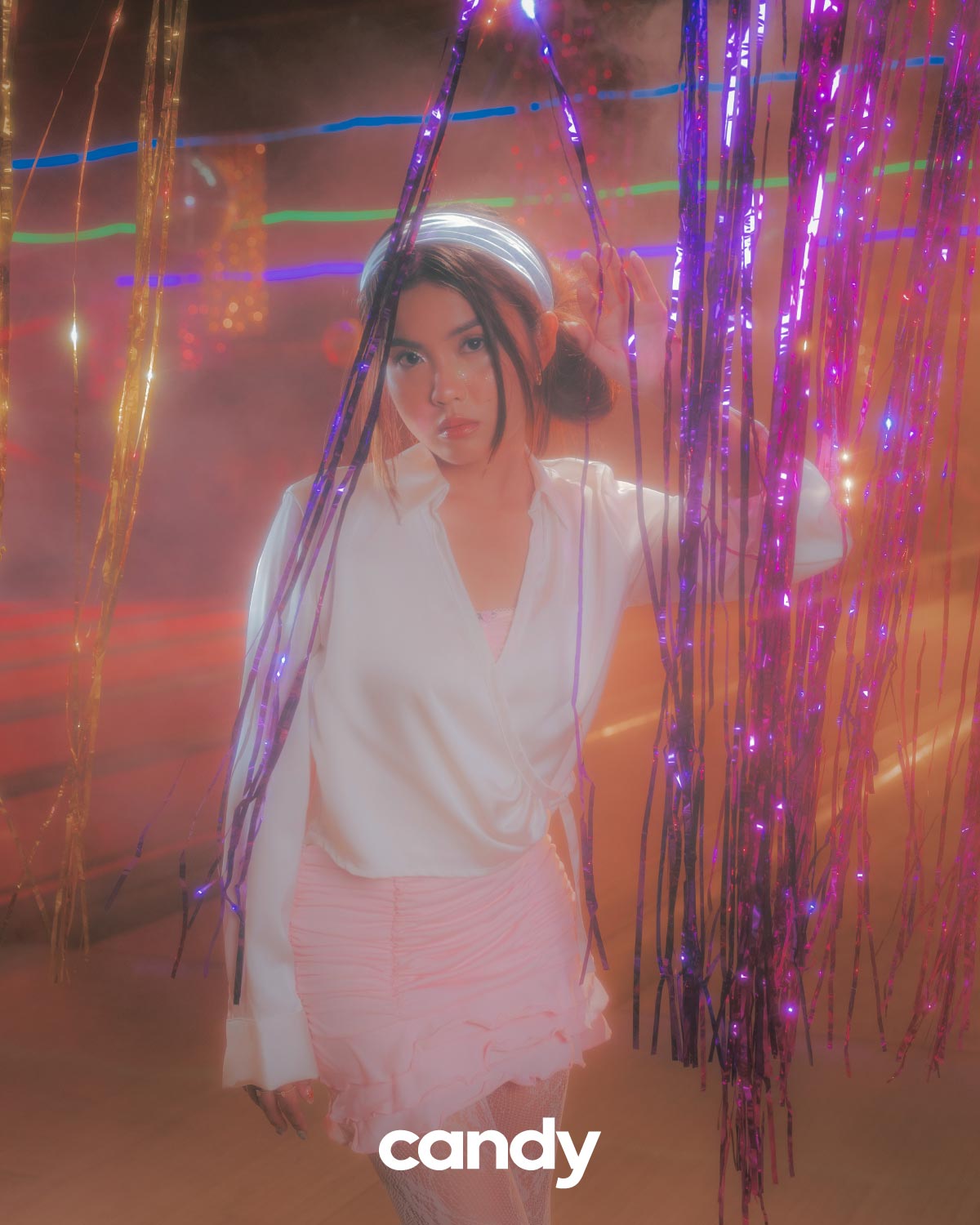 Initially, she applied to the search on a whim after seeing the callout post online. "I remember I just finished watching Oppenheimer [when I saw the post] so it was late in the evening na, but I found [the callout] really interesting, so I told myself, 'Okay, I'm gonna apply. What's there to lose?'" she shares. 
ADVERTISEMENT - CONTINUE READING BELOW
For a while there, it seemed like fate was working against her, with the multiple constraints from the application microsite which led to feelings of self-doubt and anxiety—was this even for her? "I tried to apply but it took so long for my application to go through. It took about… I think three hours? But it was to a point where I was thinking, 'Okay, maybe it's not meant to be and I'm just really pushing for it,'" she recounts. Luckily, she had the support of her family to keep her going.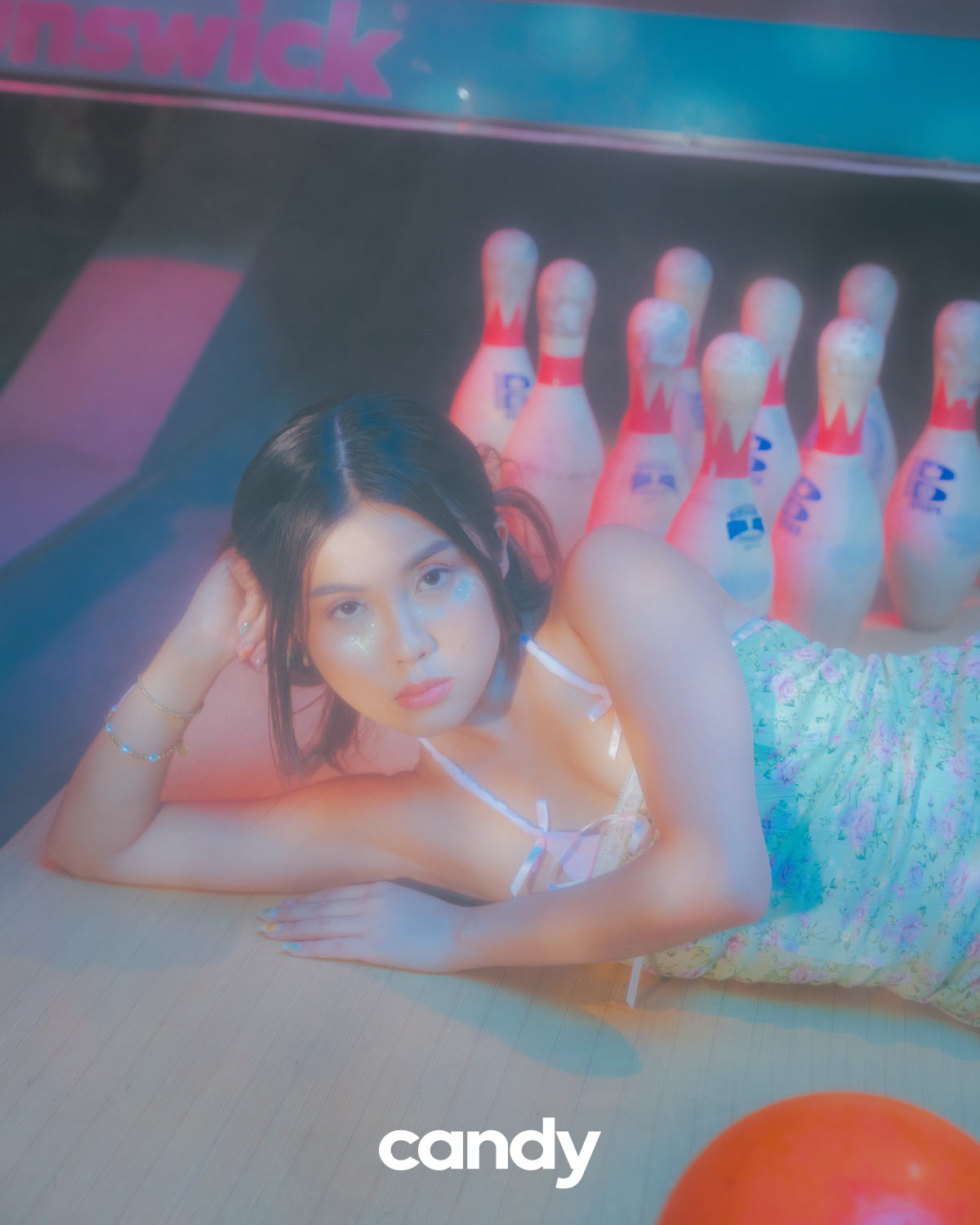 ADVERTISEMENT - CONTINUE READING BELOW
"I messaged my siblings, I told them, 'I don't think I'm gonna push through with it,' and they were like, 'Oh why?', so I said na it's been three hours and I'm getting pretty tired already. I really wanted it but again, maybe I'm just pushing for it." Not one to give up though, she persevered. "Eventually, I told myself, 'Okay, this is the last try. Let me take a screenshot [of my picture], if it goes through then okay, maybe it's a sign. Then on my last try, it went through and I was like, 'Oh my gosh!'"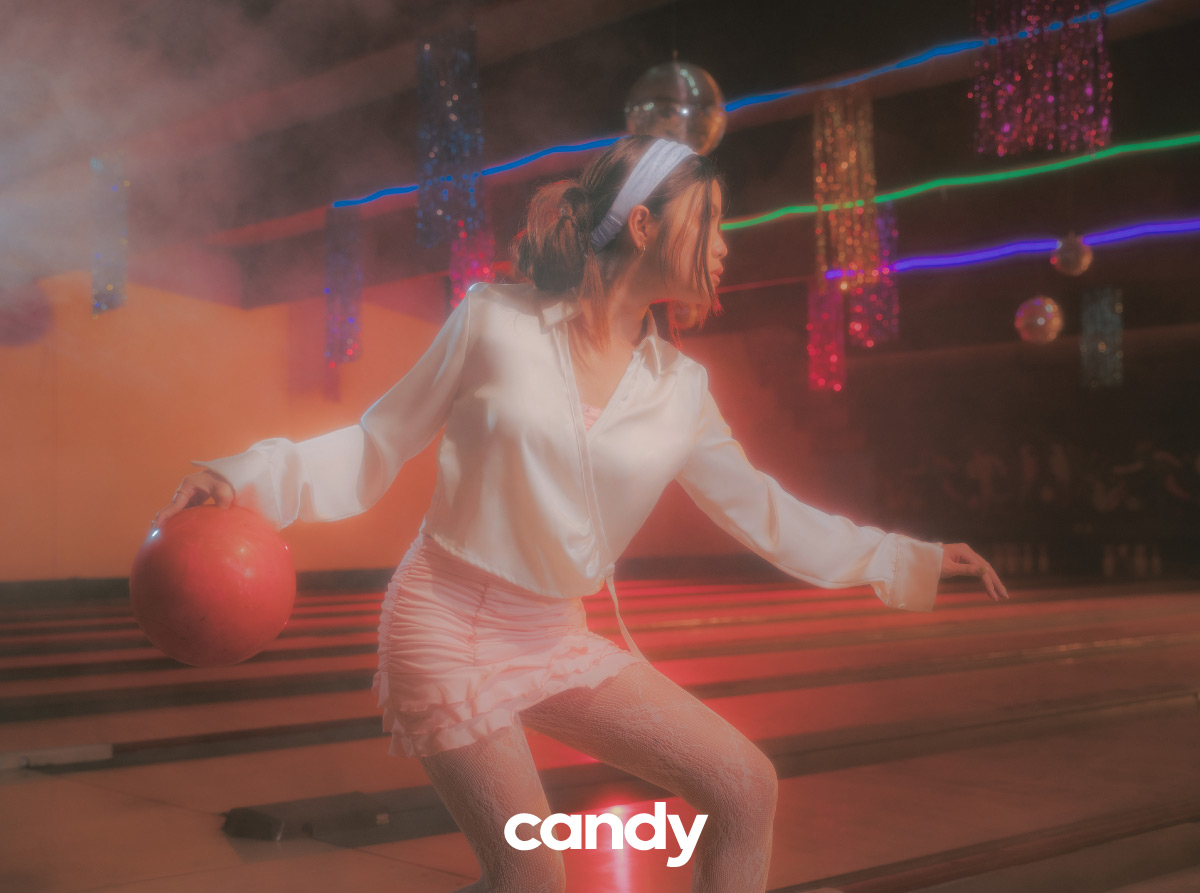 ADVERTISEMENT - CONTINUE READING BELOW
It was only the beginning of the journey for Simoné, however. Knowing that she was most likely competing against seasoned micro-influencers and students with experiences in the industry, she knew that she had her work cut out for her. 
"After it finally went through, I decided [on my game plan]. Like, 'Okay, this is it, I have to campaign,' because I knew that [the voting period] was gonna end in a little more than 24 hours." Where she lacked in big followings, she more than made up for it with the support of her family and friends. "I was thinking to myself, 'Hey, they have their following, their influence, but i also have my own—my circle of friends and my family.' It really helped me because I was worried during applying that I wouldn't be able to get as much likes and all that."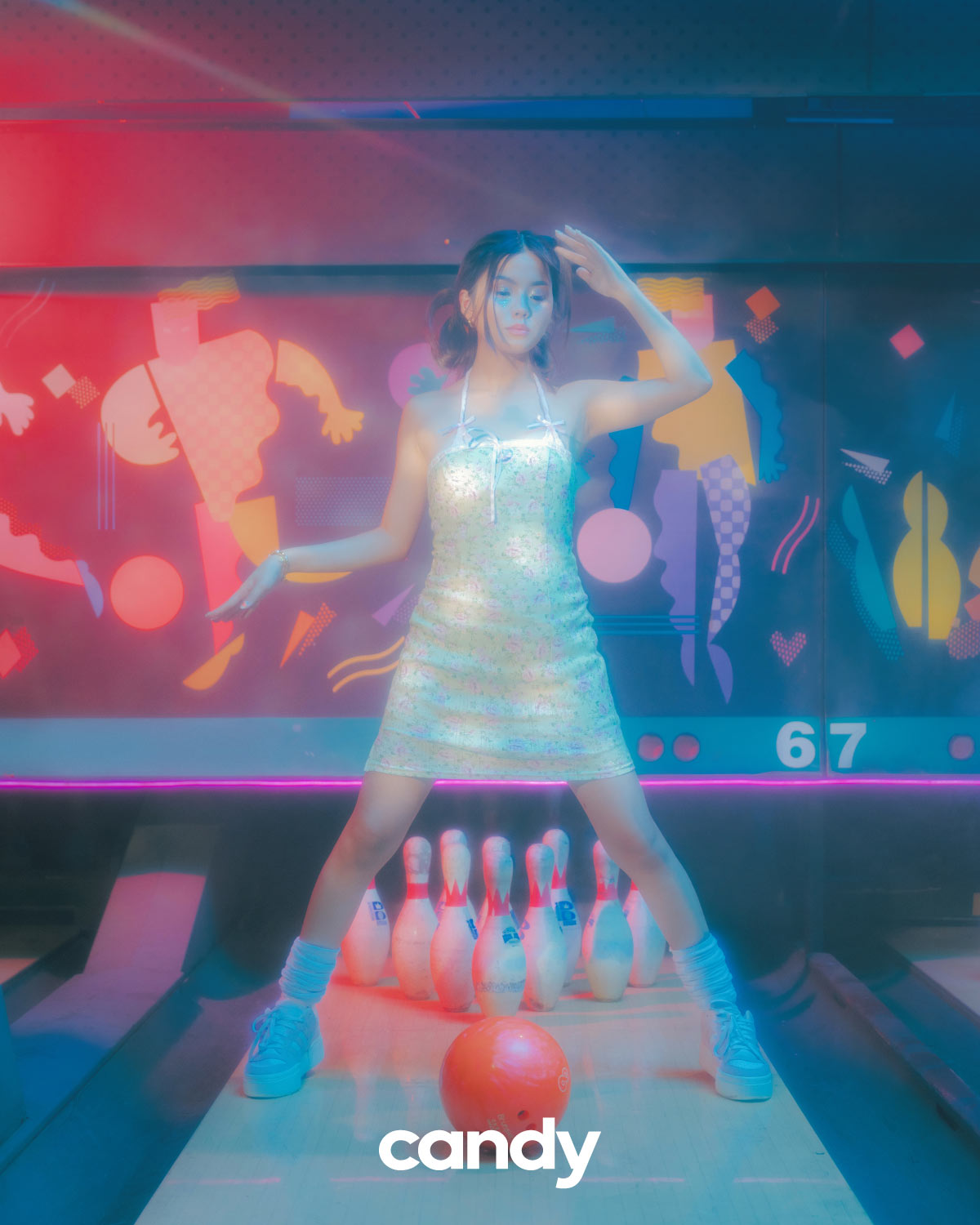 ADVERTISEMENT - CONTINUE READING BELOW
Tiffany Mini Tube Dress in Nantucket Pointelle, P3,800; Grace Frilled Triangle Top in Ballerina Jacquard, P2,900, both BLACKBOUGH SWIM, blackboughswim.ph. Forum XLG Shoes, P6,500, ADIDAS, Glorietta. Mini Nikita Earrings, P599; Dippin Dots Bracelet Gold in Strawberry Yogurt, P699; Peri Freshwater Bracelet, P995, all TRINKETS, weartrinkets.com.
Eventually, she was able to land the 11th spot, earning her way to the next stage of the competition: the Go-See where she had to ~sell~ herself to a panel of judges. Preparation was her friend, as she stayed up watching YouTube and TikTok videos on how to ready herself for what lies ahead. "Initially, I was thinking maybe it would be a model casting because it's a magazine," she recounts. "But then I was thinking, maybe there's also gonna be a Q&A so I really prepared myself. It was a good thing I did since it was not a model casting… like it would've been embarrassing if I just stood there and I didn't know what to say!" she laughs.
ADVERTISEMENT - CONTINUE READING BELOW
It was a mixture of her preparation, wit, and charm that granted her a spot in the Top 6, earning her a place in the August 2023 Next Big Thing feature alongside her fellow finalists. Seeing as she was the only one with little experience in the game compared to her peers, she initially felt qualms about her newfound position, though she was quick to combat those thoughts with a positive mindset.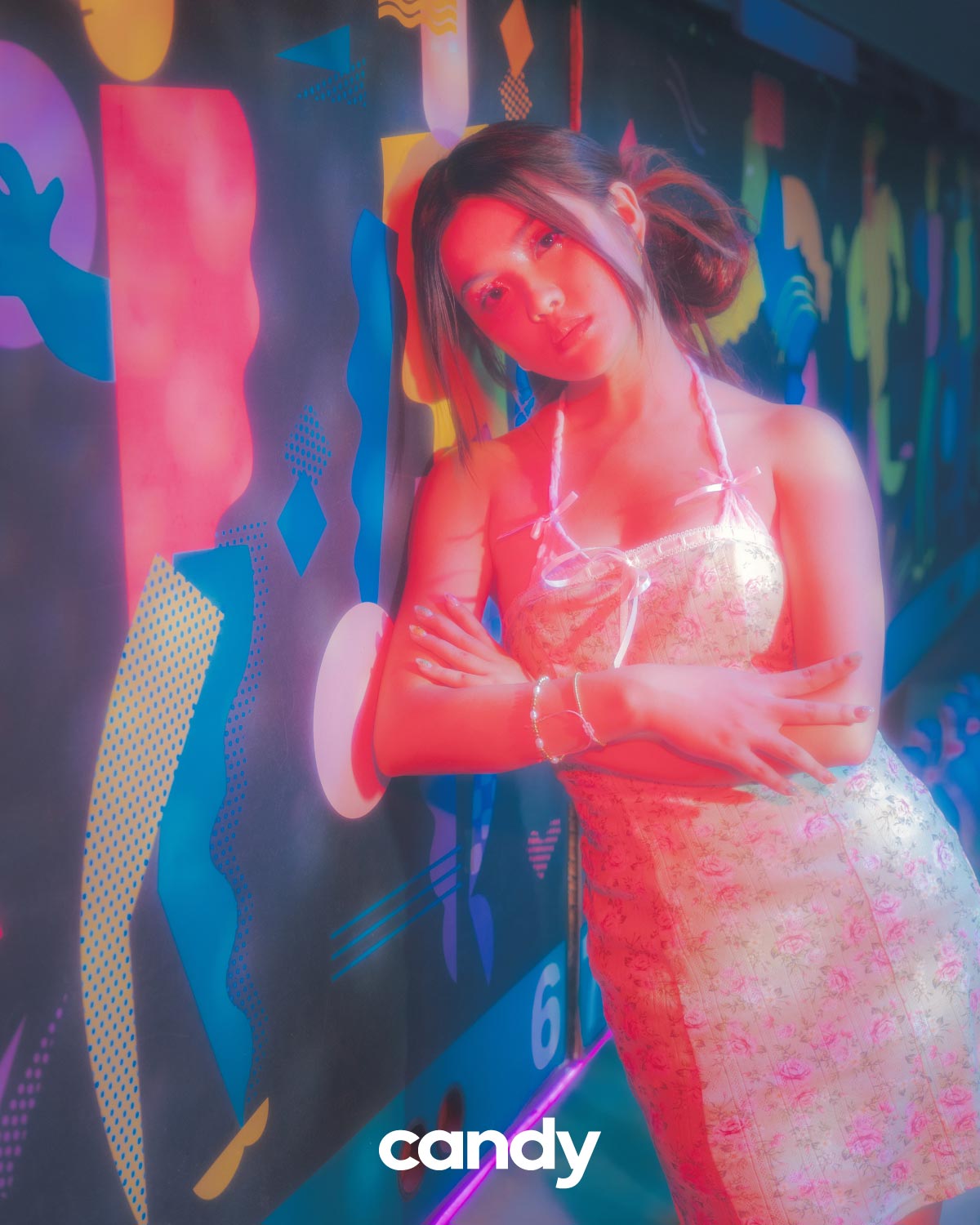 ADVERTISEMENT - CONTINUE READING BELOW
"Throughout the whole competition, I've just been preparing myself mentally because I was aware that I'd be competing with people that are pretty known in a sense because they've done endorsements or they've done hostings and such," she recalls. "I would remind myself that I do have strengths, it's just in a different aspect. It's the mindset that I had thoughout this entire journey."
The Perfect Game
Long before she sent in her application, went through the entire process of the cover search, and stepped foot in her final photoshoot, Simoné already had a longstanding relationship with Candy. "To me, Candy represents far more than just a magazine; it serves as a platform for today's youth, fostering inclusivity, nurturing creativity, and promoting personal growth," she explains.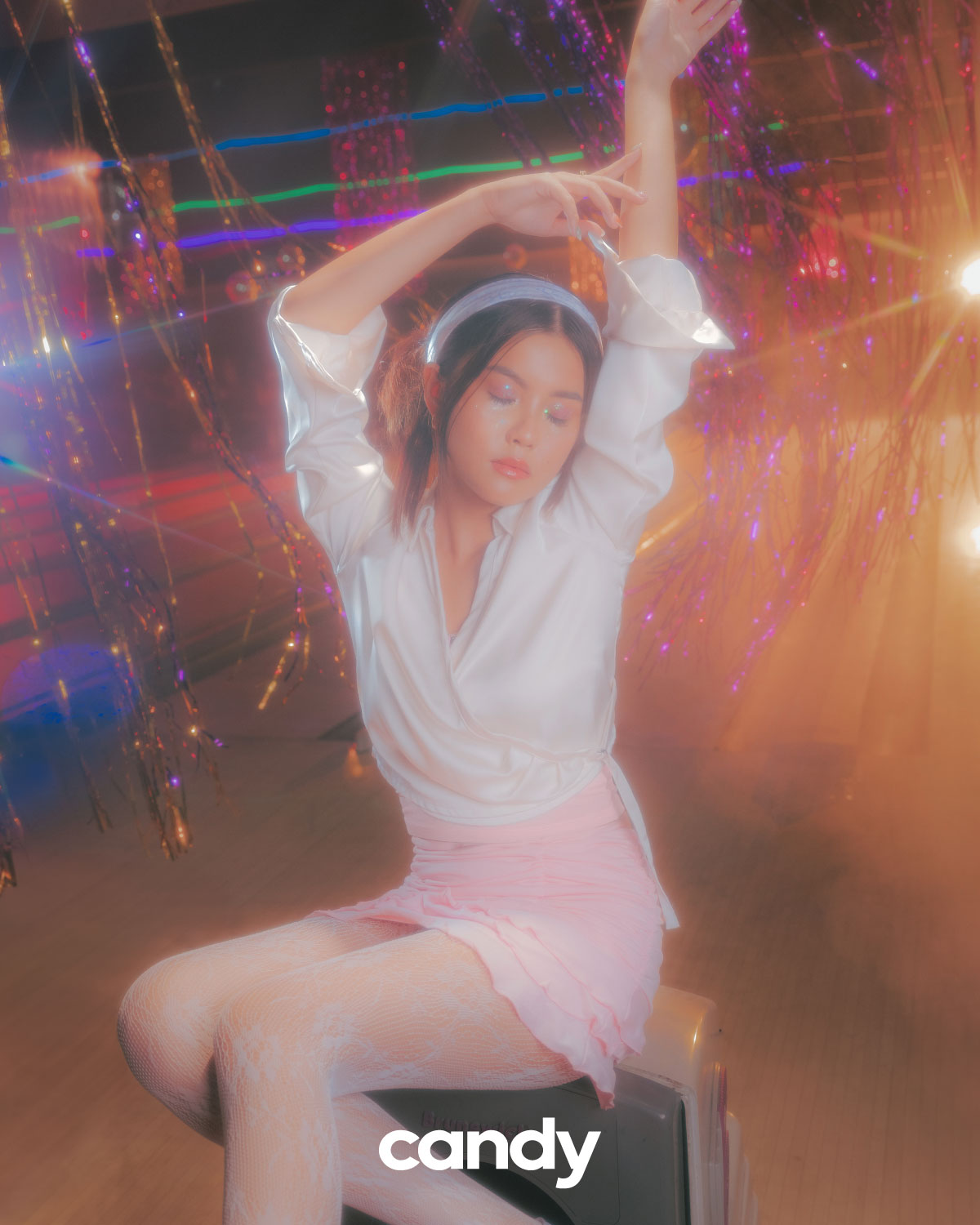 ADVERTISEMENT - CONTINUE READING BELOW
"My connection with Candy has evolved over the years, from its transition from its print era to its current digital format. Since I was a child, I've always been an avid reader of Candy… I got inspiration from it as I explored diverse fashion and makeup trends, all while discovering myself," she reminisces with a smile. 
She found solace in the publication's pages as she went through different life stages, often extracting advice on friends, school, and relationships. "I really found myself reading articles ranging from college survival tips to career guidance. From my grade school days when I would read the magazine to being a university student enriched by diverse experiences, Candy has always been an integral part of my journey."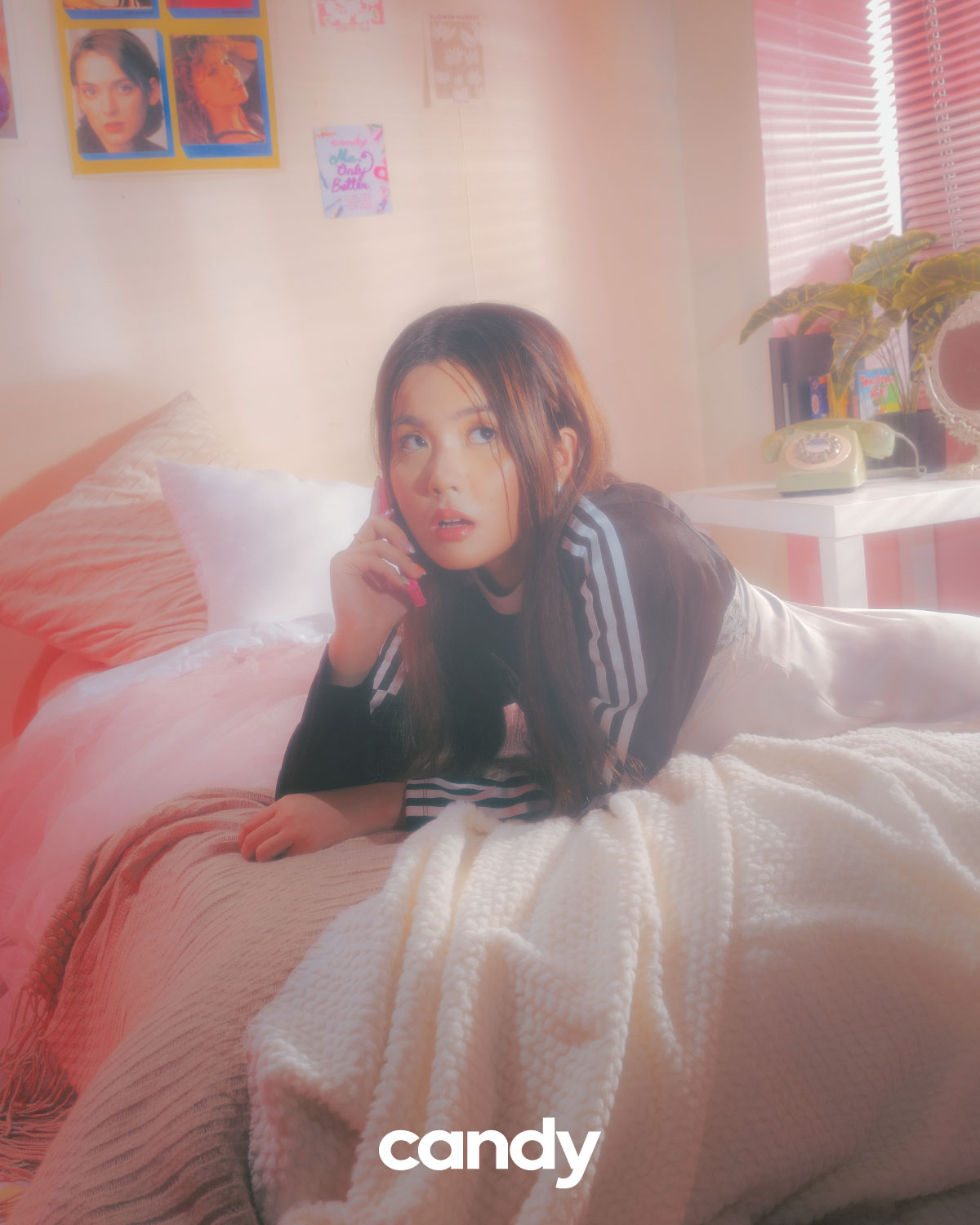 ADVERTISEMENT - CONTINUE READING BELOW
I could only imagine what a full circle moment it has been for Simoné who grew up reading the magazine to finally being a part of it—the actual cover star, even. When she got the message that she won the search, she was in a state of euphoria—no one could burst her bubble. "I full on cried and I was just so happy because again, it's not something I expected talaga," she shares. "I even remember the day before that, I came from Ateneo and I was doing one last hurrah of campaigning to get a little bit more votes. I was praying to God and I was telling Him, whatever happens, win or lose, i'm still really grateful for all of these blessings."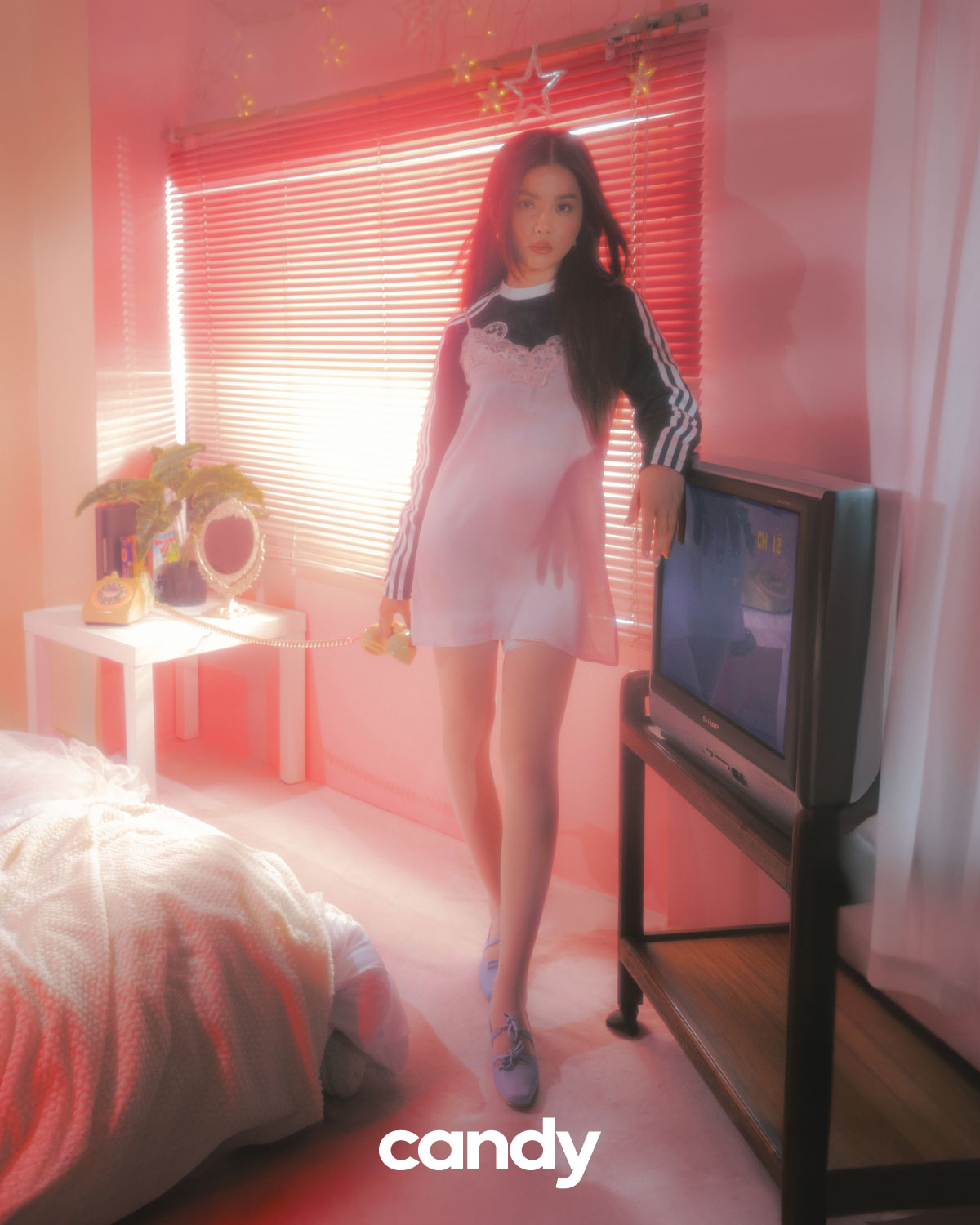 ADVERTISEMENT - CONTINUE READING BELOW
Pink Dress, P999, H&M, Megamall. Soccer Crop Top, P3,100, ADIDAS, Glorietta. Agnes Mary Janes in Cornflower, P2,350, GVN, gvnthelabel.com. Serene Pearl Earrings, P1,399; Ozzie Ring, P399, both TRINKETS, weartrinkets.com.
"When [my mom and I] went home, we told my family. But the way I told them, it's not that I won, it's that we won. Because I know I wouldn't have been in this position without their support," she smiles.
While it was certainly a different and new experience for her, she approached it the same way she advances toward life's challenges—with a determined smile and an open mind. "I was really overwhelmed with joy and excitement. It was then that the realization hit me na, 'Oh, I would be the cover of this month's issue.' It has really been nothing short of a dream come true," she gushes. "It really pushed me outside of my comfort zone because I did things such as dancing, biking, and even a bit of acting!"
ADVERTISEMENT - CONTINUE READING BELOW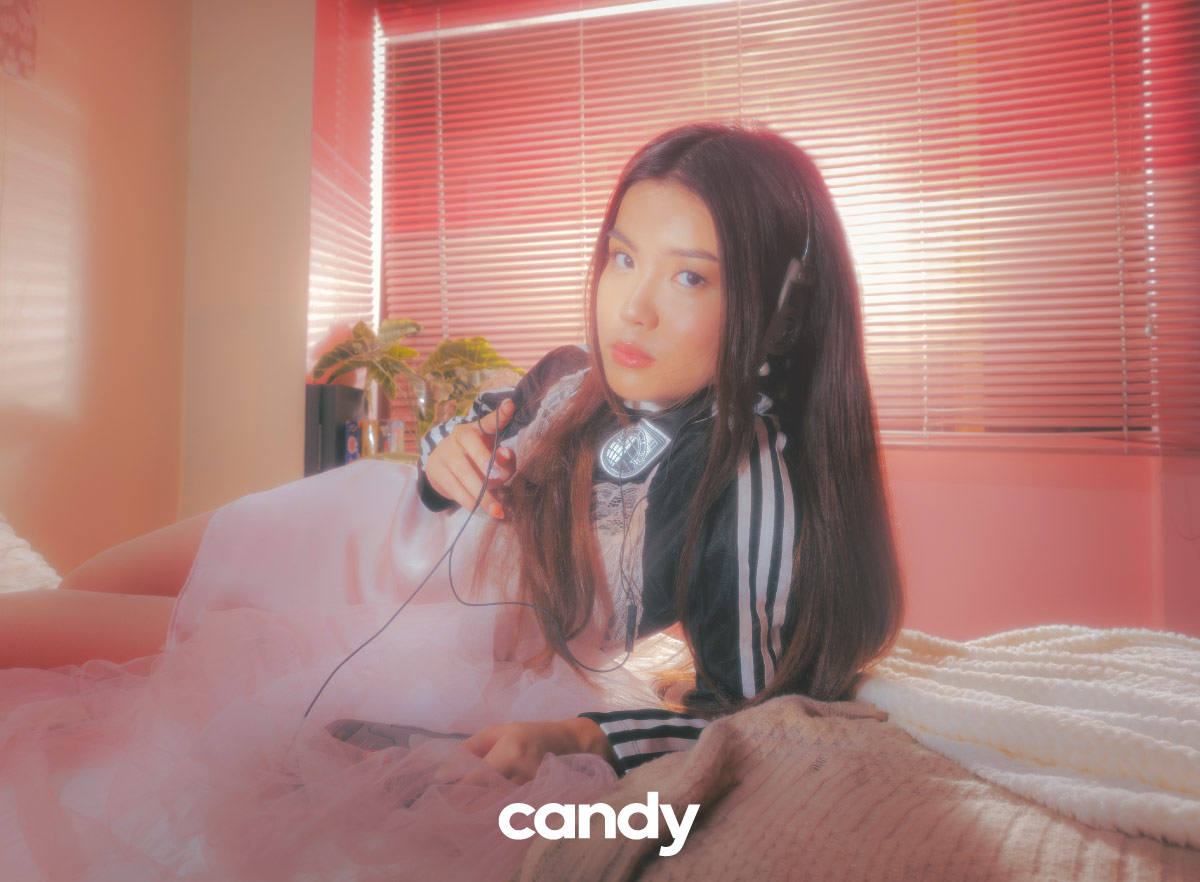 Certainly, no amount of rain, sweat, or dust could stop the September 2023 cover girl. We didn't hear a peep from her as she changed clothes for several Y2K, balletcore-inspired layouts ("I feel like I'm channeling Olivia Rodrigo right now," she comments), nor did we sense any sort of struggle as she tried her hand at hefting a heavy bowling ball down the lane for one layout at the suggestion of our art director and photographer. 
ADVERTISEMENT - CONTINUE READING BELOW
It's all roses and sunshine for Simoné right now, who says that nothing is set in stone for her once she graduates. She shares her plans to take up a Master's degree in development, and maybe even try joining Star Magic or the Sparkle GMA Artist Center. "I have other ideas but it's just really all options right now," she declares. Whatever she has up her sleeve, the world is her oyster.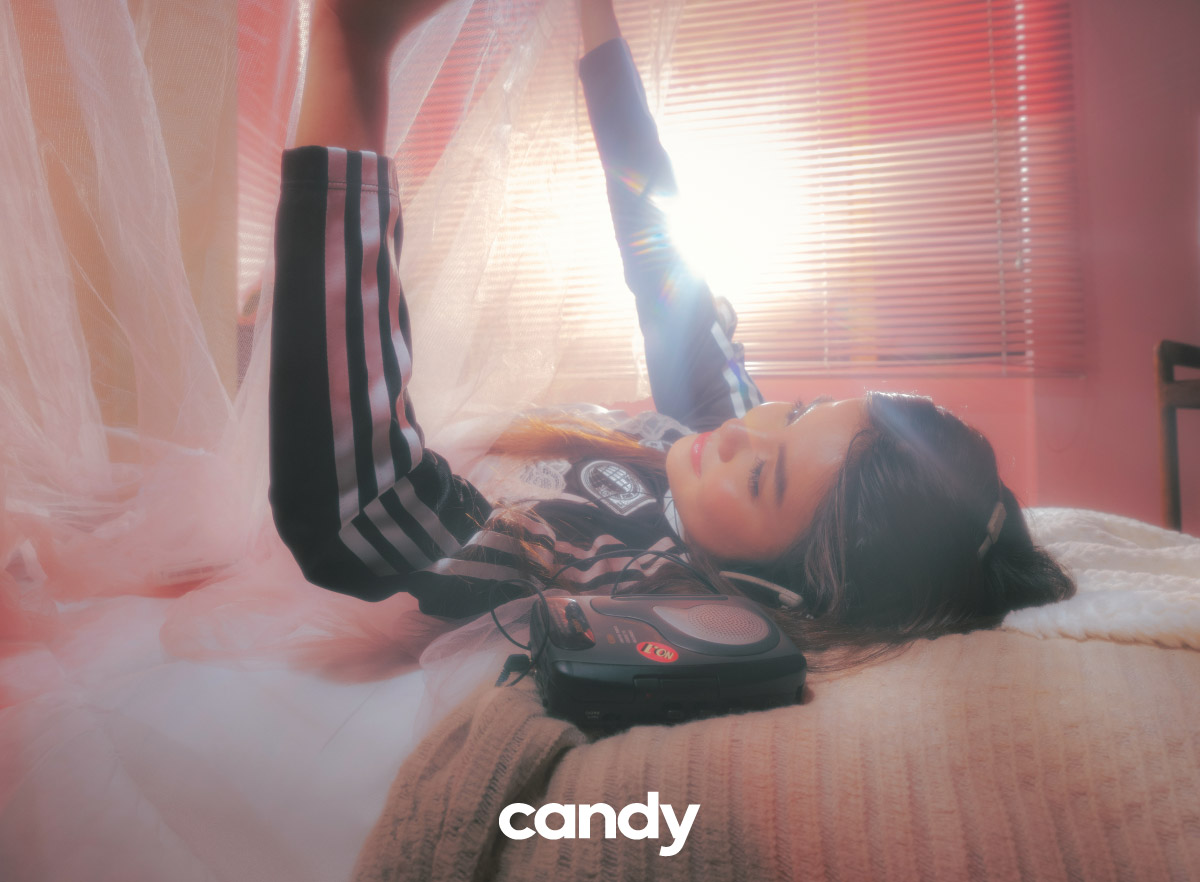 ADVERTISEMENT - CONTINUE READING BELOW
"I feel like I'm such a different person now compared to just the start of the year. Like my whole mindset and just the way I act is so different and I feel like I like this version of myself a lot. It's so exciting. Because I never expected to be in a place that I am now. Like who would've thought talaga that this would even happen?" she says with a giggle and a twinkle in her eye. 
We're right with you, Simoné—the world isn't ready for you, but it can certainly try.
Follow Simoné's next adventures on her Instagram at @simjalbuena. 
ADVERTISEMENT - CONTINUE READING BELOW

***
Produced by: Yssa Cardona and Cheska Santiago
Art direction by: Bacs Arcebal and Pau Moyano
Photographed by: Shaira Luna 
Styled by: Leika Golez 
Makeup by: Sette San Buenaventura 
Hair by: Jella Capistrano 
Set design by: Rocket Design Studio 
Words by: Cheska Santiago
Videos by: Jez Villapando
Nails by: Fritz Ann Pinili
ADVERTISEMENT - CONTINUE READING BELOW
Shot on location at Green Valley Country Club
Special thanks to Mr. Stephen Hontiveros, Chairman of the Philippine Olympic Committee and President Emeritus of the Philippine Bowling Federation